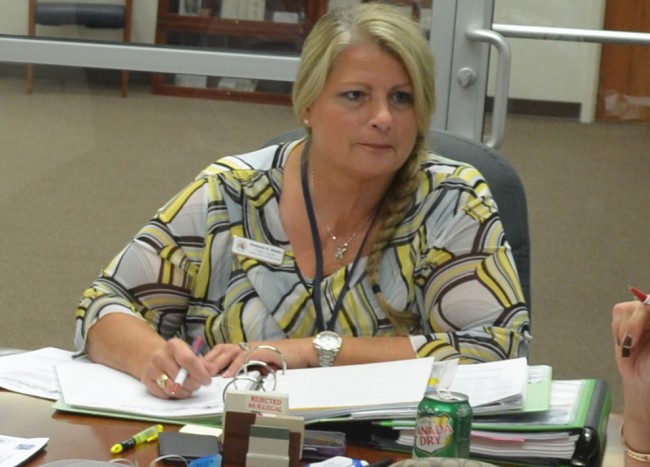 Florida Department of Law Enforcement agents this morning served a search warrant at Flagler County Supervisor of Elections Kimberle Weeks's office. Agents were there several hours today, and remain there as of 5 p.m. Friday.
"Our agents are still there. we're still on scene," an FDLE spokeswoman said at 5 p.m.
Weeks is now formally under investigation by the state police agency.
Earlier this week FDLE confirmed that it was looking into a complaint that Weeks had allegedly illegally recorded one or more conversations, and may have conducted canvassing board business outside of sunshine law requirements of open meetings. FDLE had not determined at the time whether the complaint warranted an upgrade to an investigation.
"It is a formal investigation," the FDLE's Samantha Andrews, a spokesperson, said this afternoon, confirming that Weeks had been served the search warrant. The FDLE could not describe the scope of the search warrant, though the very lengthy presence of FDLE agents at the supervisor's Bunnell office suggests that it is broader rather than narrower, and may involve documents and hardware. WESH television's Claire Metz reported from the scene that agents were "removing elections office equipment, including computers."
Supervisor of Elections Kimberle Weeks was apparently recording canvassing board meetings and, at times, conversations that were not taking place within the scope of meetings, with her cell phone. The recording of meetings is not illegal: they're public meetings. But the recording of conversations outside the scope of meetings is a different matter.
The question becomes whether the participants in those conversations had an expectation of privacy or not. Since the conversation in question–between County Attorney Al Hadeed and County Commissioner Charlie Ericksen–took place at the supervisor's conference room, where a canvassing board had just met, and had adjourned to a different part of the building, it's not clear whether an expectation of privacy existed or not: public meeting places, public buildings and other such public areas are generally considered public, diminishing or eliminating the right to privacy.
The county did not initiate the complaint, County Administrator Craig Coffey said this afternoon. FDLE said it began to look into the matter when a News-Journal reporter made an inquiry to the State Attorney's office. The State Attorney then forwarded the matter to FDLE. But the county is cooperating in the investigation.
"We've been asked for various things which we've provided to FDLE," Coffey said. "Those are primarily emails and recordings and anything we have of any substance to their investigation."
Coffey welcomed the independent eye on the supervisor's methods, which have caused recurring and abrasive conflicts with the county administration and Palm Coast government over the past few months, with some issues still unresolved–and new issues of worry to the county on the horizon, such as a likely special election, immediately after the regular election, to fill the seat being vacated by Sen. John Thrasher, who's been named president of Florida State University.
"Any time you have an issue of this magnitude I think it's always important that an outside, independent third party looks into the matter to get to the bottom of it," Coffey said, "because records requests, going back and forth in the media, you really aren't going to resolve the issue that way."
Weeks has taken to addressing county or city governments through statements in the media rather than by addressing city or county managers.
After weeks of delay, Weeks fulfilled the county's requests for recent recordings of canvassing board meetings. But more requests are on the way. "We will be initiating some new requests, probably next week, related to some minutes, draft minutes and adopted minutes and similar issues," Coffey said. Palm Coast had made similar requests.