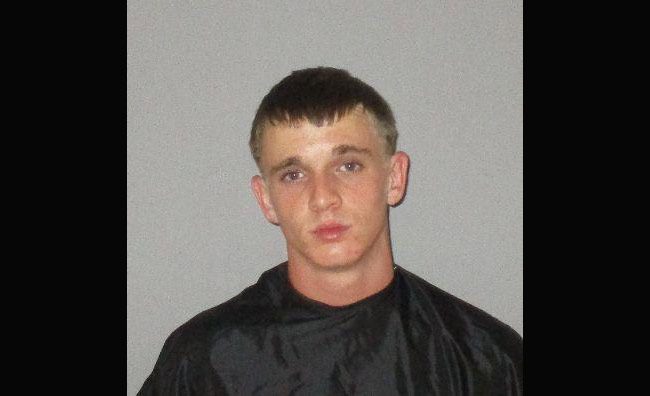 Troubled in his youth, troubled in his young adulthood–he has been on probation since pleading guilty to three counts of aggravated assault last year–19-year-old Jesse Fisher was again arrested Tuesday (Aug. 21) and booked without bond at the Flagler County jail after making racially-tinged death threats in an incident on Palm Coast's Burroughs Drive.
Fisher faces a second-degree felony for the alleged threat, a misdemeanor assault count, and two additional felony counts–one for violating his probation, one for violating his community control, or house arrest: he was not supposed to have been cruising around in a car if he were to comply with his control order.
Fisher was a passenger in a car driven by Erik Beck, 40, of Port St. Lucie, and himself on probation. One of the alleged victims, a 22-year-old man, was standing in front of his house on Burroughs Drive when he saw Beck and Fisher in a vehicle drive his way, slide off the road and crash into two vehicles parked in the 22-year-old's driveway. Fisher and Beck then got out of the vehicle and allegedly started chasing the 22-year-old, his 18-year-old brother and a minor girl, yelling racial slurs at them. (Two of the alleged victims are black.)
The minor girl corroborated the 22-year-old's statement to police and showed sheriff's deputies a text Fisher had allegedly sent about half an hour before the incident: "no cops u call cops I shot ur house up in coming." She said during the incident Fisher assaulted her with threats and racial slurs.
When deputies got there Fisher and Beck had left, but Beck returned, without Fisher, and spoke with deputies. Beck told deputies he';d brought Fisher to the Burroughs Drive house to make contact with the mother of his child, according to Fisher's arrest report, and that when he was approaching the house, his truck just slid off unintentionally and struck the vehicles in the driveway. At that point Fisher jumped out, and Beck said he did so as well only to restrain Fisher "to prevent him from doing anything that would get him into trouble." The pair then returned to the truck and left the scene, only for Fisher to jump out possibly in the area of Burnell Drive.
Deputies concluded the crash was not intentional, nor was reason for a hit-and-run charge, since they concluded that Beck had left the scene temporarily because of the volatility there, then appropriately returned. But they cited him for reckless driving. Beck's probation officer was contacted, and authorities concluded he would not be charged with a probation violation. Charges were written up regarding Fisher, who was later arrested and booked at the jail just before 9 p.m. Tuesday. He remains at the jail.
Adjudication had been withheld on Fisher's previous case, but that case has been reopened now that he's violated the conditions of his plea agreement, and he may face stricter penalties.