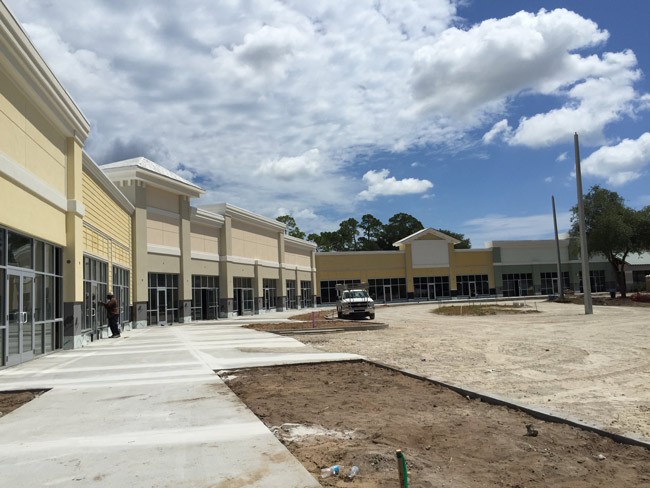 The developers of Island Walk, the once and future shopping center previously known as Palm Harbor in the heart of Palm Coast, have secured long-term leases with enough retailers to fill 84 percent of its space when it begins opening in phases in 2016.
When the center is operating at near capacity, it will employ some 500 people, the project developer said Thursday. It is currently employing 100 for the construction phase. Those jobs will give way to retail jobs.
The tenants are a mixture of previous retailers during the Palm Harbor days and new retailers that Atlanta-based properties has negotiated leases with. The new shops will include Petco, Tuesday Morning, Hobby Lobby, Leslie's Pool Supply, Great Clips and Chase Bank. New casual dining venues will include Moe's Southwest Grill, The Brass Tap Craft Beer Bar, which specializes in the booming fad for craft beers, Jacksonville's Metro Diner, which has expanded to six locations so far in Florida, Anthony's Brick Oven Pizza, and of course that old standard without which Palm Coast has not been the same: Thai by Thai, one of the best Thai restaurants this side of Chiang Mai.
Thai by Thai is among the nearly dozen shops that will be returning to Island Walk after their exile from Palm Harbor during construction. It's not a large number of returning shops, but then Palm Harbor had been hemorrhaging businesses for years, when it was under the management of Oakbrook, Ill.-based Inland Real Estate Group, a five-year ownership that left many shop owners dissatisfied with the direction of the place. It had showed. At one point the year before renovations began., there were more empty storefronts than active ones there.
Some of Palm Harbor's old tenants opted to move permanently to other locations. Those that will continue operations without the forest of red arrows and fences include Starbucks, The UPS Store, Eyeglass Express, Coast Dental and Orthodontics, Aimee's Hallmark Shop, Wild Rice China Express, Palm Nails and Salsa's, the indispensable Mexican restaurant at the edge of the center that will actually be relocating to an adjoining and larger 4,700-square-foot space with a larger patio later this year.
The old Publix, the first grocery store in Palm Coast, never closed, and will be moving to its larger, 54,000 square foot venue (a fifth larger than its adjacent current one), in a seamless transition in November. Publix will account for a quarter of the 204,000 square-foot Island Walk.
"Island Walk's high-traffic location along a popular corridor along with the strength of the surrounding
demographics made it a no-brainer for many tenants to not only join the center but also remain through the redevelopment," Nick Telesca, president of Branch Properties, said in a statement issued Thursday. (Branch and Florida-based Michael Collard Properties acquired the center in May 2014 for $12.4 million. The property yielded $128,000 in property taxes in 2014.)
The center's 84 percent occupancy before opening most of its storefronts is a substantial achievement that points to retail's confidence in the city. "Based on our most recent market studies, the average occupancy at retail centers in the trade area is 90%. With Island Walk still under construction, we feel good about 84% especially given the leasing activity underway," Telesca said in response to written questions today.
But don't look for Trader Joe's any time soon–or ever–at Island Walk: Publix considers it a direct competitor. Telesca was asked what other potential retailers might be coming–and was specifically asked whether a bookstore will be lured there. "We do not discuss tenants or potential uses until leases are signed," he said. "We are in active negotiations with several national, regional and local tenants."
The stores will be opening in phases, so there isn't specific a target date of completion.
"Our job is not done. We are still seeking retailers and restaurants to round out the current tenant line-up at Island Walk," Nancy Sumner, a leasing advisor with the Shopping Center Group, said. The group is the leasing agent for Island Walk. "The fundamentals that made this center a success many decades ago still exist today. Island Walk's longevity is proven by the overwhelming response from potential and existing tenants to our leasing strategy and the opportunity that exists to revitalize this area."