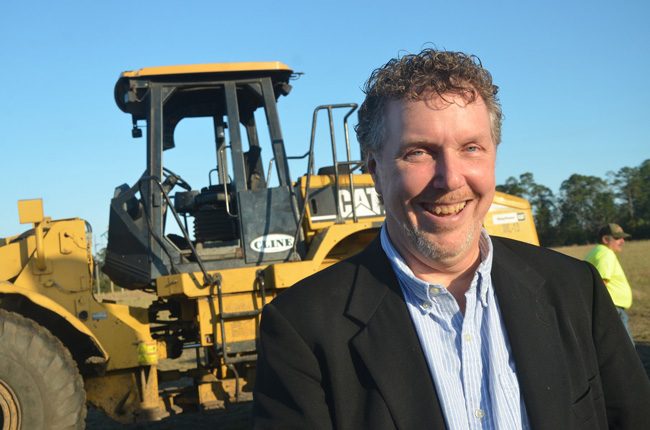 The inspiration on display at the Inspired Mic – an eclectic, monthly Palm Coast open mic – has included writers, poetic rappers, a mentalist, the magician Mystic Mel and his banana trick, and local writer Jim Farrell, who read from his semi-autobiographical novel about the fall of Saigon during the Vietnam War.
In particular, Farrell read from his novel "The Extraordinary Banana Tree" – a scene about a talented, female Saigon nightclub performer who was able to do extraordinary maneuvers with a cigar and . . . ahem . . . her anatomy.
"I don't know what to expect because I don't vet any of this stuff," says Inspired Mic co-founder and emcee Michael Ray King. "When someone comes up there, I'm as surprised as anyone else."
After Farrell's reading, King says, "I just thought, 'If we can survive this one, we can survive anything.' And he was well-received!"
King, a West Virginia native and writer-publisher who moved to Palm Coast in 2001, borrows one of Forrest Gump's mantras to describe the Inspired Mic: "It's like a box of chocolates – very eclectic, very different."
King and his friend and fellow writer Jeff Swesky were members of the Palm Coast chapter of a statewide writers group in 2013 when, King says, "we were getting antsy. So many groups are just social clubs and I wanted to be around people who make things happen." They decided to create an open mic but they didn't want it to be a poetry slam. "We wanted it to be open to all writing genres," King says.
---
The most unpredictable open-mic show in Palm Coast dares presenters and audiences equally.
---
The first Inspired Mic was held May 2013 at the Beach House Beanery in Flagler Beach with 20 people in attendance – "and 18 were presenters," King says with a smile. The second session a month later drew 42 people, again with 18 speakers. The third session drew 75. "At that point we were like, 'This is catching on,' " King says. "We were covering all genres. We had thrillers, blow-'em-up fiction, some poetry, memoir."
Swesky had moved to Michigan and left the Inspired Mic in King's hands when a few motivational speakers and a couple of local magicians inquired about presenting. "I said, 'You know what, this just feels natural, I trust my gut,' " King recalls. And so the Inspired Mic began, as he calls it, "morphing out."
"I believe creativity is chaos," he says. "I fully believe that. In fact, I just wrote a book that addresses that. Creativity comes from chaos. And so we have these other people coming in, doing these things other than writing.
"We had a mentalist — oh he blew my mind. This guy was really good. He's been on there a few times. It just felt natural. The audience loves it, that we might have three or four writers, then we might have a magician. If it's creative, we'll make it available."
The latest edition of the Inspired Mic, held April 28 at its new home in New Europa, a restaurant and bar at European Village in Palm Coast, offered plenty of "morphing out" by 15 area creators.
Liz Bouvia read from her book "The Fractured Soul – A Daughter's Memoir of Her Father," an account of her American-born father who was raised in Germany during World War II – and who marched as a member of the Hitler Youth before his family returned to America, where he was drafted into the U.S. Army.
Prolific local writer Becky Pourchot read a charming, light-hearted short story titled "The One that Got Away," about a beachcomber who encounters a mermaid who has never seen a human before. Singer-guitarist Mark Chirico performed two wistful original ballads, "The Best of the Worst of Me" and "May I Have This Dance."
"I play a lot around town and I don't get a chance to play these more intimate songs because people want to hear party music and have a good time and dance," Chirico said. The Inspired Mic "is a good opportunity to play songs that are close to my heart."
Decked out in absurd faux dreadlocks, Roger Duvernoy played harmonica and sang a satirical faux reggae song titled "Kill the Young People." But young people may have had the last laugh as this edition of the Inspired Mic.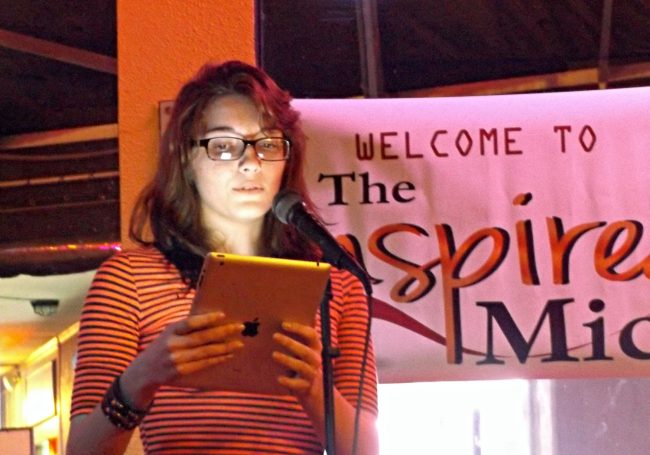 Anjali Tomerlin read from her published book "With the Wag of a Tail: Boston Terriers." At age 9, Anjali only ties the Inspired Mic record for youngest presenter. And a trio of Flagler Palm Coast High School students presented works: David Kozba, a senior, read what he described as a "creepy little narrative" titled "Childhood Memories." Alexandra King, a 16-year-old senior (and Mike King's daughter) read a prose poem-like writing that she confidently announced is "pretty abstract."
And Angelica Timothy, a 17-year-old junior, sang an a cappella work about "there will be a brighter day." King is particularly struck by – and proud of – how Angelica Timothy has embraced the Inspired Mic. "She had presented three times before – she was very mousey, very quiet," he says. "She'd run through everything really fast. You couldn't understand what she was saying, she was so scared. But she hit one of those moments one night that transitioned her life. Now she's out there speaking in school and all kinds of stuff.
"She ticked people off at the last one. We had several audience members walk out. I always tell people to speak your truth. She got up there talking about race relations. For a 17-year-old to present the way she did — it touched a nerve. And you know what? Nerves need to be touched."
Indeed, King hopes any shy or timid area creators will similarly benefit from the Inspired Mic. "It's one of the most intimidating things creative people do – present their own material to an audience," he says. One goal of the Inspired Mic "is to help people overcome the fear of presenting." King speaks from experience. He was working on his business management degree at West Virginia State University in 1979 when he took a creative writing class required for business and engineering majors.
"I found out I really liked writing stories," King says. The professor said that at the end of the year she would read the best short story written by a class member. She chose King's work. "I was a wallflower then," he says. "She read my story and I was shrinking in my seat and I tried to get out of the room. She told me, 'Mike, you should consider writing as a vocation.' "
For the next 20 years King was a self-described "closet writer" – until he almost died from complications from Crohn's disease, an intestinal disorder, in 1999. "I almost died in DeLand on an operating table," he says. "I had fistulized (a fistula is an abnormal connection between two parts of the body). My internal organs were being poisoned. The surgeon told me two more hours and I would have been dead. It was incredible pain. I wanted to black out so bad and I couldn't. It was pretty horrible. It took me four months to recover." That health scare came nine years after King "almost bled to death" from an internal rupture.
"I literally lost most of the blood in my body in 1990," he says. "You would have thought that would be my big turn-around – that big moment of 'I almost died and I turned my life around.' No, it took me nine years later (chuckles), the second time to finally go 'OK, if I'm really going to do something, do what I really love to do, I better get moving on it.' From that day forward in 1999, I said, 'One day will never happen – you got to make it happen. I spent the next four years stumbling around trying to find out how you learn this crazy world of writing because there are no rules. You have to stumble on it as far as I can tell."
With the help of a mentor, King started his own publishing company in 2007. He spent five years in Toastmasters International, a nonprofit organization that helps people develop public speaking and leadership skills. "I've been publishing books ever since," he says. "But it was 2012 before I really figured out my direction. It's not really publishing – it's more writing and helping people get their books written. That's my passion: helping people who want to write get their books written."
And to help writers and other creative types to present their works to an audience. "I actually patterned the Inspired Mic off a Toastmasters meeting," King says. "For me the main victory is for them to get up and present their material."
Each Inspired Mic features more than a dozen creators, who each have seven minutes to present their works. Presenters must sign up in advance by emailing King at [email protected]. Also, each presenter must buy a ticket. "I may take home $50 after all the smoke clears for all the hours and hours and hours of work," says King, who in January hired Melissa Chipps as marketing manager for the Inspired Mic.
"We even charge the presenters the $10 ticket because our position is you're only up there for seven minutes and then you're part of the audience," King says. "The other part of that is we have to cover expenses. It's not about the money."

The next Inspired Mic will be Thursday June 2 at its new home at New Europa, a restaurant and bar in European Village, 101 Palm Harbor Parkway, Unit 101, Palm Coast. Doors open at 6 p.m. and presenters begin at 6:30 p.m. Tickets are $10.50 advance, available at theinspiredmicus.com, or $15 at the door. Tickets include one drink (beer, wine, soda, tea, water).