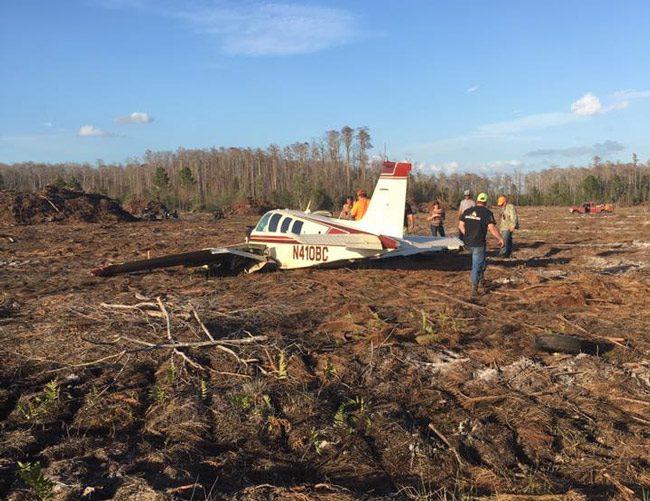 A single-engine plane crashed in Hunter's Ridge, at the south end of Flagler County, at 4 p.m. today. The pilot survived with serious injuries, authorities are reporting.
The identity of the pilot has not been confirmed, but the plane, a Beechcraft A36 built in 1979, is registered to Dale and Carrie Fish of Mount Dora in Lake County.
The pilot had apparently run out of fuel and was looking for an area to land the plane, which was only a few miles from Ormond Beach Airport to the east. The pilot found a landing spot, but it was not smooth, and the plane struck a mound, sustaining severe damage.
The pilot was alert and conscious, but still in the plane, when rescuers arrived. Volusia County's Air One was able to land nearby, and a Flagler County Fire Rescue unit was also able to drive up to the proximity of the crash site, enabling paramedics to quickly provide the pilot medical attention as they prepared him to be flown to a hospital.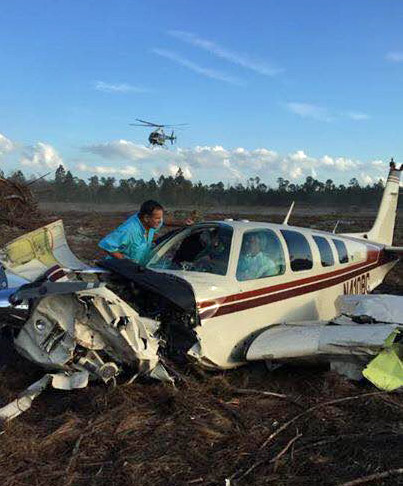 It's not clear whether the pilot was flown to Halifax hospital in Daytona Beach or elsewhere.
The crash took place just west of Rodeo Acres Drive. Hunter's Ridge is a development that straddles the Flagler-Volusia County line. It is very sparsely developed on the Flagler side, with woods predominating. The exact coordinates of the crash are 29°16'00.0″N 81°15'17.3″W.
This is the second single-engine plane crash in Flagler County in five weeks. On Nov. 9, Joel Fallon, 50, owner of Granny Nannies of Flagler and St. Johns counties, crashed a plane he co-owns with Flagler County property Appraiser Jay Gardner in the woods in Plantation Bay, also at the south end of the county. Fallon was with passenger Josh Rosa. Both survived, but with severe injuries.
Flagler County's Fire Flight, the emergency helicopter, has not been in service for weeks. It was grounded before Thanksgiving for maintenance, including blade refurbishing, and its pilots are in training in Texas. Fire Flight is typically grounded in December, though in this case it may take a bit longer. The helicopter is expected back in service with the new year.