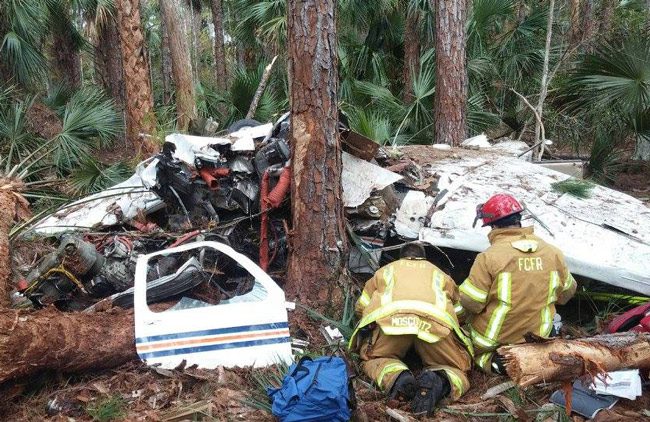 Two well-known Flagler County residents and business owners survived a plane crash over Plantation Bay early this afternoon, but with serious injuries, and the plane is a total loss.
Joel Fallon, 50, owner of Granny Nannies of Flagler and St. Johns counties, was at the controls of a Beechcraft single-engine plane built in 1969 with co-pilot Josh Rosa, 36, owner of Flagler Air Exchange, a business at the Flagler County Airport, when the plane developed mechanical difficulties. The plane had just taken off from the Flagler airport, on its way to DeLand. It went down in an uninhabited area of Plantation Bay, on its western section, not far from high-power electric lines.
The plane is co-owned by Flagler County Property Appraiser Jay Gardner, who was near the scene of the crash this afternoon, spending a lot of time comforting Fallon's wife, Lynn, who had driven there.
A golfer on the fourth hole of a golf course at Plantation Bay saw the plane go down and immediately called 911 at 1:29 p.m.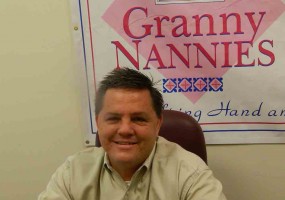 Both Fallon and Rosa were alert and speaking when they were brought out from the woods on stretchers by Flagler County Fire Rescue crews.
"They're both good pilots, so they didn't just fly into the ground. Something happened," Gardner said. Fallon has close to 400 hours of experience flying. Rosa, he said, has "a ton of flight time."
Of Fallon, Gardner said, "him and I have been partners in that airplane about a year or so," he said of Fallon.
"They got hurt, they're cut up and bruised up and banged up," Gardner said, "but they both were talking. Joel was apologizing to me for wrecking the airplane. I'm like, dude, what do I need to tell your wife? I was able to tell her he looked better than I expected, I looked at him, he was talking to me, he recognized me, he was talking to me, so it's good."
The plane, he said, "is trashed." The plane is registered to Bad Aero Inc., a company owned by Gardner since 1995.
"There's nothing left of it," he continued. "It's done. I mean, it's not like they're salvaging this airplane. The wings are off of it, fuselage was stuck in the trees."
Fallon and Rosa were airlifted to Halifax hospital in Daytona Beach by Flagler County FireFlight and Volusia County's AirOne emergency helicopters. They'd veen extracted after rescuers made their way to the crash scene with machetes and chain saws.
"One patient has multiple broken bones and we have not been able to assess the injuries of the second patient," Flagler County Fire Rescue Chief Don Petito said in a county release issued in mid-afternoon. FireFlight pilot Todd Whaley and paramedic Prince Mack had spotted the plane shortly after the 911 call.
The Flagler County Sheriff's Office had secured the scene before turning it over to the National Transportation Safety Board, which will conduct an exhaustive investigation and release a series of reports over the next many months.