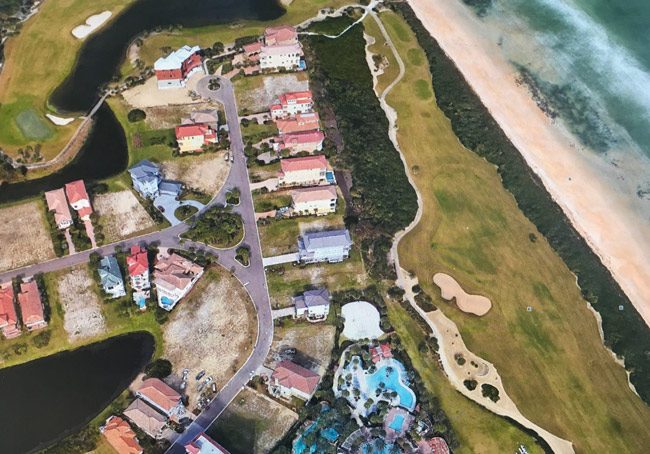 Since Hurricane Matthew carved out much of Flagler County's dunes officials in county government, with Flagler Beach officials and residents and their associations along the shore have been working to secure agreements to rebuild dunes and a seawall. It's taken a while but it's also gone well, with the dune rebuilding now proceeding at about a mile a month, construction on a seawall in painters Hill starting last week, and the reconstruction of the southern portion of State Road A1A starting later this year.
All segments of dune reconstruction are critical for the protection of property and residents behind them. Residents have been pressing to have as much of that work done before hurricane season begins on June 1.
But one segment of the dune wall in the Hammock has yet to get the approval of the one property owner without whose signature the project can't go forward: Hammock Beach Property Owners Association.
That agreement is part of a mosaic of agreements in that area that would result both in reconstructed dunes and the establishment of special taxing districts so the property owners benefiting from the reconstruction are paying their share of the rebuilding cost. That share is estimated at $4.4 million between three entities (the county will have to borrow the amount, then get paid back through the special assessment districts), with Hammock Beach's cost at a little over $800,000. All agreements are in place except that with Hammock Beach, along whose shore 50,727 tons of sand are waiting to be dumped, out of the 639,000 tons getting dumped along much of the county's shore.
The county and Hammock Beach have been wrangling over the agreement for weeks. The first version Hammock Beach drafted was unacceptable to the county, and there were fears that there would ne no agreement.
This morning, County Administrator Craig Coffey submitted the proposed agreement with Hammock Beach for the county commission's approval—even though the agreement is only "90 to 95 percent" completed, Coffey said.
"What troubles me is that they appear to be dragging their feet," Commission Chairman Greg Hansen said, "and if they don't sign we're not going to get the sand there and we're not going to be able to protect the residences because of legal wrangles over the language. It doesn't make sense to me."
"I'm just leery of agreeing to something that isn't final," Commissioner Sullivan said, particularly since Coffey does not plan to submit the completed agreement once it is final, unless the final result includes a deal-breaker that would need the commissioners' review.
In essence, Hammock Beach is holding the broader project hostage to the ongoing negotiations. The reason: "They have legal issues they are concerned about—just as we are—and they're trying to deal with legal issues that don't concern us. Some of their legal issues deal with the [golf] course," Coffey said. (Hammock Beach is worried that the dunes will hurt the aesthetics of its prized gold course.) Hammock Beach also controls one of the homeowner associations involved, where there may be potential legal issues for the club. "So they're trying to protect themselves on that front," Coffey said. He called the language in the contract "comfort language" that Hammock Beach wants to include to protect its interests in case there's litigation.
But the county can't be put in a position to entertain any other party to the agreement aside from Hammock Beach, even though other parties will benefit from the dunes.
"Our agreement is with LRA," Coffey said, using the acronym legally associated with Hammock Beach. "It is not with the HOA that's being assessed, although we agree to recognize the benefits that are received for property owners behind the dunes and I think that's a valid statement, that's part of the agreements we made along Marineland Acres and everywhere else—that the dunes not only protect the beach properties, it protects everyone behind it." However, the county "can't legally tie any other entity other than the LRA to the obligation."
Even though the agreement was not ready to sign, "we're asking you to approve the agreement in concept," Coffey said, so as not to delay construction once Hammock Beach ratifies.
Jim Ulsamer, a property owner in the Hammock who's been working toward securing that and other agreements with the county since two weeks after Hurricane Matthew struck.
"You could say we were possibly the linchpin for establishing a good private-public relationship to get this thing done," Ulsamer said of the relationship between the county and homeowner associations. "So here we are, we're on the 2-yard line, first and goal, and we're so close to getting this done. So the draft agreement that I saw has some language in there which talks about a preferred construction schedule, and you've already touched on this, it says for that critical stretch which includes areas north of 16th [Road] but a good part of the 18th fairway, which is in front of a lot of the homes in our community, that there is a special carve-out that they prefer this work be done either before the end of March, and if not, defer it until October. I am here to say that after all the work that we did, after us pushing, volunteering upfront that we'll put $1 million into this to help you get your matches from the state DEP [the Department of Environmental Protection], that after all this work to fall short of having our residents protected prior to the hurricane season is completely unacceptable to the people in our community."
He spoke of dealing with homeowners who have been "really concerned with whether the club was going to get on board," Ulsamer said. "They wanted to sue us, they wanted to sue you guys, they wanted to sue everybody and we held them at bay, So I'm here to say get that agreement signed. I think you can trust them to carry on and tidy it up. But I want some assurances that this work is going to get done."
As uncomfortable as they were doing so, commissioners approved the agreement unanimously moments later.

The Proposed Agreement With Hammock Beach (2018)