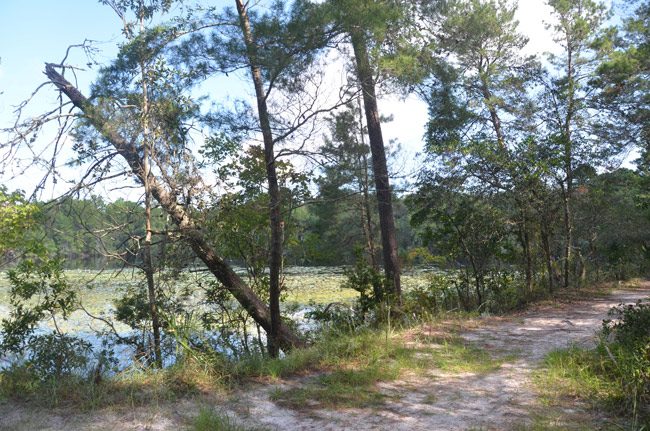 The at least partly inaccurate terms "unnatural and lascivious acts"–a euphemism for masturbation, one of the more natural if preferably private acts in creation–have again made an appearance in Flagler County Sheriff's reports, and again in connection with Graham Swamp, long favored as a trail of choice for exhibitionists and onanists.
It had been a while: Graham Swamp was last busy with wanker-patrol stings in 2011, 2012 and 2013. The four-year lull ended at 10:41 a.m. Friday.
Two men were arrested at the swamp in the middle of the day after the Sheriff's Office, acting on a complaint, conducted a sting operation there by sending one of its own–a sergeant–posing as a man who, like Peter Sellers in "Being There," likes to watch.
Both arrests, according to the men's arrest reports, followed the same pattern.
The sheriff's sergeant parked his car in the parking lot, entered the trail at the southern end of the trailhead, then made contact with a man wearing a pink t-shirt and blue shorts who allegedly turned out to be Scott A. May, a 53-year-old resident of Palm Coast's W-Section. The sergeant engaged him in "general conversation", with the sergeant insinuating that he was "new to this" and was "really shy." The man asked him what he liked to do normally. That's when the sergeant delivered Chauncey Gardiner's famous like: "I like to watch" (though Chauncey, of course, was referring to television.)
The two men walked into a shaded area, and the 53 year old asked the sergeant what he wished to see. "It's up to you," the cop replied. So the man allegedly pulled down his shorts and began masturbating in full view of the undercover cop, or as the report has it, "in a fashion consistent with male masturbation."
The two men were not alone. When the sergeant "gave the take-down signal to the awaiting take-down team," that team moved in, and May was arrested. The incident was also documented on video.
The second arrest took place about two hours later, of Melton Tucker, a 64-year-old resident of Erwin, Tenn. The sequence was almost identical aside from the coral-colored polo shirt and dark shorts the man was wearing, and the man's suggestion that he had something else in mind in addition to masturbating, though it only got as far as that when the "take-down" signal came.
Both men were charged with exposure of sexual organs and "unnatural and lascivious act," both misdemeanors that, judging from history, are not punished harshly: previous cases resulted in the payment of a fine and court costs, or six months' probation.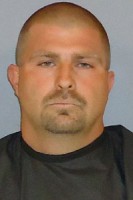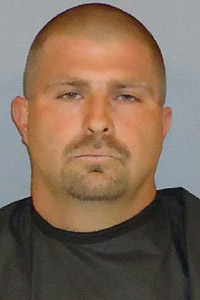 In one case, however, Jason Stockwell, then 33, of Palm Coast, exposed himself to a 15 year old, which immediately vaulted the charge into grave felony sex-offender territory. That was a 2012 case. He is named here because the case isn't over: he was just sent to prison over it a few months ago.
The original charge was downgraded from a sexual molestation offense that could have carried a 15-year prison sentence and a sex-offender designation to a felony battery charge, a third-degree felony that does not carry the sex-offender designation. Stockwell pleaded no contest, and he was sentenced to probation. But last fall he was arrested in St. Augustine on a grand theft and drug charges, which, along with other issues such as not reporting his change of residence, resulted in probation violation on the 2012 case. Just six months ago he was sentenced to two and a half years in state prison.
Stings at Graham Swamp were conducted previously by the Sheriff's Office in hopes of sending a message rather than sending people to jail: Graham Swamp is a public park, not a boudoir. Sheriff Don Fleming conducted his share of stings there. So did Jim Manfre. And now, Rick Staly. But something about the swamp refuses to be drained.