Flagler County Art League is featuring the Gargiulo Art Foundation's "WORK" July 8th – August 8th, 2017.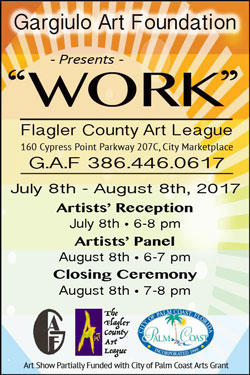 Seven professional artists: Photographer Charlie Badalati, Fabric Artist Carol Baker and painters, Tom Gargiulo, Diana Gilson, Betty Jo Sansbury J. J. Graham and Petra Iston are represented in this show. All works were created on 12 inch square stretched canvas. The work shops were held at Salvo Art Projects. Tom Gargiulo stated that the artists were excited to step outside their comfort zones and exchange business experiences with other professional artists. Two additional pieces of each artist's works are included in the show. The show opens with a meet the artist reception on Saturday , July 8th 6 to 8 PM and ends on August 8th with an artists' panel at 6 PM and closing ceremony 7 – 8 PM with audience participation. All events are open to the public free of charge. Gallery hours are: Noon – 4 PM Weekdays and 10 AM to 1 PM Saturdays. FCAL Gallery is located at City Walk 160 Cypress Point Parkway, Suite 207C, Palm Coast. For more information call GAF, 386 446-0617 or visit flaglercountyartleague.org
This show was made possible with the assistance of a Palm Coast Arts and Cultural Grant awarded to the Gargiulo Art Foundation. All proceeds benefit FCAL and GAF Palm Coast's Art in Public Places.