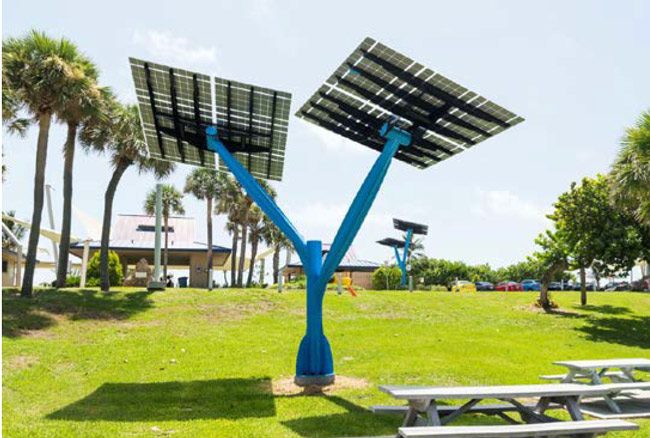 Assuming the Palm Coast City Council approves the deal Tuesday, you'll soon start seeing a few odd looking structures on city property: five "tree"-looking solar panels at Central Park in Town Center, and solar canopies, providing shaded parking spots, at Holland Park, the Community Center and at City Hall. The projects will start going up later this year or next year.
The Palm Coast City Council has not discussed the matter previously, so its members were not aware it was coming before them, as the item will for approval at next Tuesday's meeting. It was scheduled to be discussed at this week's workshop, which was cancelled for lack of a quorum.
The item is being framed within a presentation Florida Power and Light has presented to a few local governments in the state, presenting essentially the same PowerPoint presentation while customizing a few images. The lease agreement FPL then submits to local governments follows the same parameters and language, customizing it to each locality. (The city of Stuart went through an almost identical process earlier this year when it approved one such canopy installation.)
It's part of Florida Power and Light's "SolarNow" program, which gives the power company a chance to advertise its solar initiatives (the installations include prominent, promotional logos of the company) at no direct cost to the city, though the city would be leasing to FPL for 15 years portions of property where the devices are installed.
It's a way for a community to show that it "values sustainability, and values solar energy," an FPL spokesperson said. "It's a great way for folks to see what solar looks like up close."
Beyond giving FPL a chance to stamp its brand on public property for many years and appear to be at the vanguard of renewable energy (it isn't: though it is Florida's leading power company, Florida ranks 13th in solar generating capacity in the nation and 18th in solar installations, according to the National Renewable Energy Laboratory), the public benefit is not as clear.
In exchange for the three solar installations on its grounds, the city would get modest perks, beyond bringing awareness to solar power: the canopies will generate shade for cars and a rent payment of $18 per kilowatt per year (the aggregate will be no more than a few thousand dollars per year), and the trunks of the solar power "trees" will have electrical outlets that will serve as charging stations for park-goers' phones and tablets—a service the city could provide at little cost to itself.
"One of the points they asked was they wanted a high volume traffic of people because it's supposed to encourage solar awareness," Denise Bevan, a city administration coordinator and Palm Coast's point person in working out the deal with FPL, said of the three locations chosen for the installations. There is a possibility of expanding installations, but that will depend on funding. (See the lease documents here.)
The electricity generated by the installations goes into FPL's grid and gets redistributed to customers. It does not appreciably lowers costs: if all installed devices generate 350 kilowatts, FPL officials told the Public Service Commission when originally presenting the project, it would provide a $19,000 fuel saving to customers for the year—across the state, or less than a third of a penny per year.
There are currently nine SolarNow installations across the state, generating 400 kilowatts, according to FPL. So the fuel saving to customers may be up to half a penny per year at most. (The installations are at Babcock Ranch Preserve, Boynton Beach Oceanfront Park, Brevard Zoo, Frost Museum of Science, Palmetto Estuary Preserve, Palm Bay City Hall, Palm Beach Zoo & Conservation Society, Tropical Park, and Young at Art Museum and Zoo Miami.)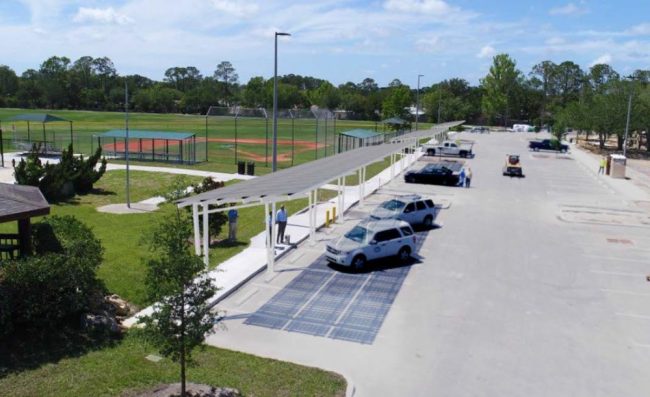 The canopies and solar trees are not cheap. "A tree costs around between $22,000 and $32,000 depending on the type of tree it is. That does not include the installation," says Alys Daly, an FPL spokesperson. She didn't know what the canopies may cost, though when presenting the initiative to the Public Service Commission at a 2014 hearing, FPL officials estimated capital costs at $2,300 per kilowatt by 2017 (less as the years progress and the program expands). It's not yet clear what size canopies will go up in Palm Coast's three locations, but Daly said they can range from canopies that generate 50 to 100 to 200 kilowatts—or cost from $115,000 to $460,000, based on FPL's estimates to the Public Service Commission.
Those costs are born by FPL customers who participate in the revenue-generation part of the company's SolarNow program: any FPL customer may voluntarily elect to add $9 to his or her monthly bill to be part of that program. There are no direct benefits to customers for patrticipating other than the feel-good notion of "helping to support the development of solar energy projects in local communities," as FPL describes it—projects like those that may go up in Palm Coast.
FPL spokesperson Lisa Paul said 256 customers in Palm Coast participate in the program, and 21,000 do so across the state. That generates $2.27 million a year (more as additional customers join), which is used to build SolarNow projects.
"We don't make any money on this, we don't make any profits, and we offset any profits by donating to charity," Daly said.
The numbers don't appear to bear out Daly's assertion: The program has been in effect three years. With a total, current capacity of 400 kilowatts, the cost to build the installations—based on FPL's estimates to the PSC—would have run around $1 million. She said another 380 kilowatts' worth of projects are in the pipeline, which would bring the capital cost closer to $2 million over three years, though the program's $9-a-month participants generate $2.27 million a year. The donation to charity amounts to $200,000 a year.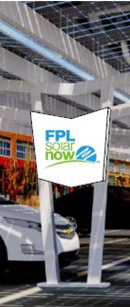 Part of the SolarNow program gives participants a chance to vote on one of six environmental charities, which then get that $200,000 a year divided between them, based on those votes. The money—which lowers the company's tax liability–is contributed by the NextEra Energy Foundation, an arm of FPL's parent company. The relationship between giving customers a chance to vote on their favorite charity and the solar program itself is unclear, and perplexed a member of the Public Service Commission, who repeatedly asked about its meaning beyond a feel-good perk.
"So, again," Commissioner Lisa Edgar asked FPL officials, "what's the connection? I'm sorry. I'm just, I'm missing it. I just don't — allowing certain participants to vote on where FPL puts some of its charitable funds, what does that have to do with a $9 voluntary contribution?"
Customers "who might be interested in solar programs may also like the additional incentive to also receive those monies to contribute to environmental type of organizations," was FPL's Maria Moncada's answer.
Renewable energy advocates were not convinced by FPL's initiative when submitted to the PSC. "While the proposed FPL program is not intended to install solar PV on any meaningful level," Charlie Coggeshall of the Southern Alliance for Clean Energy wrote the PSC, using the abbreviation for "photovoltaic," "if it was better designed and more ambitious in scope, it could be a legitimate tool in building solar energy capacity in Florida. In its present form, it's merely a feel-good, green-pricing program, which does not provide direct and tangible benefits to participating customers."
The commission in the end approved the initiative, but against some opposition even from those who wholeheartedly approve of renewable energy.
"I want to go on record as saying that I am fully supportive of innovative efforts to bring more renewables to our fuel portfolio, and I know that as a Commission we will continue to look at those issues broadly," Edgar, the public service commissioner, said, explaining her opposition. "I am, quite frankly, a little stunned at the lack of answers that I've been given today, and I do not have the comfort level that I would like to have as to how the program is going to be marketed and promoted and targeted. I think that's a very important piece of it. And to ask us to bless a program that you don't even know if it's cost-effective without telling me how you're going to reach out to consumers and explain it to them is just something that gives me some discomfort."
The seeding of such installations as Palm Coast's, with its logos, and tie-ins to the $9-a-month participants (who would get some form of recognition, according to FPL's presentation) appears to provide just such a marketing and promotional component, though Daly, the FPL spokesperson, bristled at the suggestion, insisting that "signs" showing the company's logo are not free advertising, and that the program's sole intent is to bring up-close awareness to solar power.

The FPL Presentation to Palm Coast City Council