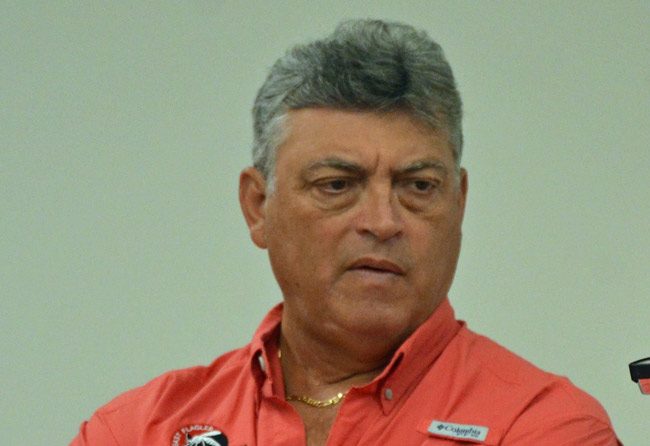 Last Updated: 1:42 p.m.
Florence Fruehan, the long-time Palm Coast physician facing accusations of sexual improprieties with a patient, will no longer practice medicine at Palm Coast Urgent Care or anywhere. He is expected to surrender his license in November as part of a disciplinary agreement.
"Dr. Fruehan has agreed to voluntarily relinquish his license," Brad Dalton, a spokesman for the Florida Department of Health, said today.
Fruehan did so this week, signing an agreement. He was under investigation by the Department of Health, which had imposed restrictions on Fruehan's practice on June 29 pending the outcome of the investigation.
FlaglerLive's story on the restriction order provoked a torrent of responses from people identifying themselves as current and former patients of Fruehan's, many of them commenting under their own name, some of them contacting FlaglerLive to report their own experiences or requesting to be connected with local or state investigators. The story and the response to it reopened a Flagler County Sheriff's investigation of Fruehan, which is ongoing. Fruehan had faced an allegation of sexual battery by another patient in 2006. The second-degree felony charge was dropped. He'd had two arrests for battery in the 1990s, with both charges dropped.
Many of those who commented following revelations of the restriction order on Fruehan echoed the lurid accusations reflected in the Department of Health investigation. Many defended Fruehan as perhaps an ill-mannered and foul-mouthed doctor, but a very caring one who often went beyond the call of duty to follow-up with patients.
The Department of Health's June 29 order forbade Fruehan to have contact with any patients without the presence of another licensed health care professional in the room, pending the resolution of the case.
The case resulted from the accusation of a 54-year-old Palm Coast woman, who alleged that when she'd gone to Fruehan's office merely to pick up a prescription, Fruehan had asked her seemingly inappropriate questions, including how long she'd been married, then asked if she'd had a mammogram, took her into a room where they were alone, and allegedly proceeded to grope her breasts.
The woman reported the incident to the Sheriff's Office, which initially let the matter drop, and also reported it to the state Department of Health, which followed up.
Fruehan originally denied the accusations, calling the case "frivolous" and "unjustified." He was entitled to a hearing before an Administrative Law Judge at the Division of Administrative Hearings pending the state health department reaching a final decision in the case. That decision could have been an order to suspend or revoke Fruehan's license.
The case never got that far, though this week's development suggests that evidence may have strengthened against Fruehan, leading him to choose to pre-empt an order against him and surrender his license voluntarily, essentially ending his medical career. The formal agreement he signed with the state Monday (Aug. 20) says as much: Fruehan's purpose "in executing this Voluntary Relinquishment," the agreement states, "is to avoid further administrative action with respect to this case."
The agreement makes clear that it is disciplinary action: Fruehan surrendering his license "shall be construed as disciplinary action against [his] license" pursuant to Florida law. "As with any disciplinary action, this relinquishment will be reported to the National Practitioner Data Bank as disciplinary action. Licensing authorities in other states may impose discipline in their jurisdiction based on discipline taken in Florida."
Once the agreement becomes official, Fruehan is to never reapply for a license as an osteopathic physician in Florida. Meanwhile, he agrees to immediately stop practicing medicine until the order is submitted to the osteopathic board (though he was at his office today, when reached by phone). Until then Fruehan waives all rights to seek judicial review of his case or contest the validity of his voluntary abjuration of his license.
"The relinquishment will be become official once he appears before the osteopathic board at their next meeting and the final order is filed with the department," Dalton said. "However, in the agreement that he signed he will not practice medicine in the time between now and his appearance before the board."
Fruehan, 58, gave a somewhat different interpretation of events in a phone interview today, alternately saying he was "taking a leave of absence," or "taking an administrative leave."
"I am no longer seeing patients. I'm still working at the office, helping them out," Fruehan said, refusing to say clearly whether he intended to continue "working at the office" in the future in administrative capacities. But he said he would "concentrate on other things," including the disposition of the investigative case against him. He stressed, perhaps in a signal to the state–since he's under a severe restriction–"I am not seeing patients whatsoever."
It's not clear whether he was referring to the state's case or that of the Sheriff's Office, which is ongoing.
Asked if he was retiring, Fruehan said: "I've not officially retired yet," a nuance that may have indicated the pending appearance before the Florida Board of Osteopathic Medicine, which meets quarterly. "I also planned on retiring many, many years ago. Retirement, when I come to work, is always in the back of my mind."
The Osteopathic board actually meets Friday in Orlando, but the Fruehan case is not on the agenda. "He signed the agreement this week so there wasn't time to get that on the agenda for this meeting. It will be the November meeting when he appears before the board," Dalton explained.
Fruehan, making a point of saying that he would speak courteously with a reporter—before he hung up while a reporter was asking a question—said that he was helping his staff make sure all patients were being properly transferred from his care to other physicians and all follow-up procedures were in place.
Fruehan is also an elected member of the three-member East Flagler Mosquito Control District, which has faced its own challenges since revelations a year ago that the taxpayer-supported agency had a $1.1 million shortfall in its $1.8 million budget. The agency is being audited by a state agency. Fruehan, during the phone interview this morning, hung up as he was being asked about his status on the mosquito control board.
"He's still attending board meetings, he's still voting," Mark Positano, the agency's director, said.

Fruehan Agreement With Florida Department of Health (2018)