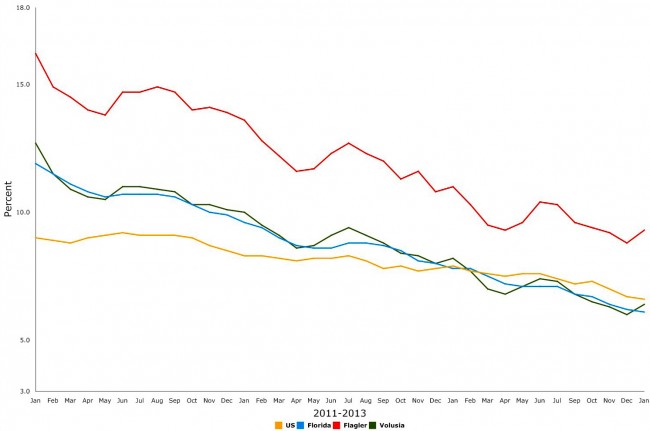 Florida's unemployment rate ticked down to 6.1 percent in January, from 6.2 percent the previous month, but the state lost 2,600 jobs. There were 581,000 jobless Floridians out of a labor force of 9,454,000.
Flagler County's unemployment rate went back up sharply, to 9.3 percent, from 8.8 percent in December. But in a brighter sign, the county's labor force also added some 400 people, reversing a trend that had seen Flagler's labor force shrink most months. The county also had a net gain of some 200 jobs.
Overall, The number of Flagler residents with jobs increased to 31,610 in January, up from 31,427 in December, and from 30,542 a year ago. The labor force increased to 34,854, up from 34,412 in December, but still not significantly higher than its year-ago level of 34,604. The size of the labor force is indicative of the health of the job market: more people will join the labor force if they feel encouraged by the availability of jobs. The numbers suggest that that may be happening, particularly in construction, which has again been fueling the local economy.
"The improving construction sector is certainly helping," said Jason DeLorenzo, the government affairs director for Flagler Home Association and a member of the Palm Coast City Council. "In 2011 only 145 residential dwelling units were permitted, in 2012 the total increased to 230 and last year was 515." According to a National Association of Home Builders study, every 100 single family home built produced the equivalent of three full-time jobs, most of them the direct result of building activity.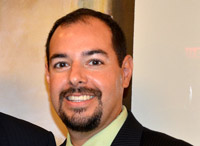 Flagler and Palm Coast are seeing several commercial projects under construction–McDonalds, Verizon Corporate store, Dollar General–with Island, the rebranded Palm Harbor Shopping Center, set to be another big project in the next 18 months. In late January Sea Ray's Brunswick Corp., the largest manufacturing employer in the county, announced that it would be adding 160 jobs over the next few months, essentially erasing previous job losses at the plant. A new launch facility at the Sea Ray plant will help produce the new L Class Sea Ray, a line of boats that was debuted at the Miami Boat Show. "I was thrilled to hear about the expansion of production at Sea Ray," DeLorenzo said. "I think they are a strong anchor for our community and it also shows global economic growth when more boats are needed for the market."
And that's before major government road projects kick in, such as the widening of Palm Coast Parkway, the Matanzas Woods interchange with I-95, the expansion of the county jail and the rebuilding of the old Memorial Hospital in Bunnell into the sheriff's new headquarters.
"Construction workers are good local spenders who often eat out for lunch and buy fuel. The increase in construction also leads to an increase in professional service jobs such as insurance, mortgage banking, title, and bookkeeping," DeLorenzo said. "I am hearing some reports of local construction labor shortage as well and long lead times for materials such as windows, doors and trusses."
DeLorenzo and Realtor Margaret Sheehan-Jones recently appeared before the Flagler County Economic Opportunity Advisory Council to summarize those trends. "There's no doubt that there has been an uptick in the construction industry," Helga van Eckert said, referring to the two appearances. "Needless to say, this is great news. While it's a competitive market, Flagler County has retained a strong employee base in the building trades and we anticipate growth as the market increases. However, our growth isn't limited to the construction industry, we are experiencing growth across a number of targeted industries. As these businesses continue to grow, we create a stronger economic base through diversification."
While infrastructure jobs are not permanent, van Eckert said they are "a part of the overall economic development equation, they provide employment over the next 3-5 years and set the stage for continued growth."
Statewide, retail trade saw the largest drop in employment in January, with 10,900 jobs lost, or 1.1 percent of one of the state's largest job sectors. Education and health services lost 3,800 jobs, hotels and food services lost 5,400 jobs, and government lost 3,300 jobs. Among the winners, arts, entertainment and recreation added 6,000 jobs, professional and business services added 8,600, administrative and waste services added 3,400 and wholesale trade added almost 5,000. Other sectors were flat.
In the Palm Coast metro area,nonagricultural employment is up 500 jobs (+2.5 percent) over the year. Four of the ten major industries gained jobs over the year, led by leisure and hospitality (+300 jobs). The only industry losing jobs over the year was professional and business services (-100 jobs).  Other services, government, information, financial activities, and manufacturing were unchanged over the year. Across all of the metro areas in Florida, the Palm Coast metro area had the highest employment growth rate over the year in leisure and hospitality (+9.4 percent).
"The county Economic Opportunity Advisory Council efforts have yielded a great deal of success this year," van Eckert said. "Companies such as Coastal Cloud, AVEO Engineering, Designs for Health, WP Rawls and Gioia Sails South have made Flagler County their home. Additionally, when presented with the opportunity to expand their operations, TBD Partners decided to expand in Flagler County. These companies, in addition to the expansion of SeaRay Boats, are the sure-things."
Both DeLorenzo and van Eckert said there are no guarantees with the long-term health of the local and national economies. But most signs point in brighter directions.
Every March, the U.S. Department of Labor's Bureau of Labor Statistics and Florida's labor department release January employment and unemployment estimates as well as revised historical data. Today's report is the result of that annual process, which is known as "benchmarking." These benchmark revisions are a standard part of the estimation process and take place this same time every year in each state nationwide. As a result of this annual benchmarking process, the release of January and February 2014 employment data is scheduled for March 17 and March 28, respectively.