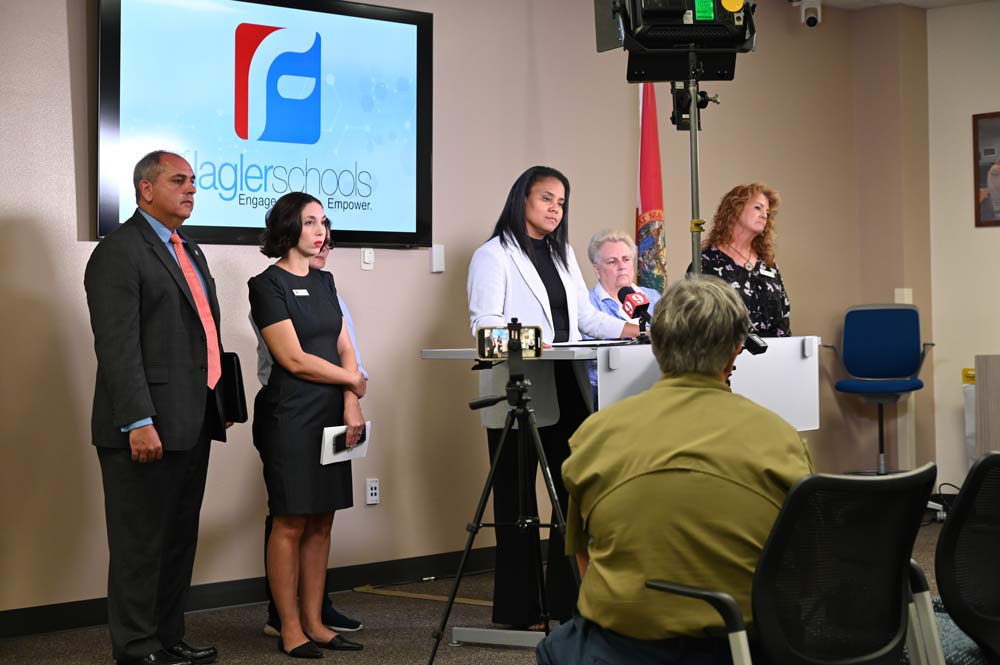 It may be true that no malice was intended when the Bunnell Elementary school administration and three staffers, one of them its suspension-enforcer, singled-out Black students, herded them into the cafeteria, branded them a "problem" to their face, threatened them with jail or an "early grave" if they didn't raise their test scores, paired them off to compete against each other and promised the winners fried chicken.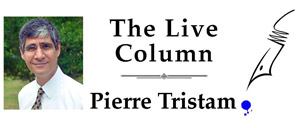 It is true that all three of the staffers who choreographed this latter-day minstrelsy are Black, none of them called Tom, and that, aside from having grammar skills worse than many of the students they were addressing–failing skills the principal, a former teacher, did not flag before they flashed their flaws for all to see–none of them seemed to have the slightest idea they were reviving plantation-era menaces about raising quotas or else. 
It may be true that, as far as we know, the staffers didn't also bring in the school cop to stand there as an extra reminder of what could be ahead. 
But it's irrelevant. Put all the well-intentioned lipstick you want on last Friday's spectacle. What took place can only be rationalized so far, especially when the motives behind those intentions, those supposed good intentions, the very motives even the district is defending, are the heart of the problem. 




Because what took place at Bunnell Elementary last Friday had nothing to do with helping those students. It had everything to do with a school panicking about its risk of becoming a failing school and using Black students both as scapegoat and means to lift scores the few percentage points necessary to escape state censure and local embarrassment. 
These staffers weren't addressing a single individual student, a single human being. All they saw was a "cohort," or a "subgroup," as the district, even the superintendent, continues to call them without realizing the smuttiness of the term. I don't care where children fall in the cultish jargon of education departments. They're nobody's "subgroup." They're nobody's means to any end but their own. 
That's what Bunnell Elementary doesn't get. More disturbingly, that's what the district doesn't get. It is now so routine to reduce individual students to cogs among subgroups enslaved to the expectations of standardized testing that our educators have lost sight of their purpose in all this. The state's transformation of education into a dehumanizing machinery has a lot to do with it. Districts have to meet standards. But districts don't have to be so complicit with the state's blinders. 




That's why the school board's emphasizing the next superintendent's title as a "CEO" feeds that very obscenity, further turning students into widgets in a business of bottom lines rather than human beings to be educated for their own sake. There is a direct line between what happened at Bunnell Elementary and the school board's surrender to running schools as a business. It's what happens when you treat children as objects, as "sub groups." 
Of course there's a business end to running school districts, to running any government. But that business end is limited to finances. Even then, the aim isn't to run finances as a business–no one should be making a profit here–but to balance budgets. That's all. Beyond finances, no single school district department is a "business." Teaching and learning isn't a business. Exceptional student education isn't a business. English language arts, math, social science aren't a business. The IB and AP programs aren't businesses. A classroom, a media center, a counselor's office aren't any part of a business and shouldn't be. 
Nor should they answer to a "CEO," but to educators at every step who keep in mind that the goal is not aggregate scores of subgroups, it isn't bottom lines, financial or otherwise–there are no bottom lines in education–but educating the child, individually and with dignity, on the child's terms, not the school's, not the state's, certainly not the "CEO"'s.  That's what child-centered education means. We say the words, only to contradict them at every turn. 




We have drifted so far from those principles and have so surrendered to the mechanization of education as a set of nameless algorithms that not a single teacher, not the principal, not any of these professional educators at Bunnell Elementary batted an eye when Black students were reduced to animals and circus performers to benefit a bottom line: "We only have 32% of our students who are at a Level 3 or higher for ELA/Math," the segregated assembly's teachers told the students, as if that was the students' problem. "We are supposed to have at least 41%." 
That's all that mattered. The school's bottom line was hurting. To that end, students were demeaned, threatened, scared, paraded, and turned against each other. 
Let's not single out Bunnell Elementary the way Bunnell Elementary singled out Blacks. We do the very same thing all the time. Every time a teacher or a principal says their goal is to mold "productive, tax-paying citizens," they're doing the same thing, only in seemingly less vulgar language. They're reducing the child, the student, the human being, to a cog. They're saying that education for its own sake is for losers. Only ends matter. 




And when only ends matter, getting there by any means necessary becomes as justifiable as a segregated assembly. Of course no one batted an eye in Bunnell. Even as they were crucifying every child's dignity, they were all thinking they were heroes, because that's the message from the district, that's the message from the state: get those scores up by any means necessary. The principal whose good heart no one has ever questioned even celebrated the indignities in her Tweet:  "Thank you to Mr. Hines, Ms. Steed, Mr. Gabriel for loving our students and challenging them to be their best self!!" (She has since taken down the tweet.) 
No one batted an eye. At least not within the school's ramparts: one more massive disconnect between school and community. It was business as usual, in a district that wants to run its schools as a business, and where good hearts and good judgment are worlds apart. If you're wondering how a pluralist culture that prizes individuals becomes an authoritarian bully that glorifies ends over means, this is how. 
It wasn't always so. You may recall former Superintendent Jim Tager's "bunker" at the two high schools, bunkers designed to do exactly what the Bunnell minstrel show was attempting, but by focusing on students individually, collaboratively, and getting them to the graduation line without threats or cattle-prodding. It worked. 
Tager is the only superintendent to have returned the district to an A since the days of Bill Delbrugge–another champion of the individual–almost a decade ago. And of course our school board railroaded Tager out of here the way it would his successor, the way it will LaShakia Moore if she dares perform. 
We do have a subgroup problem. It's not our students. 

Pierre Tristam is FlaglerLive's editor. A version of this piece aired on WNZF.
Note: Interim Superintendent LaShakia Moore is hosting a forum at 6 p.m. Tuesday, Aug. 29, at the G.W. Carver Center at 201 E. Drain Street, Bunnell, to discuss the fallout from the segregation assembly at Bunnell Elementary earlier this month. The district did not mention the issue in its announcement of the forum, describing it as inviting "everyone in the community to join her for a sit-down discussion on the power of school and community connections. […] This will be an opportunity to have an open dialogue with Flagler Schools administrators, local officials, community-based organizations, families, stakeholders, and students. Bring your questions, concerns, and ideas on building better connections within our Flagler Schools community."