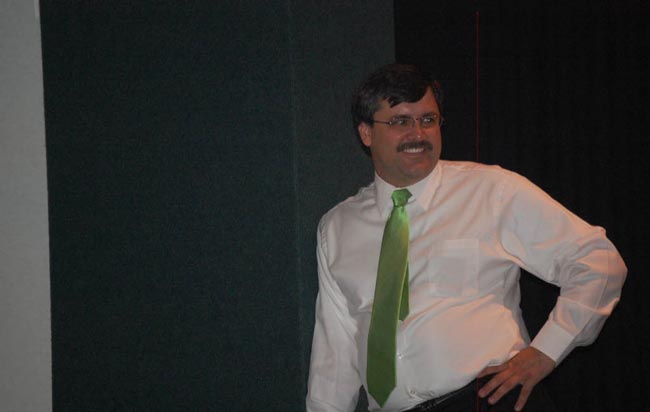 A few weeks ago, the Florida's Association of District School Superintendents declared itself opposed to Senate Bill 6—the proposed law that would disproportionately value merit pay and standardized testing over teachers' classroom accomplishments. The association was critical of the proposal because it forced districts to implement vast new measures with neither enough information nor resources to do so. Lawmakers struck back with a punishing amendment to the bill: a 2 percent cut in all superintendents' pay.
To Bill Delbrugge, superintendent of Flagler County schools, the amendment was "mean-spirited" and revealing of lawmakers' intent. Tallahassee seemed more interested in punishing public school districts than reforming them. The amendment didn't pass. Nevertheless, Delbrugge says it was "just uncalled for. That's just not how an educated society works. There should be debate, and legislation should be very transparent."
---
Click On:
Why Collier Co. Superintendent Supports SB6
---
---
For the most part, that's not what Senate Bill 6 is about, Delbrugge said in an interview with FlaglerLive, shortly after a teacher rally in Palm Coast protesting the legislation and asking Gov. Charlie Crist to veto it. (Delbrugge did not attend the rally. Read more details about the rally, and see a photo gallery of the rally here.)
The superintendent supports less talked-about provisions of the proposed law that require better math and science preparation. He says he would have supported the proposal as some legislators initially intended it—as a focused effort to improve standards and require a more rigorous curriculum. "If that's what they would focus on, it would be great," Delbrugge said.
Instead, the bill veered in more ideological directions, tackling the foundations of the public school teachers' collective-bargaining powers, redefining teacher pay and accountability based on standardized test scores and severely reducing local school boards' control over their budgets and bargaining powers. The revival and transformation of merit pay for teachers and principals as a central component of the proposed law masks a broader assault on districts' and principals' autonomy—and Tallahassee's centralization of financial and educational authority over how districts may function.
Flagler County tried a merit-pay system and balked. "It was extremely divisive in our district," Delbrugge said. "For us it's just not worth going through all that." So when the state put up a pot of money for districts that would implement a merit system, Flagler turned it down. "Teaching is a very, very collaborative profession," Delbrugge said. "You want experienced teachers helping teachers who are new or struggling with a particular subject matter. If you're having to compete with your colleagues for bonus money, you're less likely to be collaborative, which in the long run is going to hurt the kids, it's not going to help them." A competitive, antagonistic environment, Delbrugge said, is anathema to education.
A particularly damaging part of the proposed law is the requirement that every school district set aside 5 percent of its budget, beginning next year, to comply with the law. Compliance means developing end-of-year tests that measure teachers' performance. The tests can be very expensive. The state Department of Education developed three such end-of-year tests—and stopped at three, for now, because of the cost: each cost $1.5 million. Imposing that burden on local districts is unreasonable, Delbrugge says, especially when the cost of developing a test has nothing to do with the size of a district. It's the same cost for Miami Dade, which has 300,000 students, as it would be for Flagler, which has 13,000. Miami Dade may be in a position to afford it. Flagler isn't. But non-compliance with the law (should it become law) means Flagler would have to send that 5 percent of its budget to Tallahassee as a penalty.
Delbrugge is equally critical of the proposed law's broadside on collective bargaining. "And I'm management," Delbrugge says. One of the superintendent's more difficult job is the collective bargaining process, which, even in Flagler, tends to be draining and rich in conflicts. Still, the superintendent defends the system because the system, he says, needs the collective debate to work effectively. Besides, he says, "contracts aren't just money. It's insurance, it's how we treat each other, how to dismiss employees, how many pay checks a year. It's more than just what someone receives in a paycheck."