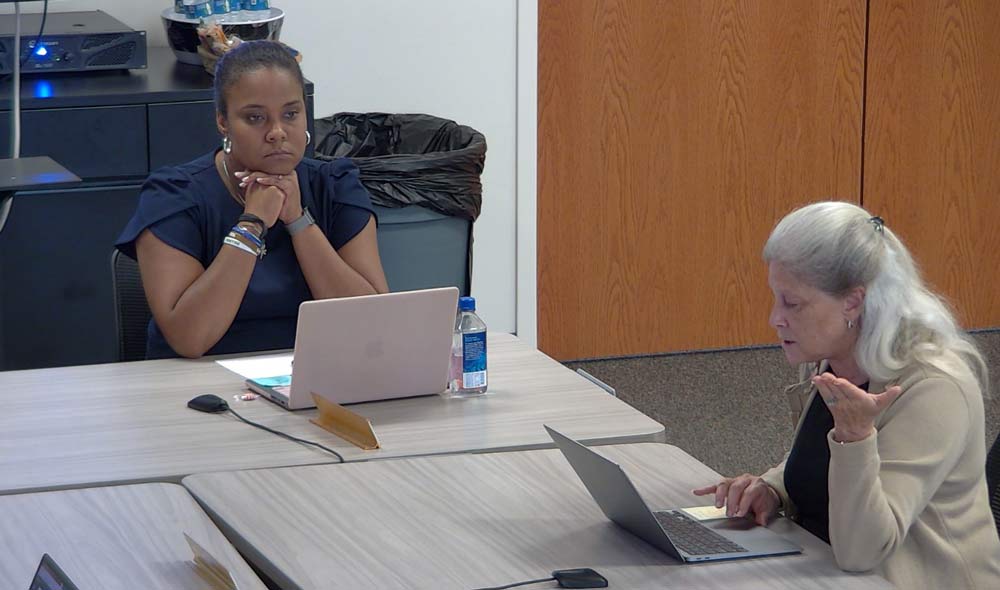 Barely three years ago, the Flagler County School Board hired Cathy Mittelstadt as its superintendent on a base salary of $135,000. The next superintendent may earn as much as $200,000–a 48 percent jump from where Mittelstadt started–according to the salary range the school board penciled in at a workshop today.
The original salary range the board had discussed was from $165,000 to $215,000. The range had been proposed by the Florida School Board Association, whose consultants are again helping the Flagler school board navigate its latest superintendent search, as the association did three years ago.




It took some discussion before it scaled that back to $200,000. If Flagler County were to elect its superintendent, as several counties in the state do, it would be constitutionally limited to a salary of $107,000. Polk County, one of the largest districts in the nation, pays its superintendent $139,000.
According to the Florida Department of Education's current figures (for the 2022-23 school year) the average salary for a superintendent in Florida is $173,000. The board members discussed salaries without that perspective–without the Education Department's spreadsheet in front of them, though it was readily accessible.
"215 is mind-blowing to me," Board member Colleen Conklin said. "165 to 195, tops, holy crap."
Board member Sally Hunt seemed to see something mystically haloed but unexplained in the higher figure. "215 to me would be somebody who I as one board member could trust, that they would come in here as far as operational efficiency, creativity in terms of thinking about how we retain more [student enrollment] dollars," Hunt said, "like, literally in the long run, they are saving us so much money that they have paid for their salary and then some. To me, that's not any candidate who would get 215, it would be an exceptional candidate."




It wasn't clear how a superintendent making $215,000 as opposed to $195,000, or $175,000, would gain more trust from the board member, or how the higher salary would translate into more enrollment for the district. The superintendent in St., Johns County–consistently and by far the best-rated school district in the state year after year–is earning $174,000, according to the Department of Education. St. Johns County has been overrun with surging enrollment year after year.
For the district's size and the job in play, Conklin said, "215 is out of whack."
Hunt insisted. She then revealed to what extent she puts stock in executive leadership, perhaps unaware that she was telegraphing a different message to the rank and file: "This is a priority to me. Our leader is everything for this organization. So if we need to find dollars somewhere, it's for its for this position," she said–words that may come back to haunt the district at the next collective bargaining session with teachers and service employees.
Hunt said $215,000 wouldn't be set in stone, and the district could end up with someone making $170,000. But she said the maximum should be set that high. It is extremely rare that top executives in government are higher end within a certain range, only to settle for the lower end.
Mittelstadt ended her three-year tenure–or rather, her tenure was ended for her by Hunt and fellow-Board members Will Furry and Christy Chong–closer to a base salary of $145,000. The board began discussing the salary of its next superintendent with a higher floor of $165,000. School Board Chair Cheryl Massaro described a top end of $200,000 as "a nice figure" that would attract a person already serving as a superintendent or as an assistant superintendent (as was the case with both of th district's previous superintendents: Jim Tager and Mittelstadt had each been assistant superintendents, one in Volusia, the other in St. Johns.)
Almost as an afterthought, she noted: "Remember, we have a small school system, as opposed to the biggies that are over 300,000."




Enrollment in Flagler schools proper has been below 13,000 students for the last decade and a half, and is currently over that threshold only when enrollment at Imagine, the charter school, is included.
It looked as if the board agreed to the $165,000 to $200,000 range, with nods from every board member–with Hunt's exception. Despite being a minority of one by then, she returned to the charge. "I guess I misunderstood the process. So I would ask that this is not locked in at this moment," she said.
It will be voted in at the board's next meeting the third week of August. But Kristy Gavin, the board attorney, told board members they may still contribute further wording for the superintendent's job description. It would again be discussed at the Aug. 15 afternoon workshop before it's voted on at that evening's meeting. Gavin would post the potential changes for public viewing before that weekend, on the district's website.
Gavin had, in fact, requested that board members send in their suggestions before today's meetings. None did. The final job description is necessary because the next step in the search timeline is publishing the ad for the job, including the job description. The job description Gavin prepared is aligned with what the Florida School Board Association sees in other district, and with Florida law.
Hunt wanted to change the job title to Chief Executive Officer and Superintendent, not just Superintendent. The reference to a CEO is in the job description already ("The Superintendent shall be the Chief Executive Officer (CEO) of the District as described by School Board policy and Florida law.") Hunt wanted the words repeated in the title.
"In a lot of cases, executives do have two titles," Hunt said. "They might be a regional senior manager and senior vice president. And so again, I think setting that tone of the expectation is that this person is not only superintendent of schools, but they are expected to be the chief executive officer of an organization, the largest employer in the county."
Board members did not object.

Superintendent Job Description redline2023