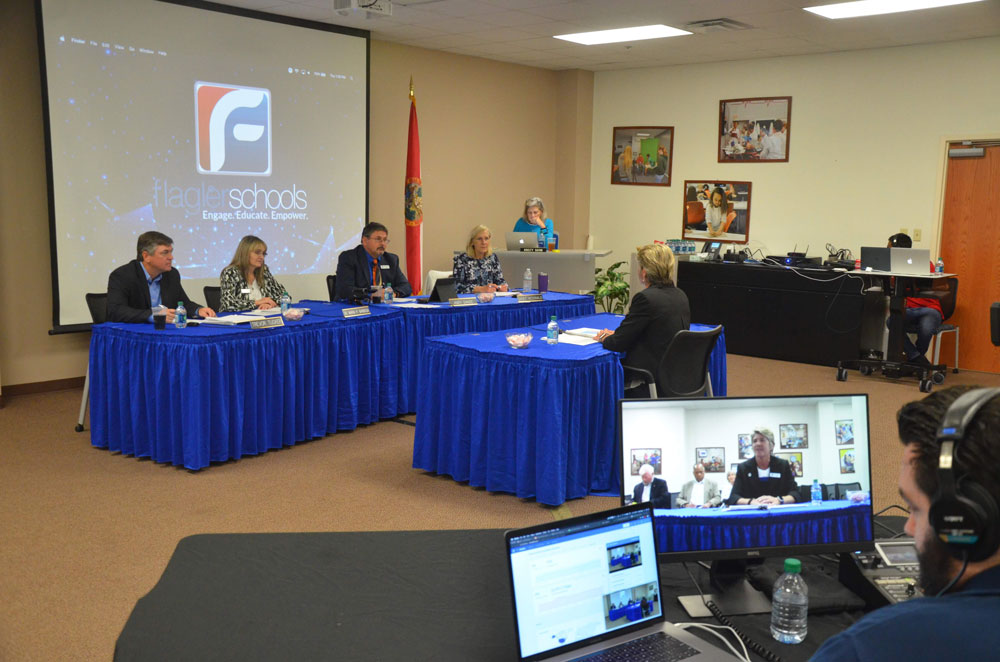 Cathy Mittelstadt on Thursday signed her three-year, $154,200 contract with the Flagler County School Board to be the district's superintendent starting on July 1. The board had approved the contract on Tuesday, but with less unanimity than all five board members wanted: the unusual vote to approve was 3-2, even though all five board members are behind the hiring of Mittelstadt, four of them enthusiastically so. Mittelstadt is currently an assistant superintendent in St. Johns County.
The split was over one clause in Mittelstadt's contract. The contract allows for the firing of the superintendent in the first year, without cause. Mittelstadt had asked that should the board decide to fire her that first year, it would have to have a super-majority of four votes, rather than three, to do so. The reason she wanted that clause–the only clause she negotiated–was because of the unusual election year in progress, when three school board seats are up, which could result in three entirely new board members who could then form a majority to get rid of the new superintendent.
Normally, only two seats would be up, making the supermajority needed to protect against the potential political shift a moot point. But Board Member Andy Dance will resign the seat come November, halfway through his term. He is running for a county commission seat. Whether he wins or not, he'll have to leave the board, thus opening a third seat in a year when only two would have been up.
The original contract had the supermajority clause included. But School Board member Janet McDonald, who negotiated the contract through Board Attorney Kristy Gavin, changed it to a simple majority. "It's completely within reason, that's why I changed it," MCDonald said.
Notably, McDonald had voted against hiring Mittelstadt in early March, preferring Vern Orndorff. She joined the board in a subsequent unanimous vote to extend an offer to Mittelstadt, in a show of unity, though her position had been made clear. That, combined with the year's election outcome, was behind Mittelstadt's push for more security. McDonald's maneuvers on Tuesday signal a challenge ahead for Mittelstadt: the board is becoming more polarized.
Supporting the incoming superintendent's position, Dance and fellow-board member Colleen Conklin opposed the change McDonald had made. Conklin said she did not want the superintendent's job to be politicized during an election year, when candidates could theoretically make promises to get rid of Mittelstadt. "She's basically taking a salary pay cut, we're not meeting her current salary even, this is the only thing she's asked for and I don't think it's unreasonable," Conklin said.
Dance was similarly concerned. "I just don't follow the rationale for the change," he said. "The circumstances are actually even more hazardous with the three seats up for change." He said that creates volatility, and it was not much to ask to ensure a year's worth of job security for Mittelstadt, through a supermajority vote.
"I'm OK either way," Tucker said. But he made the motion for approval of the contract with the simple-majority clause, as McDonald had changed it, and voted with the 3-2 majority of McDonald and Maria Barbosa, to approve it.



Conklin then wanted to change her vote. "I don't want to bring a superintendent in on a 3-2 vote," she said. But Gavin said the objection was on the record as not opposing the contract so much as the one clause in the contract.
Mittelstadt will be paid $135,000 a year, with deferred compensation of $10,800, and an expense allowance of $8,400. Health insurance will be determined later. The combined compensation package amounts to $154,200. Mittelstadt had initially asked for a higher base salary, so as not to take a lower salary than the one she's earning now in St. Johns.
"What she was making in St. Johns is a different district, a different job," McDonald said. She is a starting superintendent in our district and I think that has to be recognized. Mr. Tager came in at $135,000 as a new superintendent, and I think since our numbers are very different from St. Johns I think that's completely appropriate, and I don't believe that this district would vote for people, for school board, that wouldn't have the best interest for Flagler schools. I am sure that she is going to do a great job. I would just like to make sure that we keep within the parameters that she was voted in on."
Gavin said Mittelstadt did not want to make that a point of contention, and with the expense allowance., she will be making slightly more than what she earns now. She is also in line for certain raises: a $2,000raise should she carry out a certain superintendent certification, with a potential raise of $3,000 to $7,500 once she completes the entire program.
But unlike Superintendent Jim Tager, who she's replacing, she is not in line for performance incentives–not yet, anyway. Tager had built-in bonuses if he was to improve the district's graduation rate by a certain level, and if he was to bring the district to an A. He achieved both. Mittelstadt's performance bonuses may yet be set, but they will be defined once the board goes through its goal-setting.
The school board approved the contract as part of an emergency meeting it held at its normal meeting room on the third floor of the Government Services Building, but with board members sitting at large distances from each other, and with Conklin participating by phone.
The salary and the supermajority clause were not the only issues clouding that segment of the meeting. McDonald made an issue of Conklin texting at least three board members four weeks ago, the March 10 morning they were scheduled to choose a new superintendent and vote. Conklin at the time was off the board: she had essentially stepped down for the duration of the superintendent-selection process, because she had applied for the position herself. (She had not made the final four and was not among the choices the board members would vote on.)
But she sent a text supportive of Mittelstadt. It was nothing she hadn't said in interviews the same day: "Cathy seemed to have the strongest interview," Conklin wrote in part, echoing similar responses from residents at a community forum featuring the four final candidates. "I believe Cathy would serve the district very well. She is coming from the number 1 performing district in the state. There is much we could learn from her. Her answers were very specific and she seemed to be the most student focused." She continued: "I've heard Vern's the favorite and it's a done deal. I like Vernon. I encouraged him to apply but that was before I learned his district has been ranked an "F" district for the last 2 years and he only has 200 kids. It was one of the reasons I threw my name in the hat. I'm not sure how we ignore that." She concluded by wishing the board members well.
At the meeting on Tuesday, McDonald all but accused Conklin of violating the sunshine law. "I'm concerned that this board needs to be very very careful about creating a contract on some bpenehat may not have been on the up and up," McDonald said.
Dance had no idea what she was referring to until McDonald specified her reference to the text. "There was no exchange of information but there was certainly communication there, and I feel that there was a breach of our obligation to work in the sunshine for this community," McDonald said.
Conklin was audibly put off by McDonald's suggestion and McDonald seeking a legal "opinion" on the effects of the text.
Gavin, however, said that while the text was not "advisable," there was no violation. "Technically, board members are not to discuss any matters outside of board on issues that could be coming to the board for a vote," Gavin said. "That's what they are advised when we do training, that they should never discuss any items that could potentially come before them for a vote. The unusual circumstances that you had was Ms. Conklin remained a board member but she was not a board member participating in the vote." In other words, she was acting "as a community member and not as a board member when she was text messaging. Still not advisable to have provided it."
The board members who received it, including McDonald, informed Gavin and the Florida School Board Association consultants who were working with the board on the superintendent selection. Gavin told the board members not to respond. The FSBA consultants "did not find this to be a violation that needed to be discussed prior to the board taking any action," Gavin said, and McDonald did not bring up the text at any point during the March 10 meeting, nor did any of the other board members who'd received it, suggesting the matter was over.

Reader Interactions