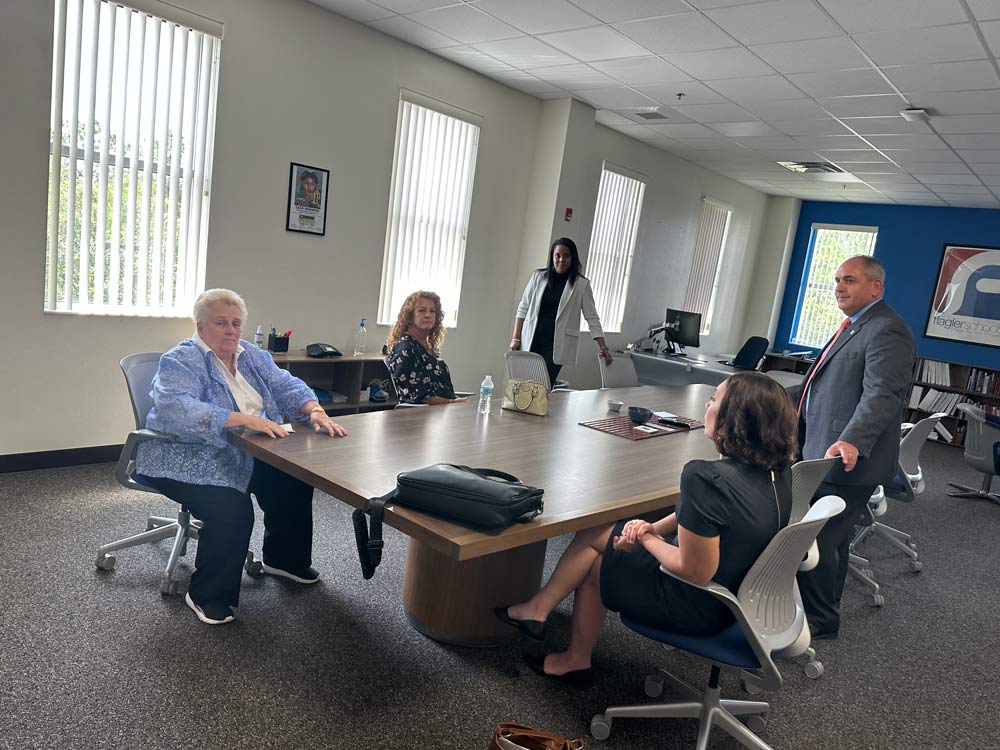 After Interim Superintendent LaShakia Moore completed her press conference this morning about the segregated assembly at Bunnell Elementary that has caused public outrage and consternation for the school board, she filed out of the room, all five Flagler County School Board members following her.
All six then went to Moore's office and met, behind closed doors, in what a school employee outside the office described as a "debriefing." The board members were discussing the superintendent's performance.




It is illegal under Florida's open meetings law for members of the same board to meet and discuss outside of public view active matters before the board, or matters they may be voting on–as they very well may as the board sorts out one of its most serious crises in recent memory, and as they surely will, regarding Moore's pending candidacy for the permanent superintendent job.
The board members met for at least five minutes (Sally Hunt was there very briefly) before a reporter told School Board Attorney Kristy Gavin that they were in a potentially illegal huddle. Gavin walked back to the superintendent's suite, knocked on the door, waited a few moments before it was opened, and found the board members around the conference table, most of them seated: School Board Chair Cheryl Massaro, Colleen Conklin, Christy Chong and Will Furry. Hunt had left by then. Moore was standing near the end of the table.
Gavin signaled to them that they had to break it up.
Conklin protested that there was nothing inappropriate about the meeting, that the board had just gathered to tell Moore that she had done well. "What do you think we're talking about?" Conklin asked. When told that it was probably not about lunch, Massaro agreed. Chong angrily bolted from the room. Furry lingered a moment before walking to a nearby hallway.




"Don't make a mountain out of a mole hill," Conklin said. "There was absolutely no business discussed. We walked back because some of had stuff in the room. All that was said was that it went as well as it could have. We are allowed to talk to each other for goodness sake." It did not look like the board members had walked back merely to pick up things left behind: a picture taken of their meeting gives no sense among them of any readiness to leave.
It is unclear why, if the board only intended to tell Moore that she'd done a good job, it felt compelled to do so behind closed doors. And no member of the public would have been allowed in, had the attorney not herself been involved.
Some of them were due to attend a regularly scheduled–and properly noticed–public meeting of joint government representatives an hour later, in the same conference room where the press conference took place.
While nothing stops board members from addressing the superintendent individually, or even meeting socially and discussing matters on which they will not vote or take positions–elected officials from the same board routinely have meals together or socialize at conferences, presumably without breaking sunshine laws–today's circumstances left little to the imagination: the board walked out as a group and headed straight for the superintendent's conference room.




Of all the times when the board's judgments–or misjudgments–cannot risk sending the wrong message, even if it is only the appearance of impropriety, today's circumstances, with a school district under siege because of colossal and offensive misjudgments, might have compelled the board members to know better. The circumstances did not. It was an unfortunate blotch by the board on an otherwise strong performance by Moore in response to the crisis at Bunnell Elementary.
The attorney, who had stayed behind to speak with individuals in the conference room, seemed unaware. When first told of it, she said she couldn't see them and didn't know where they were. She finally headed to the superintendent's office only at a reporter's insistence.
The same board, which often portrays itself as transparent and accountable, had been in the habit of following its evening, monthly meetings with a "debriefing" huddle, outside the agenda, until recently. Elected officials on other local boards don;t hold such "huddles" after meetings and would be advised by their attorneys to avoid them.
Last month Hunt, who has cut off contact with the public and has been a no-show at key board and district functions, said during a workshop last month: "I think we can all agree when we are in the back room, meeting together, it is a cohesive, it is a cooperative collaborative, board. We're able to speak freely." The statement suggests that such meetings–like today's–may be more frequent than is known.