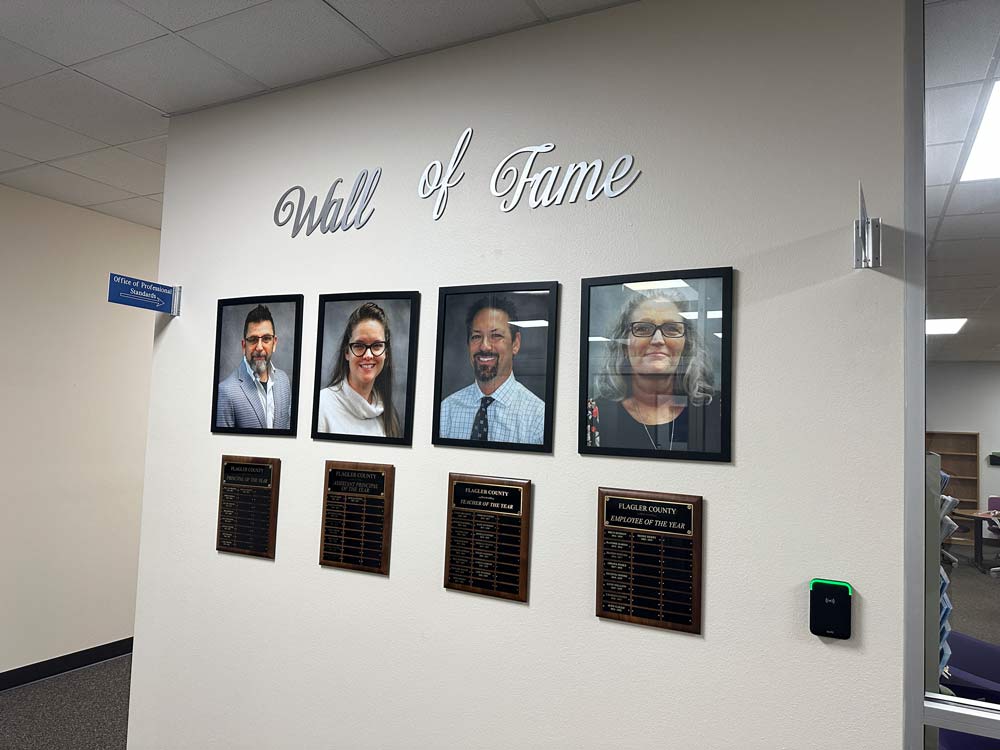 Donelle Evensen this morning announced her resignation as Bunnell Elementary principal five weeks after being named to the position, and not quite three weeks after being placed on leave following her approval of an assembly where faculty segregated Black students, called them a "problem," warned them of a dire future if they did not shape up, paired them off in a competitive bracket, and bribed them with food treats if they raised their test scores.



Marcus Sanfilippo, the former principal at Bunnell Elementary, will return there as principal pending a permanent appointment, Superintendent LaShakia Moore told parents in an email.
Evensen submitted her resignation letter to the superintendent and included it in a letter to faculty she emailed early this morning. At no point in either letters does Evensen take responsibility or offer any regret for the tenor of the assembly or the misjudgments that led to it–and led to the superintendent, the school board and the community at large to denounce it as unacceptable. The case drew national attention, including articles in the Washington Post and the Los Angeles Times and on national television networks.
Rather, both Evensen letters are more focused on Evensen herself, on what she perceives as an injustice against her, and on low test scores among Black students that have to be raised. She referred to the assembly as "positive," and what resulted from what she calls "this situation" as bringing merely "unfavorable attention" to the district.
"I have not deserved the time of leave that I have been placed on and I certainly do not deserve anything less than the position I currently have as Principal of Bunnell Elementary," she wrote in her resignation letter. " I have willingly followed the process for investigation and been as quiet as I can during this process so as to preserve that process, believing that the truth and legacy that I have built would result in restoration of my name and a chance to truly show what BES is capable of under my continued leadership. Since this is not the direction that things are going at this time, I am offering up my resignation."




The district has been investigating the case but has not yet released the findings. Those findings will be reviewed by a district committee, with recommended actions to Moore (a friend and long-time colleague of Evensen's going back to their days as faculty members at Rymfire Elementary). Evensen let on in her letter to faculty that "It has come to my attention that the outcome will not be a favorable one at the conclusion of my leave."
In that letter, she explicitly expressed how she was having difficulty accepting that outcome: "Please know that I have tried my best to make known to district officials the positive manner in which the meeting with African American students took place and reminded them of all that we have already accomplished and the plans for what we would accomplish this school year. Even as I write these words to you I continuously pause because I don't want to write it down and I don't want to accept that it is taking place."
While she does note that she feels "I have failed you and all the great plans that we had," that acknowledgement was directed at faculty only. "I feel that I am losing a large part of my family by resigning, however it seems that is the only way to preserve my ability to do great work for students moving forward," she wrote in her more personal note. She did not say how she would continue that work, whether she would be reassigned, or whether she would accept a re-assignment. But she intimated that she was being severed entirely from the district as she offered faculty members her new gmail address: "I have copied and pasted my resignation letter below if you would like to see it. I am sure it will not take long for my flagler email to no longer work so please feel free to email me at my new email address."




The former principal tells Moore that she has loved Flagler County and "all of the students in it," and loved her 18-year education career, stressing what she brought to the job: " There are so many amazing educators and leaders within the district and I know, without a shadow of a doubt, that I have been one of them every moment of my 18 years here. I have learned and grown during that time putting back into the district every ounce of my knowledge, dedication, and certainly my time."
Moore confirmed in an email to parents that Evensen had submitted her resignation. "I know that this has been a rocky start to the year," the superintendent wrote, "but we as a school and organization are committed to restoring the rest of this year." Moore was appointed the district's permanent superintendent by the school board on Tuesday.
Evensen had hoped that the investigation would "result in restoration of my name and a chance to truly show what BES is capable of under my continued leadership," but sees that as impossible now, and devotes a significant part of her letter to the superintendent to what amounts to a lecture about low Black test scores: "The level of achievement is unacceptable and although some are infuriated with the conversation I am hopeful that those same people and more will become instead infuriated with the data and begin working together to change it," she wrote, citing figures. She said she was able to raise low scores among students with disabilities, and that the same ought to be done with Black students' test scores.
"I absolutely hate that in resigning I can no longer work towards this goal in Flagler County, but I am hopeful that the conversation and work is sparked in others," Evensen wrote, saying "my heart is broken." Her last request to the superintendent was: "Please reach out to let me know how you would like me to move forward in order to return Flagler County property and determine finances attributed to this resignation." She signed her name and title as principal of Bunnell Elementary.