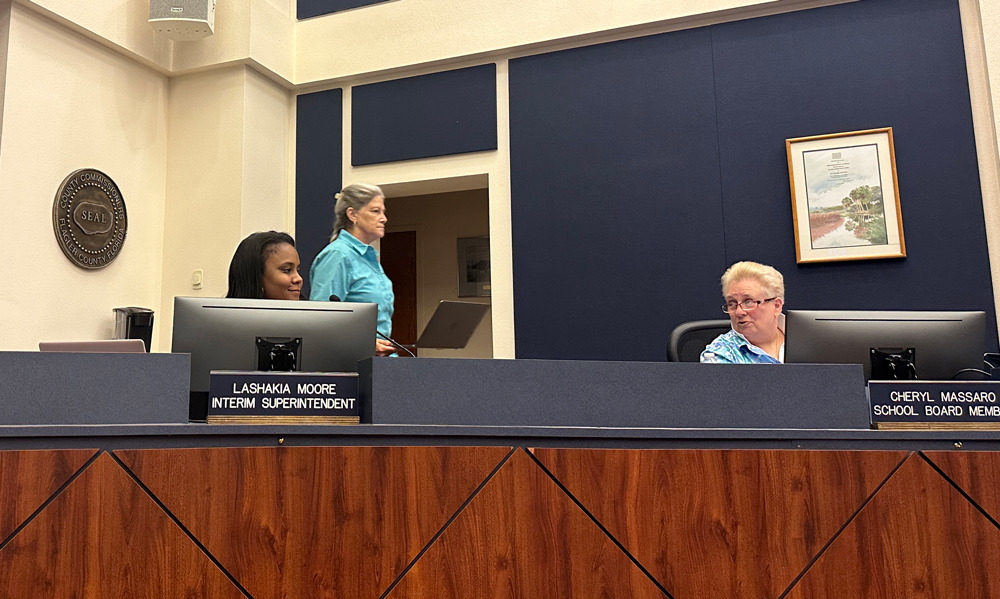 The Flagler County School Board this evening voted unanimously to appoint LaShakia Moore superintendent, eliminating the "interim" part of the title she had held since July 1 and making her the first Black superintendent in the county's history.




But it wasn't entirely a joyful occasion as Sally Hunt, a board member, soon diverted discussion to grievances about the school board attorney, board dynamics, and the board chair specifically–even as Hunt claimed she did not want to cloud the occasion. It was a remarkably ungraceful way to taint a momentous occasion.
Board Chair Cheryl Massaro was hardly finished bringing up the item before Colleen Conklin motioned to hire Moore, and Will Furry seconded. There was no discussion. "We've all had enough at this point," Massaro said.
Moore got a 10-second round of applause from the board and the chamber, which had a few dozen people in attendance.




The meeting had been scheduled to handle the legally required  approval of next year's property tax rate and school budget. The superintendent item was tacked on, initially as a "placeholder," giving the board a chance to take the vote rather than delay the matter.
If the appointment was a happy occasion on its face, the occasion was marred somewhat as Board member Sally Hunt called for a review of Board Attorney Kristy Gavin's contract. Hunt said outright that she had lost trust in the attorney, and asked for the issue to be discussed at a coming meeting. She then asked for a separate discussion about "board behavior," and said she should not have people on the board "who feel bullied." She did not elaborate, but she had referred to comments made by Massaro, about her (Hunt), that Hunt thought should not have been made.
Massaro got more precise, explaining to the audience how she had been handed a script ahead of the press conference last week on the crisis at Bunnell Elementary, but also added a few words of her own, notably saying that the district did not support "segregation." Hunt had been displeased, and considered calling for a censure vote of the chair, Massaro said, though Hunt had pulled back from that consideration after discussions with the attorney.
"I'm sorry, I believe that was a time to address people from the heart," Massaro said, "and that as chairperson, that's something we all should do when you sit in this seat, you're not a puppet."
Tonight, Hunt called Massaro's account "factually not true," but said she did not want to have that discussion this evening. ("I will not lie," Massaro said.)
Hunt, in essence, brought up the issue, a deeply divisive matter, clouding the occasion, then said the occasion should remain "joyful," so would not talk about it further.




That ostensibly brought the issue back to Moore's hiring, which next moves to negotiations about her contract, which the board would still have to approve.
The appointment became increasingly inevitable over the last few weeks, gaining momentum after the opening of the new school year, when Moore dazzled board members with her commanding performance before returning school employees and on school campuses. The appointment became all but certain after Moore deftly handled the crisis triggered by the segregated assembly at Bunnell Elementary late last month, then pivoted in the middle of that to prepare the district for a possible hit by Hurricane Idalia.
It did not hit, but the board got to see Moore in crisis mode, then in disaster-preparation mode, and gave her high marks for both.
The board members individually interviewed Moore over the last few weeks, and this morning held a 90-minute open interview with her as a full board, where Moore again distinguished herself.




Somewhere, somehow, even in the exhales of his memory, Jim Guines must be smiling, so must be Theda Wilson: she was the first Black woman elected to the Flagler County School Board–or to any countywide seat–in the early 1990s. Guines was the second and last Black member of the board before his retirement in 2007.
At the end of this evening's meeting, some board members addressed the Bunnell assembly. Board member Christy Chong attributed the crisis to "indoctrination," saying "this is the unfortunate result of what happens when we try to go beyond teaching the foundations of education."
Board member Will Furry offered a few words about the crisis, but also said of Moore that it was "a delight to watch your interim leadership." Hunt said she wanted to "congratulate us" for having Moore as superintendent.
"There's really nothing anyone can say other than we apologize," Board member Colleen Conklin said of the Bunnell crisis, "because there's just no sense to make of it whatsoever." She then expressed her gratefulness for Moore being in the superintendent's seat.
As for Massaro, she said of Bunnell: "Children are resilient. They bounce back. Sometimes adults have a much harder time doing that." She added: "It's unfortunate that we had to blemish tonight's meeting. But it happened, and it was expected. But I'm not going to sit quietly anymore. I'm going to have my say."
It had, after all, been Massaro's idea to suspend the search for a new superintendent and appoint Moore.
Moore herself had the final words: "Happy seventeenth day of school. Seventeenth day," she said, as if to underscore how much has happened in this young school year, and promising to continue counting up. "It's going to take a lot of work, and we have a lot of work to do," she said. She owned that she didn't know what the board;'s decision would be this evening, but said: "For me, this is about doing good work, because good work needs to be done."