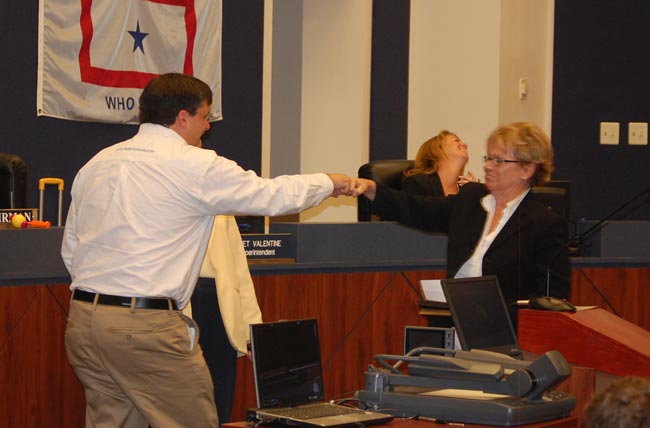 It was fitting that the meeting the Flagler County School Board chose to roast, thank and send off former Superintendent Bill Delbrugge tonight was also the meeting featuring one of the school district's grandest achievements in recent years—the success of the Flagler Palm Coast High School Community Problem Solvers, who swept more awards at this year's international competition than any school had in the 35-year history of the program.
As the team's students narrated the story of their triumph and presented awards to Jacob Oliva, the high school's newest principal, Delbrugge—still involved, still cheered to his last moment in the district—took pictures and led two standing ovations for the students. The program, led by FPC's Diane Tomko, is emblematic of the sort of challenges Delbrugge thrived on for his students and demanded from his staff. It's also the sort of success he nurtured in his three years as principal at FPC and his five years as superintendent.
Those years ended tonight. He's off, at 4 a.m. Wednesday, to California for a few days before flying to Cairo, his new home base, where he will be heading a different sort of school organization.
He wasn't yet free Tuesday evening. Delbrugge sat through his last, long meeting, at a staff table to the side (Janet Valentine, his successor, has been the reigning superintendent for almost two months), but not before the board commemorated his tenure in a half-hour mix of sorrows and roasts. Board Member Colleen Conklin couldn't keep it in most of the time. Board Chairwoman Evie Shellenberger, who led the proceedings, kept it in only until she spoke. Others in the audience, including Delbrugge's father and the latest of Delbrugge's adopted sons, wrestled with the emotional weight of the moment.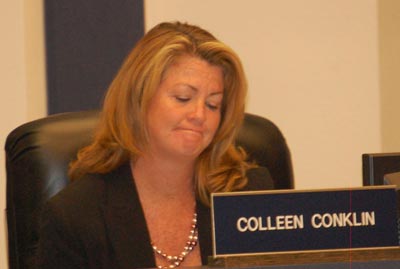 "I know that many people like you will walk in and out of your life but only true friends will leave footprints in your heart. Bill, your footprints will always be in my heart," Harriett Holiday, the human resources director, told Delbrugge, who sat on a stool in front of the dais for the duration.
Between principals Stewart Maxcy and Chris Pryor though, any chance of the evening being a entirely beholden to Hallmark's halos was mercilessly, and mercifully, demolished. "Bill's schooling years are a little sketchy,"  Maxcy said. "I really never did get validation indicating where or how long Bill actually attended school. I'm still not sure." That was barely the set up of a complete biography of Delbrugge's trails from Tennessee to Georgia to Flagler County. After doing all he could do here, someone must have seen his photo in the paper and tracked him down. Although he leaves an outstanding legacy here, whatever he did is enough to make him leave the entire country this time."
Matters went further downhill when Matanzas Principal Chris Pryor, who earned his Ph.D. not long ago and knows his way around intellect's greenest ivy, directed and sang through a groundbreaking  arrangement of  "YMCA." The song, originally featuring the trademark mustaches, muscles and unambiguously gay Village People,  featured Pryor and other administrators and was adapted to something vaguely rhyming with "US of A," "Delbrugge" and the ribs he was addicted to at Woody's.  The performance, thankfully, was not live, but on video.
Richard Dupont, the principal at Bunnell Elementary, gave Delbrugge a "redneck GPS," a shirt with a small LED specifying its use.
Board member Sue Dickinson made him a DVD and thought of showing it this evening,  "but, she told him, "I realized you have more ammunition against me than I do against you, so you can watch it by yourself."
And after Valentine was done shaking and baking with Delbrugge, the weepers took the stage.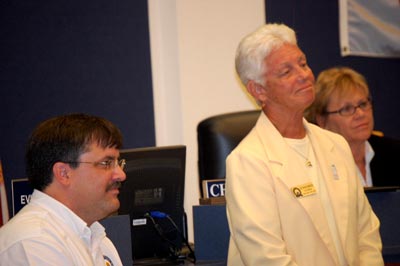 "When I first met Bill and had an opportunity when you were principal, sitting in your office at FPC, behind him was a picture of Mohandas Gandhi," board member Colleen Conklin said, alternately addressing Delbrugge and the audience. "I knew that there was something very, very special about you, and his quote that we all heard a thousand times, 'be the change you want to see in the world.' You are. You are that change. And it stinks that Flagler County is losing you. But you've left behind leaders and staff and administrators, and the board, that is ready to somehow move on. And you're going to go to a nation that needs you and a country that needs you to share what you have with them. And we're only so fortunate to have this time you spent with us. And you'd better come home."
Then Board Chairwoman Evie Shellenberger, who's herself retiring this November. She recalled the innumerable occasions when Delbrugge put his personal time at the service of students or teachers or staffers—picking up students at airports when they didn't have their own rides, buying jackets for shivering students at bus stops, giving his car keys to people stranded by roadside.
"When I started thinking about what the board could do, I wanted to do something that I thought would be meaningful to you," Shellenberger said. "And you know there's 35 million Americans who really don't know where their next meal is going to come from—in America. So the board made a donation to Feed America, and with our donation, there's $1,500 worth of groceries that are going to be purchased for families in need. Then there's another favorite site of mine, it's the Hunger Site, so I went on there, we made another donation, and that donation is going to pay breakfasts for 10 students for an entire year, in school. It's in—I want to make sure I say this right—Mauritania," one of the world's poorest nations. "I just felt like this is something that you'd do, and I did it in a light frame because I know you're packing light when you go over there and I thought maybe you could sneak this little light frame in so that people would know right off the bat what you are. Because you're a good man."
In an email to his top staff later that evening, Delbrugge wrote: "Tonight was my last Board meeting and in reality my last day in our District for a year. I want you all to know it has been a complete honor to work by your side these past seven years. I am constantly amazed at how dedicated you all are and I know if I had any success it was because you were the one's pushing me to do my best. Thank you Board for giving me the support and trusting in me when I came up with crazy ideas. Principals and Directors thank you for making my crazy ideas work. I know you were the one's who did the super work to make everything work and I want to say again, Thank You, Thank You, Thank You! See I said it three times. I know the Flagler District is going to continue to do great things for our students and I look forward to watching Janet Valentine lead everyone to even higher accomplishments. You all have great talents and I encourage you to continue to be the super team you are. Remember, only by working together as a team can you realize you true strength. I love you all and I wish you all the best. Now Evie it is time for me to go cry so it was not just you. I wish you all the best."