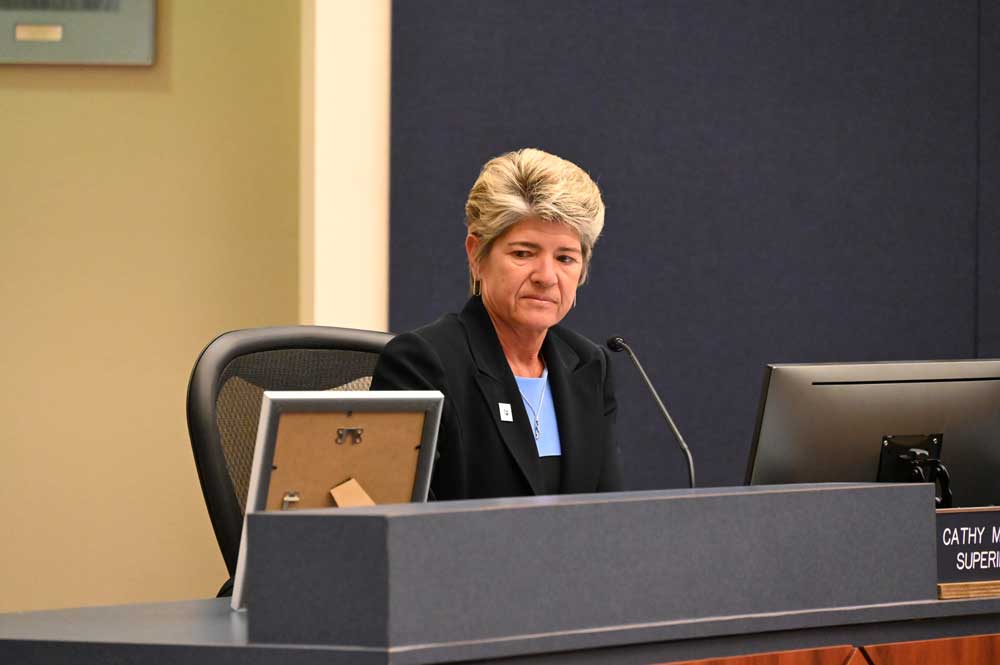 Rebuffing an outpouring of public support for Superintendent Cathy Mittelstadt at this evening's special meeting, the Flagler County School Board voted 3-2 not to renew her contract when it expires in June.
It would be difficult, but not impossible, for the board to secure a new superintendent by July 1. The name of Lashakia Moore, the assistant superintendent, has been bandied about in some circles as a possible interim. But the board this evening did not take up that matter. It'll discuss succession at its April 18 workshop.




Board members Will Furry, who made the motion, Christy Chong, who seconded, and Sally Hunt, voted not to renew. Colleen Conklin and Cheryl Massaro voted against.
"There's been a lot of talk in the media about collusion and things like that, but I will tell you that this board has been independently elected," Furry said. "We've all done our independent reviews of the superintendent and everything has been in the sunshine…. I've come to the conclusion that we'd be better fit to not renew this contract and find a new superintendent to lead Flagler schools in the future."
Chong, who had given Mittelstadt a strong evaluation that nearly matched Conklin's, cited "a lot of turnover and staff changes" as her reason.
Hunt spoke mostly about herself, justifying who she spoke with–particularly Mike Chiumento, the Palm Coast attorney–or thanking the chamber of commerce. "I just wanted to speak to these really unfortunate accusations about someone who lives in your community, who really cares about everyone and everything And who has really been vilified. And it's unfortunate. I'm sorry that I've lost a lot of friends in this process, and a lot of respect for a lot of people, and I'm sorry you lost respect for me. But tonight I'm going to do what I think is in the best interest of Flagler County schools."
Thirty-two people took up 90 minutes of public comment before the vote. Thirty spoke in support of renewing the superintendent's contract, or extending it.




Conklin addressed the chamber of commerce's claim that reading, math and science grades had fallen significantly in the last report, though the chamber did not mention either that the fall reflected the pandemic's effects–or that learning gains were still in many respects above those of 2018, or that they remained, despite the pandemic, above state averages.
"So in fairness, she is moving the needle on student achievement in every single subject area with the exception of US history," Conklin said. "I like warm and fuzzy. But I'll tell you what, if she was warm and fuzzy, I don't think she could have kept her composure and her grace and her focus, the way that she did through Covid." She added: "I have worked with a tremendous number of superintendents over the years. And I will say I have never seen anyone stay so focused on student achievement and not allow her team to get distracted with the noise, but to remain focused on student achievement and just beat that drum of elevating excellence. She never swayed from that. That's impressive. There are currently eight superintendent openings in the state of Florida right now. She came from the number one district in the state. She knows their secret sauce."
She asked her colleagues at least to reconsider extending the contract for a year, saying the district will probably be an A district when the grades come out in early summer.
But other board members' minds were made up, in some cases for months.
Massaro said she didn't need to say what had already been said in the superintendent's defense, but still spoke at length. "She thinks through everything before she does anything, and that's a huge plus because we don't have the knee jerk reactions that we have had by many superintendents in the past," Massaro said, before referring to a list of accomplishments included in some of her evaluations. "In my year serving of Flagler County Schools, and it's close to 20 years now, this is the best team effort I have ever seen."
The majority might as well have been looking at the clock. Mittelstadt sat at her place on the dais, staring ahead. The board took its 3-2 vote at 8:10 p.m.
Individuals spoke for themselves or as representatives of local organizations–Flagler County's Exceptional Student Education Parent Advisory Council (EPAC), the African American Mentor Program, the NAACP. Speakers included former School Board member Trevor Tucker, graduates of the district, a former Bunnell city commissioner and current board member of the Carver Center, current and former district and school staff members, including Dave Halliday, a teacher and often-decorated track coach at Flagler Palm Coast High School who said he spoke "for those without a voice to those from each corner of the county, from Espanola to the Mondex to Chapel Street in Bunnell to the dunes in Flagler Beach."




"I think the grass may not be greener on the other side," Tucker told the board. "I think Ms. Mittelstadt has done a good job during her time here. And I think you should continue her contract. And with that, don't let this decision one way or the other divide this board any more than it already is."
Steve Furnari, who chairs EPAC, recalled the way Jim Tager, the superintendent before Mittelstadt and the last superintendent to reclaim an A rating for the district, was "blindsided" by the board chair in 2019 who maneuvered to oust him.
"While it may be tempting to exercise the full power of your position, it also comes with lots of risks," Furnari said. "Will you have the votes to get a candidate that you prefer, who supports your vision and ideological values? Or do you end up with someone new who's worse than what you have now?" Citing Mittelstadt's record of fulfilling promises rather than "placating the concerns of stakeholders," EPCA "strongly" urged the superintendent's contract renewal, he said.
"With Ms. Mittelstadt, you know for certain that the district will get integrity, persistence and dedication to data driven results," another said. "With someone new, you'll get a lot of promises that may or may not be fulfilled."
The speakers highlighted a broad range of accomplishments, not least among them the superintendent's shepherding of the district through the Covid pandemic, then successfully managing the renewal of its half-penny sales surtax to support technology, security and other initiatives. The list grew with each speaker, some describing the superintendent as a "cheerleader" for local success, some recalling days when retaliatory administrators had free rein, until Mittelstadt arrived, some of whom were beguiled at the seeming inquisition against the superintendent for vague and tendentious reasons.
"I have yet to understand where the superintendent has failed in her performance, what her shortcomings are, what she's supposed to have done that she hasn't done," Edith Campins told the board. "She seems to have performed well, and I can't see any reason for not continuing her contract. On the other hand, I do hope that the board, after this is all said and done with, will take a look at its performance and particularly the performance of a particular member, because I think there is someone here that needs to be censured for their behavior in this whole affair."




Campins was referring to Hunt, who at least since February has been secretly orchestrating Mittelstadt's firing, with coaching from Wadsworth Principal Paul Peacock (who sent her a literal "script" on how to motion for her firing at a board meeting). One of the more subtle speakers told the board to "not worry about ruffling some peacock feathers or the governor's report card, as only the report cards that matter are those of our students, the voters of tomorrow." It wasn't clear if she was referring to the report cards the local chamber has been dangling in the face of some elected officials when the chamber doesn't get its way, or the report cards former Board member Jill Woolbright claimed to the board Gov. Ron DeSantis was keeping on local board members.
One of the more powerful statements was delivered by a prodigal voice–Patty Bott, who had, among other responsibilities, been in charge of the district's year-long and politically fraught impact fee negotiations with cities, the county and the building community. She has since retired. "Shame on you, to any board member whose decisions are being guided by political and outside party interests," Bott said. "You need to understand that you're being used as a pawn, a pawn that will eventually be replaced as the last ones were. We all know who they are and who the outside interests are. And they're in it for personal gain."
Two people spoke in favor of firing Mittelstadt in the first hour of public comment.




The first was Charlene Cochran, the person whose appearances before the board in 2019 began board meetings' slouch into incivility and occasional vileness. Three years ago Cochran had openly insulted an under-age high school student and his parents, all of whom were in the audience, over his gender orientation. She then led a demonstration before a subsequent board meeting, outside the Government Services Building, in the same vein. Her appearance today was no different. This time she directed her bigotry at the superintendent–briefly, because unlike in 2019, when the board chair at the time allowed her bigotry unimpeded, Massaro intervened, cut off her mic and said she'd be removed if she continued. Cochran spoke for a few moments into a dead mic then went back to her seat.
The second was Greg Blose, the spokesman for the local chamber of commerce who last week read the chamber's 186-word statement calling for the firing of Mittelstadt at a workshop. This time, in a remarkable display of decontextualized criticism, he compared post-pandemic achievement scores to pre-pandemic scores to make his claim that Mittelstadt had done a poor job. In fact, achievement scores fell across the state and the nation, as echoed by the Nation's Report Card for almost every state.
Massaro called it "weak and unexplainable data," questioning the chamber's alliegance when she referred back to the bruising battle over impact fees.
"With all due respect to the Chamber of Commerce," an educator and former colleague of Mittelstadt's in St. Johns County, where Mittelstadt had been an assistant superintendent, said later, "I would hate to see what our economic scores look like during the period of Covid and how much it's taken us to come back."
Others nearly ridiculed a recurring claim, at least from some board members and chamber directors, that Mittelstadt doesn't get into the community enough. She does, but not necessarily in the gentrified corners the chamber would like her to cajole: "I sent an invitation to miss Mittelstadt and I said, I haven't seen her at one of our meetings as yet," Daisy Henry, a former member of the Bunnell City Commission and a current member of the Carver Gym on Bunnell's South Side (which is predominantly Black). "The next meeting she was there. Some of you all I haven't even seen to the Carver Gym, period. That's the South side of town."