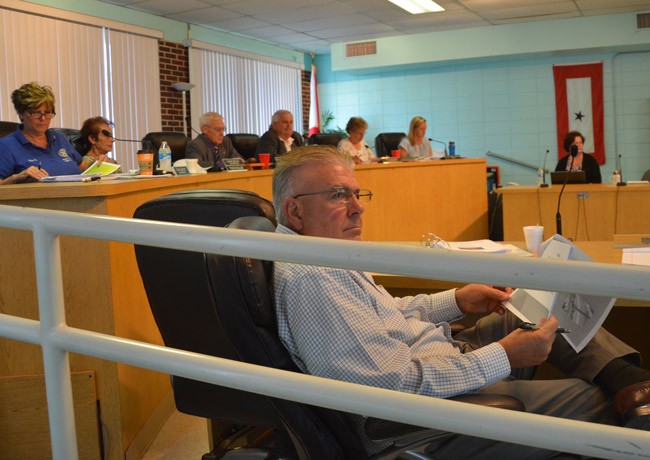 With swiftness and unanimity contrasting sharply with its previous hiring round six years ago, the Flagler Beach City Commission Friday evening voted 5-0 to negotiate a contract with Larry Newsom, 52, who spent the last 14 years rising from an $8-an-hour surveyor to a $116,000 assistant county administrator in Escambia County, where he also served long stints as interim administrator.
In Flagler Beach, he'll have to be satisfied with a salary that tops off at $90,000, and contend with a municipality that is exactly 70 times smaller, in population, than Escambia.
Money, Newsom said in an interview this morning, is not the reason he applied to Flagler Beach, so much as the environment and the beauty of the town. "Flagler Beach is a beautiful place, I think anybody would be willing to take a pay cut to come to Flagler Beach," Newsome said. "Quite frankly people who go to places who are searching for the monetary reasons, they need to factor in other things too."
He laughed when asked about the disparity in the size of the two organizations. "But let me say this because it's always been brought up," Newsom said. "Am I coming to Flagler Beach thinking it's going to be easier or simpler or les stressful to manage? Absolutely not." He said the issues are still the same: zoning, walkable communities, transportation. "Those issues don't change from a county of 350,000 to a city like Flagler Beach."
Assuming the contract negotiations are successful, Newsom—a golfer and runner—will be moving to Flagler Beach with his wife Elizabeth and their dog Abby.
The Flagler commission had been torn between Newsom and Joe Gerrity, a former city manager and city commissioner in Fernandina Beach, with one commissioner—Joy McGrew—comparing Gerrity to a comfortable old shoe and Newsom to a "shiny new pair."
The new pair won 12 minutes into an 18-minute special meeting Thursday evening, even though McGrew and Commissioner Jane Mealy had requested that the two candidates be brought in for another round of interviews. Their colleagues—Marshal Shupe, Steve Settle and Kim Carney—were not interested. (Newsom watched the meeting online, so he learned of the decision in real time.)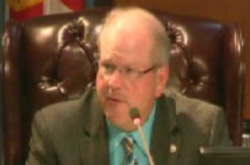 "I tried to see if I could find any reason to change my mind and at this point I did not," Carney said, referring to her preference for Newsom. She and Mealy spoke to Newsom by phone, privately, since last week, in further attempts to parse their choice.
"Talking to him was good, I didn't like that it was out of the sunshine," Mealy said of her interview with Newsom. "I don't think it's fair to the public that they didn't know what those questions were or how that conversation went." That's why she was pushing for a second interview.
Shupe had been leaning toward Newsom for his broad experience, for his being "hands-on," and for his many years in proximity of officials in the state capital. "I just believe that at this point in time it wouldn't hurt us at all to have somebody that knows somebody in Tallahassee," Shupe said. The city is also looking for grants and political clout, which Newsom provides. "He's looking forward to 10 years' worth of employment before he retires and he wants to do it in a small community. I'm not looking for somebody that's going to come in and maybe when things get really rough, might decide to leave, not that either one of them would do that, but I think he's got enough background and knowledge that he would be real good for the city."
Newsome is currently working as a surveyor for Pittman Glaze and Associates, a Pensacola surveying company. He had not applied to be county administrator in Escambia because of a timing issue. When that position was open, his friend and colleague, George Touart, who had been an interim administrator, applied for the permanent post, with the understanding that he'd serve a few years then be replaced by Newsom, who therefore did not think it proper to apply at the same time. The position closed. In December, Touart died unexpectedly in December, and another administrator was hired.
After opting for Newsom, the Flagler Beach commission briefly discussed how City Attorney Drew Smith will handle the negotiations. "I can't say the council doesn't want this, the council doesn't want that," Smith said. "I just want you to understand that when I'm negotiating, it's not as if I'm sitting there for you negotiating. I'm just trying to put together the best contract that I think I can, that I think is approvable." He said he will base the new contract on current manager Bruce Campbell's.
But there were questions about the salary range, which is set at between $70,000 and $90,000. Mealy was interested in starting the negotiations at $75,000. Her colleagues were at about $10,000 higher because of Newsom's experience.
"If we bring it at $90,000, he needs to know that is the top of the range," Carney said. "This is what got me in trouble with Bruce, I'm thinking oh, I could help Bruce, I could help him get more money and I really couldn't, if all truth be known, unless we change the budget or we change the pay scale."
Bruce Campbell is the manager whose five-year tenure is ending on Dec. 31. He announced his intention to resign last year, and when the city commission dragged its feet in even starting to find a replacement, he gave it an ultimatum in July, saying he'd be done for good by year's end. His hiring in 2010 had followed what took the shape of a public and political campaign on his behalf, resulting in raucous meetings and a riven commission that took a year before finally setting on him as its permanent choice. The tenure started well but deteriorated in the past year and a half as Campbell became dissatisfied with a perceived lack of respect from the commission.
Just two people addressed the commission just before the vote–there were barely half a dozen people in the audience–among them Rick Belhumeur, a candidate for the city commission in March's election and, potentially, future boss of the next manager. "Mr. Newsom has been involved in government much longer and been involved in more aspects of government than Mr. Gerrity," Belhumeur said this morning, elaborating on his remarks last night. "I feel that city hall needs to be freshened up and people held accountable to perform more efficiently. My concern is that Mr. Gerrity, coming from a much smaller administration, might be more likely to fall into the complacency among the staff at times. I believe that with his experience, Mr. Newsom will be able to bring some fresh ideas to City Hall and hopefully raise morale among all city workers."
Newsom said he didn't have specific priorities in mind just yet. "I'm not going to implement anything as far as right away," he said. "You don't want to fix things that aren't broken. I'm going to work with the commission and find out exactly what the concerns are with the commission."  And he noted: "I'm a firm believer as a city manager, you need to be talking to the citizens as well. We all work for the same group, that's the citizens, whether you're an elected official or not an elected official."

Larry Newsom's application and CV.