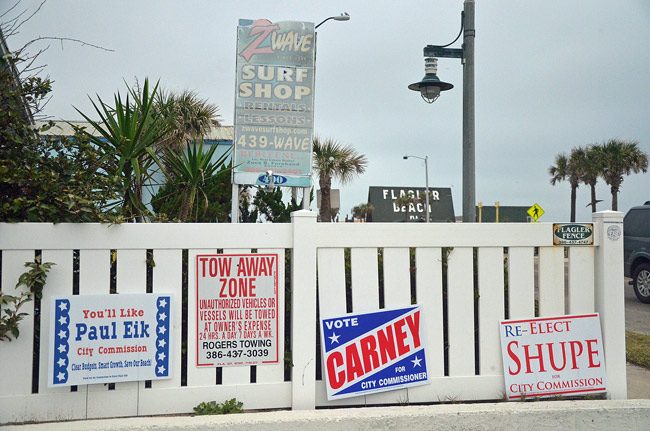 Today: Partly cloudy. Highs in the upper 70s. Southeast winds 10 to 15 mph. Tonight: Partly cloudy. Lows in the upper 50s. Tonight: Partly cloudy. A 20 percent chance of showers after midnight. Lows in the upper 50s. South winds 5 to 10 mph. Details here.
Drought Index is at 367.
Today's tides: at the beaches, at the Intracoastal Waterway.
Today's document from the National Archives.
The OED's Word of the Day: mudra, n..
The Live Community Calendar
Today's jail bookings.
Today's Briefing: Quick Links

"In a civilization frankly materialistic and based upon property, not soul, it is inevitable that property shall be exalted over soul, that crimes against property shall be considered far more serious than crimes against the person. To pound one's wife to a jelly and break a few of her ribs is a trivial offence compared with sleeping out under the naked stars because one has not the price of a doss. The lad who steals a few pears from a wealthy railway corporation is a greater menace to society than the young brute who commits an unprovoked assault upon an old man over seventy years of age.".
–Jack London, from People of the Abyss (1903) in Novels and Social Writings (Library of America)

Note: all government meetings noticed below are free and open to the public unless otherwise indicated. Many can be heard or seen live through each agency's website.
The Sheriff's daily incident reports and jail bookings are posted here.
Keep in mind: March is Women's History Month, and March 5-10 is National Procrastination Week. .
Take the Flagler County School Superintendent Survey: The school district is inviting residents, including students and faculty, to fill out this survey, letting school board members know what kind of superintendent you want to replace Jacob Oliva, who is leaving in June. This survey will be live until early March. It takes about 10 minutes. It's anonymous. Fill it out here.
Flagler Beach and Bunnell Elections: The two cities hold elections, with two incumbents and one challenger running in each city: Incumbents Marshall Shupe and Kim Carney, with challenger Paul Eik, in Flagler Beach, and incumbents Bonita Robinson and John Rogers, with challenger John Sowell, running in Bunnell. The top two vote-getters in each city will be seated as commissioners, which guarantees that at least one of the incumbents in each city will be re-elected. Obviously, only registered voters in each city may cast ballots in their respective contests. There is only one polling location in each city: in Flagler Beach, it's the Flagler Beach City Hall, 105 S. 2nd Street, Flagler Beach. In Bunnell, it's the old coquina City Hall building, 201 S. Church Street. Polls open at 7 a.m. and close at 7 p.m. Results should be announced by the Flagler County Supervisor of Elections shortly after that. Here's the Bunnell sample ballot, and here's the Flagler Beach ballot. Unless you're dying by sundown, you have no excuse: go out and vote.
The Flagler County School Board holds its monthly, epic workshop (epic, because it has reduced its workshops to one a month, when it intends to go through the entire month's business), starting at 5 p.m. in Training Room 3 on the third floor of the Government Services Building, Bunnell. The workshop will also be webcast live here. Board members will preview a spotlight of the great First Annual African-American Read-In at Belle Terre Elementary last month. They will hear a presentation on the Flagler Technical Institute (adult education) from FTI Director Kevin McCarthy (assuming he's made it back from his honeymoon in one piece) and on the next Digital Classroom Plan, from IT Director Ryan Deising, as well as reports on the district's online school, from Diane Dyer, and a proposed 2017-18 school calendar.

The Palm Coast City Council meets at 6:30 p.m. at City Hall in Town Center: Mayor Milissa Holland and Council Member Nick Klufas get their certificate of completion of the Florida League of Cities' Institute for Elected Officials. Council members will also consider an application from a developer to change 90 acres of Greenbelt zoning to 81 acres of residential and 9 acres of industrial zoning on 145 acres along U.S. 1 just south of Belle Terre Boulevard. The proposed amendment includes a policy to limit residential development to 348 dwelling units and non-residential development to 350,000 sq. ft. The council will discuss a proposed letter opposing a proposed bill before the Legislature that Flagler Hospital Flagler opposes (the bill would create short-term rehab and surgical recovery centers that would compete with the hospital). The council will also consider a revamped proposal from the administration about a "Discover Palm Coast" radio show that, following the controversy over the original proposal, which would have featured Mayor Milissa Holland, would no longer necessarily feature the mayor alone nor would necessarily be on the radio, but be a podcast, while the city would still spend $8,000 this year on radio advertising. See the proposal here.
Mostly useless information: The Suez Canal was opened on this day in 1869, finally connecting the Red Sea and the Indian Ocean to the Mediterranean, and ending the need for ships to round the Cape of Good Hope to make it from Europe to the Subcontinent. It was a great engineering achievement. It was also one of the greatest feats of imperialism, French in this case, in history: the canal was a colossal financial book to French investors, almost entirely at the expense of Egyptians, who suffered the French imposition until Egyptian leader Gamal abdel Nasser, a problematic megalomaniac and nationalist in his own right (an Arab Trump, in other words, but with more politics than narcissism in his blood), nationalized the canal and triggered an invasion by Israel, France and Britain. The invasion was repulsed not by Egyptian forces but by Dwight Eisenhower's threats–against the same trio of invading armies. That was back when American foreign policy had more spine and principle in the M iddle East than slavish acquiescence to whatever Israel demands.

Flagler Palm Coast Kiwanis Special Grant Awards: The final application deadline is March 31. Grants submitted after that date cannot be considered. Non-Profit Organizations and Schools that work with children are eligible to receive a grant for their proposal. Awards are given in amounts up to 5,000 dollars. Due to limited resources, not all projects can expect funding. Applications may be obtained on the FPC Kiwanis. Org website. All applications must be completed on the forms provided, though additional pages may be attached. An important requirement is that the grant not be the primary source of funding for the proposed project. Instructions on where to submit the electronic application are on the application letter with the download. The form is not interactive.

In Florida and in State Government:
Note: Some proceedings below can be followed live on the Florida Channel. Most legislative proceedings can be followed through the Senate or House websites.

State of the State: The Legislature starts the 2017 session, with the Senate at 9:30 a.m., the House at 10, and Gov. Rick Scott's State of the State at 11 a.m. Rep. Shevrin Jones, D-West Park, and representatives of groups such as the Florida Immigrant Coalition, the Florida AFL-CIO and the Florida Center for Fiscal and Economic Policy will hold a news conference to respond to Gov. Rick Scott's "State of the State" address. at noon.
Liquor wall: The House Government Operations & Technology Appropriations Subcommittee will consider a proposal (HB 81), filed by Rep. Bryan Avila, R-Hialeah, that would repeal a Depression-era law requiring liquor stores and bars to be separated from groceries and other retail goods, an issue commonly referred to as the "liquor wall." (1 p.m., Morris Hall, House Office Building, the Capitol.)
Certificates of need: The House Health Care Appropriations Subcommittee will take up a bill (HB 7), filed by Rep. Alex Miller, R-Sarasota, that would eliminate the state's "certificate of need" regulatory process for the construction of hospitals, nursing homes and hospice facilities. Under the longstanding process, the state Agency for Health Care Administration must give approval before such facilities can be built. (1 p.m.)
School choice: The House PreK-12 Innovation Subcommittee will take up a bill (HB 15), filed by Rep. Jennifer Sullivan, R-Mount Dora, that would increase the amount of money given to students in the voucher-like Florida Tax Credit Scholarship Program and make more children eligible for scholarships aimed at students with disabilities. (1 p.m.)Capitol.)
Driverless cars: The House Transportation & Infrastructure Subcommittee will consider a proposal (HB 725), filed by Rep. Jason Brodeur, R-Sanford, that would make changes to help move forward with the use of autonomous vehicles in the state. (1 p.m.)
Texting and driving: The Senate Communications, Energy and Public Utilities Committee will take up a proposal (SB 144), filed by Sen. Rene Garcia, R-Hialeah, that would make texting while driving a "primary" offense for motorists age 18 or younger. Under current law, texting while driving is a "secondary" offense, meaning motorists can only be cited if they are pulled over for other reasons. Under Garcia's bill, police could pull over young drivers for texting while driving. (4 p.m., 301 Senate Office Building, the Capitol.)
Fracking ban: The Senate Environmental Preservation and Conservation Committee will take up a bill (SB 442), filed by Sen. Dana Young, R-Tampa, that would ban fracking in Florida. Fracking is a method of drilling for oil and natural gas that has become controversial in recent years as it has become widely used in other parts of the country. (4 p.m.)
Gun bills: The Senate Judiciary Committee will take up a series of gun-related bills, including measures (SJR 910 and SB 912), filed by Sen. Dennis Baxley, R-Ocala, that would seek to exempt law-enforcement officers from a three-day waiting period for purchasing handguns. (4 p.m.)
Civic literacy: The House PreK-12 Quality Subcommittee will take up a proposal (PCB PKQ 17-01) that seeks to boost civics instruction. (4 p.m.)
•
–Compiled by the News Service of Florida and FlaglerLive

In Coming Days in Palm Coast, Flagler and the Occasional Beyond:
♦ March 8: The Flagler Beach City Commission holds a special, closed-door meeting at 5:30 p.m. at City Hall to discuss the legal case of the city against Howard Sklar's marina on Holly Avenue. See background here and here. The meeting will include an open portion at the beginning and the end.
♦ March 10: Flagler Reads Together event (the Friends of the Library's annual communal reading event that focuses on a single book and encourages everyone in the county to read it: the late Jack Clegg's "The History of Flagler County," in conjunction with Flagler County's centennial celebrations). The March 10 event, at 2 p.m. in the Doug Cisney Room at the Flagler County Public Library on Palm Coast Parkway, is a presentation by Bob Stone addressing the Cattle industry in Florida. Folklorist and media producer Bob Stone's multi-media presentation explores and celebrates the history and culture of the nation's oldest cattle ranching state from the colonial period to the 21st century. You will see and hear all aspects of Florida cattle ranching traditions including material culture such as Cracker cow-whips and unique ranch gate designs, swamp cabbage and other foodways, cowboy church and Cracker cowboy funerals, Seminole ranching past and present, occupational skills such as roping and branding, our vibrant rodeo culture, side-splitting cowboy poetry, feisty cow-dogs, and much more.
♦ March 10: Movies in the Park – Friday, March 10, 7:45 p.m. in Central Park at Town Center, 975 Central Ave., Palm Coast. Families will enjoy a family friendly movie on the park's giant outdoor movie screen. This month's feature: The Jungle Book. Bring your blanket, lawn chairs and snacks and invite your friends and neighbors to join you at this free, monthly family activity offered by Palm Coast Parks & Recreation and Flagler Schools. More info: 386-986-2323 and www.palmcoastgov.com/movies.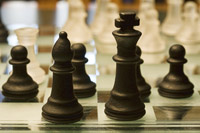 ♦ March 10-12: 2017 Florida State Scholastic Chess Championship, at the Wyndham Hotel on International Drive in Orlando. This is also the qualifier for the Denker, Barber and National Girls Tournament Champions. This year each of these 3 events are awarding a $5,000 scholarship good for any university or college in the Country to the top finisher in each event. The top finishers will also get qualifying spots in the World Youth Tournament. Online entry and more information are available at www.floridachess.org.
♦ March 11: First Aid and CPR/AED – 9 a.m.-4 p.m. at Frieda Zamba Swimming Pool classroom 339 Parkview Ave., Palm Coast. This class is a 7-hour course (one hour for lunch) designed to meet OSHA regulations and teach administering CPR to children and adults, using an Automated External Defibrillator (AED), using a mask or barrier device, assisting with bleeding, broken bones. $5/person with pre-registration required by 9 a.m. March 9. Sign up at www.palmcoastgov.com/cpr. More info: [email protected] or 386-986-2300.
♦ March 11: The Women's Missionary Society of First Church of Palm Coast, pastored by the Rev. Gillard S. Glover, has scheduled the food giveaway from 1 to 3 p.m. at the church, 91 Old Kings Road North, Palm Coast. For further details, call the church at 386-446-5759.
♦ March 12: The Palm Coast Yacht Club sponsors the annual Blessing of the Fleet in the Cimarron basin at 3 p.m. The Blessing of the Fleet is a centuries old tradition that began in the fishing communities of the Mediterranean. More recently, in the coastal communities of Florida, including Palm Coast, the Blessing of the Fleet marks the opening of a new boating season. All captains are invited to bring their vessels to receive the blessing of Father Al for a safe and bountiful navigational season. Any type of watercraft is welcome.
♦ March 17: Lunch N' Lecture Series 11 a.m.-12:30 p.m. at Palm Coast City Hall, 160 Lake Ave. This month's topic: "Can I recycle this?" The lecture and lunch are free, but pre-registration is required (while space available) by 11 a.m. March 15: www.palmcoastgov.com/register. More info: 386-986-2323.
♦ March 18: NCCAA Youth Sports Clinic, 9 a.m. check-in, with clinic from 9:30-11:30 a.m. at Indian Trails Sports Complex, 5445 Belle Terre Pkwy. and Palm Harbor Golf Club, 100 Cooper Lane. 6-16 year olds will enjoy free soccer, baseball, volleyball, basketball and golf instruction offered by professional coaches and collegiate athletes representing the National Christian College Athletic Association. Register online at www.palmcoastgov.com/register . More info: 386-986-2323.
♦ March 21: Food Truck Tuesday, 5-8 p.m. at Central Park in Town Center, 975 Central Ave, Palm Coast. Purchase and enjoy delicious cuisine available from food trucks situated along Park Street next to Central Park. Free entertainment is also provided. Proceeds this month will benefit the Parks & Recreation summer camp scholarship fund. More info: www.palmcoast.gov.com/foodtruck or call 386-986-2323.
♦ March 22: The boy Scouts Council holds its Golden Eagle Dinner at 6 p.m. at Hammock Beach Resort, honoring Bob Cuff, now a Palm coast City council member.
♦ March 28: The Flagler Forum, the discussion group organized by Ed Fuller, hosts a panel discussion featuring Flagler County's local media, including Palm Coast Observer Editor Brian McMillan and FlaglerLive Editor Pierre Tristam, at the Hilton Garden Inn, Palm Coast, at 6:30 p.m.
♦ May 16: The Florida Judicial Qualifications Commission holds a hearing the the case of Circuit Judge Scott DuPont, who faces several charges of misconduct during his 2016 re-election election campaign. He has admitted wrongdoing. The 9 a.m. hearing is taking place in courtroom 406-7 at the Duval County Courthouse, 501 W. Adams Street, Jacksonville, before a six-member panel: Eugene Pettis, Steven P. DeLuca, Robert Morris, Michele Cummings, Harry Duncanson (a lay member of the commission) and Jerome S. Osteryoung.

John Oliver interviews the Dalai Lama and learns a surprising cure for alcoholism: https://t.co/pziqr0z31a pic.twitter.com/vS0VPZ73QL

— Slate (@Slate) March 6, 2017
Yes, actually, you should call Donald Trump a liar, no matter what this @washingtonpost piece says: https://t.co/EZwgsJZNHZ pic.twitter.com/6spZ9pEhwN

— The New Republic (@newrepublic) March 7, 2017
2 NYC exonerees will receive $15,000,000 in settlement for 33 years wrongly imprisoned: https://t.co/m9L2iq9z0E (Marino/ @NYDailyNews) pic.twitter.com/Ofzgdz89O3

— Innocence Project (@innocence) March 6, 2017
79% of Americans say right to nonviolent protest is very important to democracy https://t.co/HEoIHyspdO pic.twitter.com/vxg3eAcirO

— Pew Research Center (@pewresearch) March 6, 2017
— FRED CHRISTIAN (@FredChristian10) March 6, 2017
Supreme Court won't hear transgender bathroom case after Trump policy shift https://t.co/gqTpB5JspM pic.twitter.com/4g3vpZPiXx

— The Hill (@thehill) March 6, 2017


Palm Coast Construction and Development Progress Reports
The following is an update of ongoing permitting, construction and development projects in Palm Coast, through Feb. 24 (the city administration's full week in review is here):
Click to access development-february-22-2017.pdf

Road and Interstate Construction:

Comparone Plays a Scarlatti Sonata
Previous Codas: