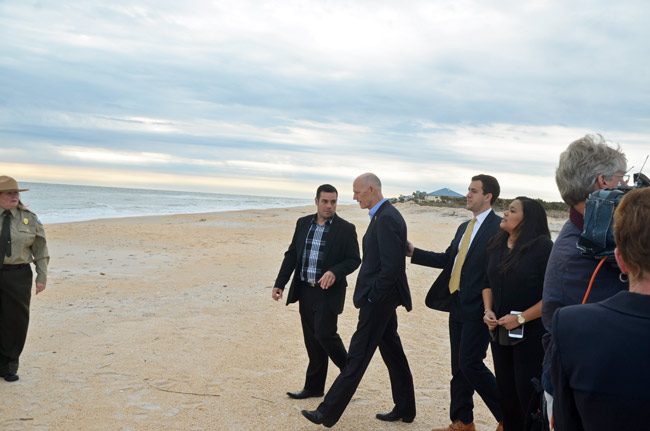 Last Updated: 2:17 p.m.
Gov. Rick Scott was in Flagler County for the fourth time in three months this morning, stopping for a few minutes at Washington Oaks Garden State Park to announce the release of $15.8 million in emergency money for dune and beach repairs in Flagler, St. Johns, Volusia and Brevard counties.
It's not exactly new or unexpected money: County Administrator Craig Coffey has been discussing those emergency dollars and lobbying for them for weeks—he was in Tallahassee earlier this week to do just that. It's wasn't immediately clear how much of it would be devoted to Flagler or through what criteria: neither Scott nor Bryan Koon, director of Florida's Division of Emergency Management, who was alongside Scott this morning, could answer those questions.
"I know how the money that's come through FEMA and those kinds of things work but I don't have the details yet on how we're going to utilize those $15 million," Koon said.
But Scott's office in early afternoon provided some of the fine print, showing Flagler set to receive $5.375 million, or just over half the $10 million estimated needed repairs at three locations that suffered severe damage during the hurricane: Washington Oaks, where repairs will amount to $1.5 million, all of it underwritten by the state (because it's a state park); $5.8 million to repair 4.2 miles of dunes in northern Flagler County, with about half that money provided by the emergency appropriation; and $2.7 million for dune restoration in Painters Hill, again with about half that money provided by the emergency appropriation.
Flagler County is the largest recipient of the emergency allocation. St. Johns is set to receive $3.75 million, Volusia will receive $3.95 million, and Brevard will get $2.69 million. The total cost of needed dunes repairs, however, is $30.8 million in the four counties, and $10 million in Flagler, the county most severely damaged by the storm. Those figures reflect only dunes restoration–not road repair, beach access, pier repair or sea wall construction.
Coffey, who was at the park with four county commissioners, shed some light on the emergency fund, but he, too, was awaiting details regarding the timing and distribution. "My understanding is it's the same money we've been talking about in our workshops," Coffey said, correctly as it turned out (he'd spoke of it just last Monday, with some of the identical numbers the governor's office provided). "What we're hoping is that $15 million is the $5,350,000 that's coming to Flagler, but I'm going to find out those details later today, they're going to call us. But the governor's office has been working great with us." (Coffey's office later noted it would be "a couple of weeks before all the details are ironed out.")
The money would flow from the state to the county commission, which would manage the projects locally. That's an important detail: whoever manages projects locally decides where the work is carried out.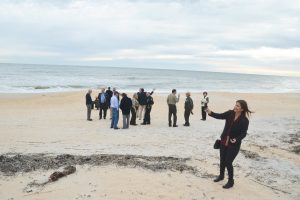 That $5.35 million would be spent on trucking and dumping sand to rebuild beaches from the county's border with St. Johns south to the south end of Beverly Beach, not beyond, Coffey said. Expected money from the State Department of Transportation would pick up beyond that.
The governor's office had called Flagler Beach Mayor Linda Provencher Thursday afternoon to invite her to the Washington Oaks announcement, but there appears to be no money for Flagler Beach, at least not from the emergency pot the governor announced today.
Scott was authorized to release the money under a pair of executive orders he signed in the aftermath of Hurricane Matthew. The money is essentially a bridge between now and the legislative session, which doesn't start until March, and whose budget will not kick in until July. "This is for emergency repairs, we work through emergency management, they work with our counties, work with our cities," Scott said. "We find places where we need to do things where we can't wait for the next session," meaning the legislative session.
The Governor's proposed budget for 2017-2018, which will be announced later this month, according to a release issued by the governor's office this morning, will also include the remaining $61.2 million to fulfill the state's share of needed restoration, for a total of $77 million, based on the latest hurricane damage assessment from both Hurricanes Matthew and Hermine. Again, it's not clear what share of that Flagler can expect, though it's in line for a substantial sum. State transportation department officials told the Flagler Beach City Commission Thursday evening that they were working toward a $40 million appropriation to rebuild State Road A1A and the dunes in the city, and to build a sea wall at the north end of the city. It's not cl;ear if that money is in addition to the $61.2 million, or a part of it.
Coffey also expects that the emergency money will be like an "advance" or a match for Federal Emergency Management Administration money. It will be "structure as part of a FEMA match," Coffey said. "The money I've been talking about, DEP grant, really the governor's office money, it's emergency money, I thought it was going to flow through DEP, it might flow through Emergency Management. Again, some of this stuff is still in flux. But the bottom line is there's still probably going to be a match. It's going to be an advance toward FEMA funding, is what it will be."
Coffey has told the county commission that Flagler's beach-repair bill may total $60 million.
Scott, whose office billed this morning's appearance in Flagler as a "major announcement" on storm recovery, arrived at the part shortly after 9 a.m. A lectern had been set up on the beach, just past the dunes that had been wiped out by Hurricane Matthew and hastily, partially rebuilt by the state and county. He was surrounded by county commissioners, Flagler Beach officials, state park officials, and local Republican Party representatives ("Good morning handsome," Joanne Updegrave told him as they shook hands), but spoke for just three minutes in general terms about the appropriation, then for another two minutes with reporters, before driving off. Like many others who'd showed up without coats, he was chilled by the cold air. His next stop today was in Fort Myers.
As has become the norm at most levels of government at events staged for television cameras, all officials herded behind the governor and his lectern to fit in the TV frame as he spoke. At the beginning of his remarks, he offered his condolences to Flagler County Sheriff Rick Staly, who was also present, and who was on his way to Winter Park later today to officiate at his mother's funeral. "I told him when my mom passed away four years ago," Scott said, "the worst thing about losing your mom is that you wake up some days and you just think, ah, I need to be calling her and telling her something."
Since Hurricane Matthew, he'd visited Flagler on Oct. 10 to tour the devastation along State Road A1A, on Oct. 31 to meet with county and city officials at the Emergency Operations Center, as an after-event recap, and on Nov. 7 to mark the reopening of State Road A1A.

The Governor's Emergency Appropriation's Breakdown (2017):
Click to access emergency-appropriations-hurricane-matthew.pdf