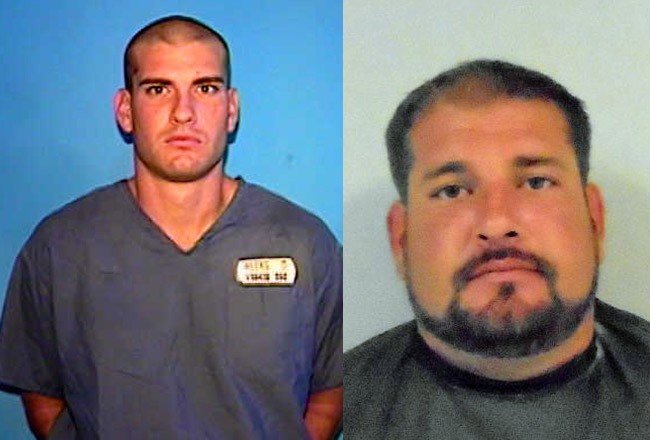 Duane Weeks Jr., 34, the son of former Flagler County Supervisor Kimberle Weeks, has a violent history. It added its latest chapter Thursday evening when he was charged with brutalizing a 25-year-old woman, smashing her cell phone, and attempting to run her down with a farm vehicle on County Road 305, causing the woman to crash her own car into a trailer.
Kimberle Weeks faces 12 felony counts on charges mostly stemming from her time as election supervisor. She is accused of illegally recording people without their consent, either in person or in phone conversations. She resigned her position as elections supervisor in December after six years.
The incident involving Duane Weeks Jr. is not dissimilar from previous ones that led to charges against him.
From January 2002 to June 2003, he was in state prison finishing a two-year sentence on two felony convictions—felony battery and shooting a missile at a building or vehicle.
He was arrested several more times over the years. A little over a year after his release from state prison he was arrested on an assault charge. Attorney George Pappas represented him. The charge was dropped. In 2006 he faced a battery charge. That one was dropped. Two years later, he was charged with aggravated assault with a deadly weapon, a felony. The charge was dropped.
In 2009, not long after his mother was elected Flagler County Supervisor of Elections, he was charged with robbery, battery and tampering with a witness. According to his arrest report, he allegedly punched a woman in the face and grabbed a phone from her as the two were in the back of a pick-up truck and she was trying to call 911 for help. Weeks threw the cell phone out the window, the report states. The woman bled.
All three charges were dropped.
A little over half a year later, he was again charged with a felony—burglary, as well as criminal mischief and theft. The alleged victim was his own father's business, Hollar and Green, the big cabbage distributor on the west side of the county. The younger Weeks, 29 at the time, had stayed behind at the plant after his father left, then allegedly stole $500. A window to the business had been shattered with a rock. His father told police that he thought his son, with whom he'd been having trouble, had committed the theft out of spite. When police confronted his son at the plant the early morning of the incident, Duane Jr. told police he'd merely been having sex with a woman there, then yelled profanities at his father.
All three charges were dropped.
Two months later, Weeks Jr. pleaded no contest and was found guilty of selling oxycodone: he'd made the $15-a-pill sale to what turned out to be a sheriff's informant. Weeks was sentenced to nine months in jail.
Weeks has also been charged with dozens of traffic infractions over the past 15 years.
Thursday's incident developed near the Bimini bar then again at Hollar and Green, his father's business. His 25-year-old live-in girlfriend told police that they'd been at the bar that evening, then got into an argument in the car as they were idling outside the Country Store. According to the victim, Weeks "physically grabbed her by her neck with one hand and demanded for her to go buy cigarettes," his arrest report states. Weeks then told the woman to drive him to Hollar and Green. Once there, the arrest report states, Weeks "was grabbing her against her will and smashing her head into the wall several times."
Duane Weeks Sr. was there, and told his son to give the car keys to the woman and let her leave.
But as the woman drove away, the younger Weeks took hold of a silver Mitsubishi Lancer—a farm vehicle on the property—"and started to chase her recklessly down CR 305," the report states. The woman feared Weeks was going to smash into her, she told police, so she pulled into a driveway and ended up crashing into a trailer. The car was damaged. She sustained minor injuries. Sometime during the fight, Weeks allegedly smashed the woman's cellphone, valued at $150.
Other witnesses, including Duane Weeks Sr., who drove behind his son in an attempt to stop him, corroborated the account to police.
Duane Weeks Jr., of 6157 County Road  305, was arrested and charged with aggravated assault with a deadly weapon, a felony, felony battery with a prior conviction, and criminal mischief. He remained at the Flagler County jail Friday evening, on $7,500 bond.