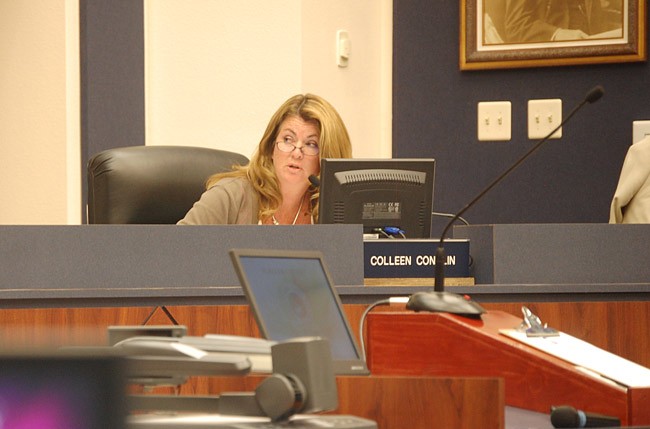 In the wake of the Newtown school massacre in December 2012, few local voice spoke louder or more wrenchingly against gun violence than Colleen Conklin, the Flagler County School Board member since 2000. Though a supporter of the district's school-deputy program, she's never favored the last two years' push by National Rifle Association-inspired advocates to allow school employees or volunteers to carry arms.
One such bill has cleared three Florida House committees and one Senate committee so far. It may not make it through the Legislature any more than a previous such attempt did.
But if it does, Conklin may not oppose it. "I think my thoughts on this are going to shock you," she said at the start of an interview on the issue last week. "I'm on the fence."
"My gut reaction was not even no, it was hell, no," Conklin said of House Bill 19 when she first read it. "When you dig a little bit deeper and you look at what they are requiring in order for a district to implement this, or to do this, it's actually quite complex. So for me on a personal level, I do not own a firearm, we do not have firearms in our home, I personally, for me, am uncomfortable with the notion that we would have personnel throughout our school that would be designated as individuals who would be armed. That's Colleen Conklin. However, in thinking about multiple situations, and I had a constituent share their thoughts with me on this, and simply put, if there was an active shooter on campus, which is what this bill is really all about, and they lined up in a room, and you were standing next to your child, and the intruder had us lined up, would you rather I had a concealed weapon on me, standing next to you, that I would have an opportunity to save you and your child's life in that room, or would you rather I be that I'm a pacifist, and we all die? And I have to be honest and say that that scenario has given me tremendous pause to really reconsider and rethink my initial reaction to this bill."
Conklin is in the minority. Her more conservative colleagues on the board, among them Sue Dickinson and Trevor Tucker, are  opposed to the idea. Andy Dance is "comfortable" with existing school resource officers. Even Janet McDonald, the newest member of the board and its ostensibly most conservative—she is backed by the Ronald Reagan Republican Assemblies—has her doubts about the bill, even though philosophically she considers its intentions valid. She just doesn't trust the Legislature to implement it effectively, starting with the funding it would require. In that respect, she's right: the bill provides token dollars only even as it calls for rigorous training of those who'd carry weapons.
---
A bill making its way through the Florida Legislature would allow school boards to designate employees or volunteers to carry concealed weapons from pre-school to high school campuses. Most local school officials are leery.
---
The bill, sponsored by Gregory Steube, the Sarasota Republican, is part of a larger school-safety measure. The gun provision is simple: "A school superintendent, with approval of the school board, may authorize a school safety designee to carry a concealed weapon or firearm on school property." So the decision to adopt the program would be left up to local school boards. It would not be a requirement. The allowance would apply to pre-schools as well, which means that VPK settings would be included, as would adult education facilities.
Should the local school board go that route, the designee may be either a school employee or a school volunteer licensed to carry a firearm. But the designee is required to be an active or retired member of the military who's never had firearm-related infractions, or an active or retired law enforcement officer with a clean record. Principals may recommend certain individuals to the superintendent, who then may appoint them as a "school safety designee."
The individual must have completed a safety program created by the Florida Criminal Justice Standards and Training Commission and administered through state-operated criminal justice training centers. It may include active shooter training, firearm proficiency, school resource officer training, crisis intervention training, weapons retention training, and continuing education and training.
The Legislature recognizes that training costs money. But the bill provides for a total of only $157,000 for all 67 counties to that end. If the money is averaged out, that works out to about $2,300 per district.  (Such allocations are generally distributed according to district size, so Flagler's share would likely be smaller.) Background screening costs are the responsibility of the designee or the school. That's the sort of fine print that leads McDonald to doubt the effective intentions of such legislation. "I don't think we're getting enough to actually do the academic programs," McDonald said, "so a lot of the legislation is a hope and a dream, and I don't think that's fair to the public, either. If Tallahassee is going to create programs, it should fund them."
Based on the proposed law's requirement, the weapon must be carried by the employee or the volunteer at all times, which means it may not be stored or locked up somewhere. Leaving the weapon within reach of a minor "who gains access" to the weapon, however, results in a mere second-degree misdemeanor. Signs on school property must prominently display the following: "Authorized Armed Defense Present and Permitted."
"I'm not really in favor of that, to me it should be law enforcement only in K-12," board member Trevor Tucker said. "I look at it like this: you can give anyone a firearm who's sane and they'll probably never ever use it. The problem is you never know who's sane and who's not." Tucker doesn't buy the convention that former law enforcement officers are necessarily a good idea to arm and put in schools. He points to the much-reported road rage incident on U.S. 1 in March 2013, when Nathaniel Juratovac, an ex-Flagler Beach cop, shot an unarmed Flagler County firefighter by roadside as both men's families, with young children, were in their respective vehicles. Juratovac is serving a four-year prison sentence.
Tucker also mentions the liability issues that would complicate having armed men or women on campus. Dickinson is equally uncomfortable with the idea.
"I think it would be a very difficult challenge for us as a school board to develop a policy that would provide for the safety of everyone involved," Dickinson said, though at that point she was under the impression that the weapon would have to be secured away from the individual designated to carry it. "I would be willing to discuss the policy. That doesn't mean I'm agreeing with it. But I would be open to everybody coming up with whatever suggestions and ideas that they might have that would cover my concerns."
Dickinson notes that if a policy were in place, it could open other vulnerabilities, including liability, if an incident were to take place, for example, on a bus or at the central office, where there may not be a person designated to carry a weapon. "I'm not so sure that that's the answer. I believe that we can secure our buildings and our students and our employees in a much safer4 way. Yes it would cost us some money, but I do believe that there's a better way for us to secure rather than putting guns in the schools."
Board member Andy Dance spoke cautiously about the bill, as its final language has not yet been penned—nor has it passed all hurdles. Still, he said, he was reassured by its granting the authority to move ahead with concealed weapons—or not—to local school boards. Beyond that, Dance said, "I'm very comfortable with our arrangement with our SROs and the training our SROs go through. I think the training component is critical to having effective SROs in schools. It's huge. The training they get in how to deal with situations."
Stephen Hinson, the principal at Buddy Taylor Middle School and formerly the principal at Belle Terre Elementary, sees the day-to-day issues of security first-hand. To him, more weapons on campus aren't the answer. "I would prefer that we left that task with law enforcement, and continue to allow my staff and myself to be tasked with the job of educating our students," Hinson said. "And if they want security, to hire additional law enforcement officers."
McDonald leans toward that approach, too, even as she notes the value of weapons as means of protection in active-shooter situations. "Research shows," she said, "that when people have been responsible gun owners and have had concealed carry permits in places where incidents have happened, it has limited the chaos and the insults on other people in the area by the illegal gun holder, or the one doing the chaos. I don't know it should be handled by the school board. I think it should be handled by the law enforcement people."
The district is putting together its budget for next year, but it's not yet clear how much additional money there will be overall for additional security.
Superintendent Jacob Oliva echoed other officials. "I personally believe that the best method of safety for our schools is to have licensed law enforcement officers in each of our schools," he said. They're trained, they're in uniform, and they're easily identifiable if there's an assailant on campus, he said. Others may not be. But SROs are expensive. The district pays for four of the six SROs currently in schools, at a cost of $280,900 to the district just for four officers. Palm Coast pays for another officer, and the sheriff's office pays for the sixth. The cost includes training. See the full contract here.)
"We're going into budget season," Oliva said. "The budgets haven't been hashed out, but we've seen a version of the government's budget, we've seen different versions in the senate and the house, and some of those budgets do have a small increase in the safe schools allocation. So personally I'd like to see that area increase more to cover additional costs." For now, he's not making recommendations regarding the weapons bill "because it might not go through."
As for Sheriff Jim Manfre, there was no equivocation about the proposed bill. "Completely, 100 percent against it. Completely, 100 percent, I'm against," he said. "We have school resource officers in the schools. Putting weapons in the school where people are untrained is a terrible idea." Manfre doesn't think more concealed weapons can make much of a difference. "I don't think it's going to solve the problem that we have—active shooters in our schools," he said. "The thing that's going to solve that is good security and good training for the professionals hat are in school."