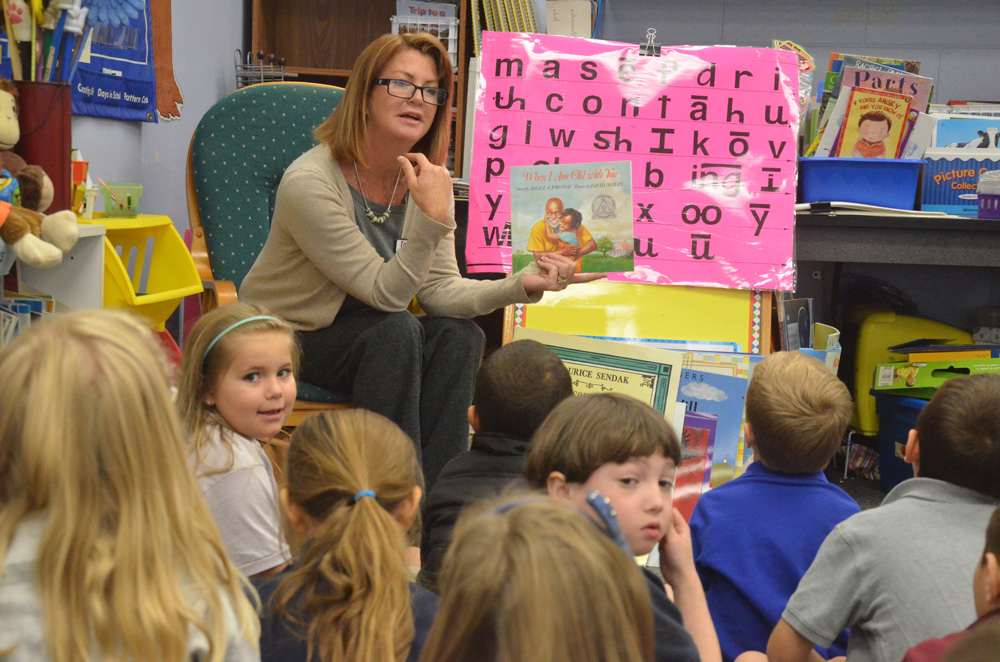 Colleen Conklin, at 20 years the longest-serving member of the Flagler County School Board, this afternoon applied to be the next superintendent, a move that triggers a series of ramifications and places her four colleagues in the odd position of deciding whether to be her boss.
The decision does not affect Conklin's status as a board member, nor her eligibility to run for re-election this year, which she still intends to do should she not get the superintendent job. But the decision immediately withdraws her voice and input from any discussions and decisions regarding the next superintendent, whether discussions have to do with her or any of the other applicants.
It also means that the four individuals she named to the superintendent citizens advisory committee will not be seated. Each board member named four individuals to the committee, which meets for the first time Tuesday at 6 p.m. The committee will cull through the applications and provide the board with an extended short-list after two or three meetings, out of which the applicants to be interviewed will be chosen. The four individuals Conklin named will not be replaced, School Board Attorney Kristy gavin said.
Beyond that, Conklin's application creates the sort of unpredictable wild card scenario that will lack at least some clarity until board members begin to speak of it at length.
"After significant and deliberate consideration, I realize I'm in a very unique situation, and because of that reason I was compelled to apply," Conklin said in an interview this afternoon. "I have an intimate knowledge and experience with the district. I have a deep love and understanding of our community. And I have a passion for public education, and truly believe I can help to move the district forward, period, really. End of story. Honestly in the last three superintendent searches, community members have asked me to apply, but this last time there were significantly more people that asked me to consider throwing my name in." Conklin would not yet name names, saying she would have to ask them first. She said they consisted of "community members, parents, family members, friends."
Conklin's was part of a slew of last-minute applicants Friday, with eight more added than the total of 21 earlier this week and more expected before the midnight deadline. One of the new applicants was Jeff Reaves, the Matanzas High School principal.
In her 20 years on the board Conklin has served with six superintendents and had a vote in the appointment of five of them. In that time span she's amassed one of the most successful electoral record of any local politician, aside from the few who generally draw no opposition: her re-election margins have tended to be among the largest of any elected official. Her popularity has rarely wavered, and she's managed her two decades in public office free of scandal.
Her 20 years on the board aside, and among the current applicants Conklin would appear to have less rather than more administrative experience. She's taught school before, but she's never been a principal or an administrator in a school district. "I was at first very concerned about that, but I'd say when you look at my experience at Embry-Riddle, I basically run a small campus with over 44 school districts being served, 156 secondary schools being served, over 200 teachers impacting, over 6,500 students throughout five states. I've been intimately involved in teacher training, expanding program opportunities for students, course and curriculum development, leadership and management of teams of individuals, and numerous teachers."
At Embry-Riddle, where she is a professor (she recently earned her doctorate) and the Executive Director of the Gaetz Aerospace Institute, she is responsible for a $4 million budget but, she notes, she's been responsible for hundred-million-dollar budgets year after year as a school board member, budgeting being one of chief responsibilities of board members.
As for the financial incentive of taking the superintendent's job, which would pay better than $130,000, there is none. "I actually could be taking a pay cut. There's no financial motivation here at all," Conklin said.
It's not unusual in counties that have elected superintendents to see board members make the jump and get elected superintendent. But it is very unusual, and may be a first, in a situation where a board member applies for an appointed superintendent position. Some 41 counties out of Florida's 67 have elected superintendents.
"My response was that she has to follow her heart," Janet McDonald, who chairs the school board, said this afternoon. "She is a woman that has a lot of talent and she's taking it upon herself to expand her reach in the educational field. Each of us can only drive our own vehicle, and if this is in her heart to do, I applaud that and I wish her the best, just as I'd wish any of my other board members if they have other plans." McDonald alluded to the way she had been equally supportive of fellow-board member Andy Dance when he announced his run for county commission.
"The opportunities to learn new things come every day," McDonald said. "It's maybe a new challenge for us, but it's about expecting the best for everybody. People have personal loves and wishes and dreams. I don't want us to be limiting anybody's possibilities nor do I want anyone not to be given the same professional consideration as a candidate that any other candidate would have. I'm hoping the best would come out for everyone's performance and consideration."
Dance has served the longest with Conklin–over a decade. He's finishing his term on the school board. By the time of the August primary, the decision for superintendent will have been made. He was reluctant to speak of Conklin's decision. "It puts me in a tough spot because I have to treat her like any other candidate," Dance said. "I don't feel comfortable speaking at all about her application, because it's no different than the rest, and I wouldn't talk prematurely about anybody else's application. So it kind of limits that discussion." He added: "You have to step back and be very thoughtful about how this proceeds bec there can't be any perception of favoritism or the opposite."
Of course, Conklin's application is very different in certain ways because of her long tenure on the board, and because of how her candidacy now affects not just her own application to be superintendent, but will inevitably affect all other decisions, since the board is reduced to four votes.
"I'm not thrilled that the board is put in that position. I think that's the main thing," Dance said. "It changes the dynamics of the selection process from 3-2 to 3-1, it's almost like a supermajority of the remaining board that has to be in agreement." But "history has shown in more instances than not the board has come together in unison when we get to these decisions, so we have a long process still ahead of us."
Trevor Tucker, who was out of state today, said he was "looking forward to having another quality candidate in the pool for superintendent. With all of the great candidates, we will be able to find someone to lead our district in the right direction. Good luck to Colleen and all the other candidates."
Conklin had not had any discussions with board members about her decision, ahead of sending her application in. She said she was limited by the Sunshine law. She could not gauge how they would react. "For some they may be extremely shocked, and for others, they may not be that surprised," she said. Asked if she considered anyone on the board as a friend, she said: "I have a good relationship with all of the board members. There's not a board member that I don't respect and don't enjoy their company or their viewpoint. Each of them brings something unique and different to the table, so I value all of them. We don't always agree on things, but we have a healthy, respectful, working relationship where we can agree to disagree and walk out the door and still shake hands and have respect for each other."
Dance thought it a "loophole" that Conklin would not have to resign to be considered for superintendent, since she would have had to do so had she decided to run for the position had it been an elected one. "I think if you look at possibilities down the road," Dance said, "it would be awkward if she is not the final choice and she is back on the board and scheduled to be chair, and having to be boss of the person that was selected, that beat you out: That would be a weird scenario, awkward. I'm assuming she's thought that through."
McDonald had heard that Conklin's application was a possibility. "We've already talked about this with the FSBA folks," she said, referring to the Florida School Board Association, whose consultants are shepherding the Flagler school board through the superintendent-selection process, "with attorneys both locally and in others school districts, and I think we have enough or a firewall to keep our process clear, neutral and fair. Certainly we have to be hyper vigilant about access to information, about how we treat candidates, and Dr. Conklin already knows she won't be part of the discussions," even she has a "standing obligation" to be part of all other discussions and decisions not pertaining to the choice for superintendent choice. "We're going to be very careful the boundaries are clear."
McDonald said she's thought a lot about how Conklin's application affects the dynamics of board decisions and the possibility of 2-2 votes. "In the end, we always want to have a unanimous decision because we're all going to be working with the person who's selected," McDonald said. So I think the only thing we lose out of this is one more voice from the community's perspective and the network that's attached to that board member in having a place in our final discussions."
Meanwhile, Gavin, the school board attorney said, Conklin "can't participate in the process, she cannot be a part of any discussion or any update" related to the superintendent search. If the board is in a 2-2 tie on any related issue, "they'd have to continue to hash it out until there's a 3-1 vote or a 4-0 vote."
Conklin drew on her past experience on the board for her recommendation letters, one of which was from Bill Delbrugge, the superintendent in the middle of the last decade, another from past fellow-board member Evie Shellenberger. A third letter was from Cline Construction's Scott Sowers, past chairman of the Flagler Chamber of Commerce board, signaling Conklin's connection to the local business community.
[This is a developing story. More soon.]

Flagler County School Superintendent Candidates, 2020
| Candidate Number(*) | The Candidates | Location | Last Position |
| --- | --- | --- | --- |
| 10 | Wayne Alexander | Old Lyme, Conn. | Assistant Principal |
| 27 | Jeffrey Alstadt | Crescent City, Ill. | District Administrator, Randall School District, Wis. (K-8) |
| 8 | Raymond L. Bryant, Jr. | Locust Grove, Ga. | Consultant |
| 23 | Sean Chance | Pembroke Pines, Fla. | Administrator, Pembroke Pines Charter Schools |
| 12 | George J. Chidiac [Withdrew] | Bayville, N.J. | Superintendent (2,000 students) |
| 30 | Peri-Anne Chobot | Elkridge, Md. | Prep School Principal |
| 29 | Colleen Conklin | Flagler Beach | Flagler County School Board member, Executive Director of Embry-Riddle Gaetz Aerospace Institute |
| 28 | Kim Eger | Peoria, Ariz. | Education Superintendent for Arizona Juvenile Corrections |
| 24 | Curtis Ellis | Palm Coast | Principal, Putnam Academy of Arts and Science |
| 4 | Andrei E. Ghelman | Naples, Fla. | Adjunct Professor, FGCU |
| 21 | Terence N. Hayes | Madisonville, Ky. | Retired Superintendent |
| 15 | Eric T. Jackson | Sarasota, Fla. | High School Principal |
| 13 | Earl Johnson | Palm Coast | Leadership and Operations Director, Flagler Schools |
| 5 | Matthew T. Liberatore | Chicago | Director of Professional Learning and Student Services |
| 31 | Matthew Lutz | Kill Devil Hills, N.C. | Assistant Superintendent (4,300 students) |
| 32 | Erin McMahon [Withdrew] | East Falmouth, Mass. | Adjunct Professor |
| 14 | Cathy Mittelstadt | Palm Coast | Deputy Superintendent, St. Johns County Schools |
| 16 | Carl E. Moore | New Smyrna Beach | Chemistry, AP Teacher, Father Lopez High School |
| 3 | Terry L. Nelson [Withdrew] | Sparta, Ga. | Former Administrator |
| 18 | Yaw L. Obeng | Burlington, Vt. | Superintendent (4,000 students) |
| 2 | Vernon R. Orndorff | Waxahachie, Texas | Superintendent, Milford District (200 students) |
| 1 | Anthony D. Pack | Warner Robins, Ga. | Regional Education Administrator |
| 33 | Nigel Pillay | St. Augustine | Elementary School Principal |
| 19 | Michael G. Raso | Davenport, Iowa | Superintendent (5,000 students) |
| 22 | Jeff Reaves | Edgewater, Fla. | Principal, Matanzas High School |
| 35 | Randy Shearouse | Springfield, Ga. | Superintendent (12,000 students) |
| 9 | David M. Schmittou | Grand Blanc, Mich. | District Curriculum Director |
| 7 | Eric T. Stair | loomsburg, Pa. | High School Principal |
| 20 | Bruce Thomas | Akron, Ohio | Superintendent of 3 Charter Schools (580 students) |
| 17 | Nicolas Dusan Wade | Bolingbrook, Ill. | Superintendent (3,000 students) |
| 6 | Ron Wagner | Brooklyn Park, Minn. | Associate Superintendent |
| 34 | Tenille Wallace | Flagler Beach | Elementary School Principal |
| 11 | Jeff Williamson | Show Low, Ariz. | Superintendent, Bureau of Indian Education |
| 25 | Michael Winters | Sun City, Ariz. | District Administrator, Madison District Schools (6,000 students) |
| 26 | Janet Womack | Prosper, Texas | Consultant |
Candidates submitted resumes to the Flagler County school district, whose staff redacted certain information before making the resumes public. There were 21 applicants through Jan. 30. On Jan. 31, the last day of the application window, several additional applicants filed, but not immediately uploaded to the district's website. Those were added here on Feb. 3.
(*) The school board assigned a candidate number to each applicant to facilitate the selection process and blindly determine the order of interviews when that time comes.
Reader Interactions