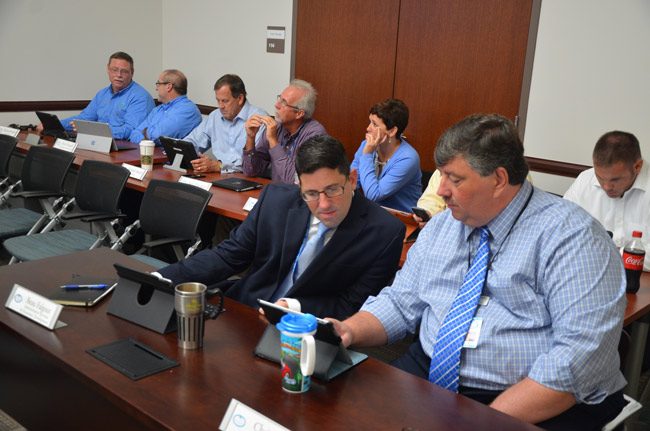 When Palm Coast City Manager Jim Landon went on a nine-minute tirade last week about how the city council would be making a terrible mistake firing him and not taking its time–well, two years, so he'd have time to retire–to find a replacement, he shielded himself behind his directors to make a point: "This whole idea of actually cutting loose the leader of these individuals, I will tell you, they take it hard," he told the council, "and I'm very fearful, in fact I'm sure very likely we're going to lose some of them as a result of this process."
What enabled Landon to claim to be sure that "very likely" some would leave is that he already knew then–but did not tell the council–that one of them, Finance Director Chris Quinn, was leaving.
But as the documented timeline of Quinn's decision to apply in Gainesville indicates, Quinn's departure had nothing to do with Landon's job situation and whether the council would retain him or fire him.
Quinn, the finance director since 2011, applied to be the finance director for Gainesville government on July 13, according to Christopher Beatty, a human resources official in Gainesville government. Quinn applied while Landon himself was still having closed-door meetings he set up with council members to lay out his demands that he be retained and allowed to retire in two years, so it coincided with his granddaughter's graduation. If there is any linkage at all between Quinn's decision and Landon's situation, it would have been precipitated by Landon's closed-door meetings, word of which was circulating at and beyond City Hall before FlaglerLive reported on them. (That report published on July 14.)
Quinn, a straight-forward, humble counterpoint to Landon's imperious personality, said he was "looking to grow in my field by working for a larger city with new challenges," as he put it when he applied to Gainesville. The city has a population of 131,000 and is home to the University of Florida, which swells its population significantly more when school is in session. He had applied there after learning of the opening through the Florida League of Cities, according to his application.
There was another reason Quinn was likely interested in the job: it provides for a $17,000 raise over his current salary of $117,000. (Quinn did not respond to a request for an interview.)
Quinn listed Ray Britt, the former Palm Coast finance director (now retired), and two other professional colleagues from Daytona Beach and Connecticut as his references. Asked if Gainesville could contact Palm Coast, he said "No."
Quinn was offered the job on Sept. 7. He accepted on Sept. 9, with a starting date of Oct. 9. He then informed Landon, as he had to, in order to provide sufficient notice–and word of his taking the job was already scouring the halls before last week's evening meeting, when Landon claimed that some of his directors would "likely" leave because of the uncertainty surrounding him. As he has frequently done before, he was making a fact unrelated to his case fit the narrative he was crafting to better serve him.
After Landon's tirade, the council voted 3-2 to retain him.
The next day, he emailed council members to tell them of Quinn taking the Gainesville job. He made no allusion to his tirade the evening before, but the timing of the email, and its delay, was almost certainly not coincidental, though council member Steven Nobile made clear that Landon's linkage between his situation and that of his director was untenable.
"The statement that people are going to leave because he's leaving is ridiculous," Nobile said.
Quinn's official last day in Palm Coast government is Oct. 6.