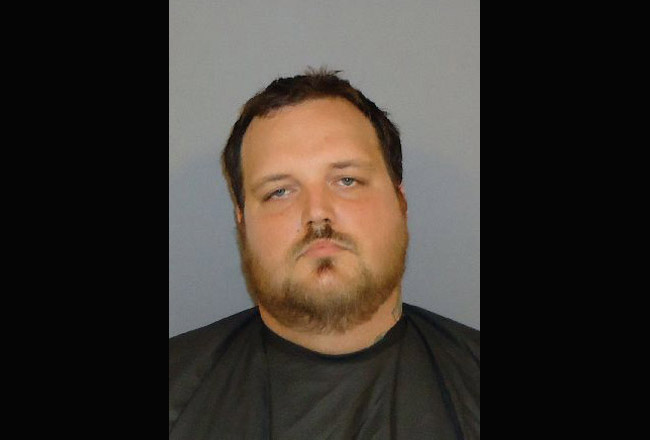 Waywood Place is a residential neighborhood in the heart of Palm Coast—near where Pine Lakes Parkway and Belle Terre Parkway intersect. Late Friday night, a shooting shattered the neighborhood's quiet and left a family fearing for its life: The shot, or shots, were fired into the house at 3 Waywood Place, where a 5-year-old and a 4-year-old child, along with their mother and grandparents, were hiding. One .45-caliber bullet ended its trajectory in a child's toy.
The alleged shooter outside was the children's father: Christopher Avellar, 30, who's now at the Flagler County jail on $20,000 bond, facing several charges: aggravated assault with a deadly weapon, domestic violence battery, and six counts of shooting or throwing a deadly missile.
Avellar, judging by his Facebook page, is a gun enthusiast: the profile picture on his page featured an assault rifle next to a handgun. The photo collection on the page is divided between images of weaponry, shot-up targets, ammunition and, in one case, the Arabic lettering on a weapon (next to an imprint of the American flag), alongside numerous images of Avellar's young children.
Avellar and Nicole Booher, 30, are parents to the two children and live at 4 Riding Place in Palm Coast. At 6:30 p.m. Friday the couple got into an argument about family issues, according to police reports. Booher was trying to record the argument with her phone. (It is illegal, under Florida law, to record a conversation or a verbal exchange without both parties consenting to being recorded, though authorities on occasion take extenuating circumstances into account.) Avellar grabbed Booher's right wrist to try to get the phone out of her hand, the report states, and "also pushed her into a kitchen counter."
A deputy would later observe bruising on Booher's right wrist, several small lacerations on the top of her knuckles on her right wrist, and a 2 to 4 inch bruise on her left hip. She left the house with the two young children and went to her in-laws on Waywood, Lucy and David Avellar.
At 10 p.m., Chris Avellar arrived at his parents' house and "began to violently bang on the front door, and he was yelling and screaming," according to police reports. Booher told police she knew he was armed, because, she said, he always is. "She became afraid for her and the children's safety," a report states. She took the children upstairs and hid.
Avellar's father David went outside to speak with his son. The two argued over what had taken place earlier in the evening on Riding Place. Then, according to the report, a neighbor saw Chris Avellar take something out of a vehicle, walk to his parents' house and point the object in that direction. A gunshot was heard, and 911 called at that point. Avellar's father was able to get the gun from his son, and took it into the house to put it away.
Deputies arrived on scene, but the sequence of events between that moment and when additional deputies arrived is unclear. At one point, both Avellar men were on the ground, at gunpoint, under the guard of two deputies, before they were both removed to deputies' cruisers. But only Chris Avellar was arrested and charged.
A .45-caliber casing was found in the road, and a bullet that had gone through the garage door and a cabinet was found resting on a child's toy inside the cabinet, according to the report. Avellar's weapon was a Springfield Armory XDS semi-automatic handgun loaded with a full magazine of .45-caliber hydro shot rounds. In addition to the children, their mother, their grandmother, and a family relative was also in the house when the weapon was fired.
Avellar has a long history of traffic infractions in Flagler County, with some 17 traffic cases over the past 10 years. A felony robbery charge against him was dropped in 2002, and adjudication was withheld on forgery charges the same year.
His featured Facebook quotes are from Sun Tzu's Art of War: "Victorious warriors win first and then go to war, while defeated warriors go to war first and then seek to win." And: "In the practical art of war, the best thing of all is to take the enemy's country whole and intact; to shatter and destroy it is not so good."