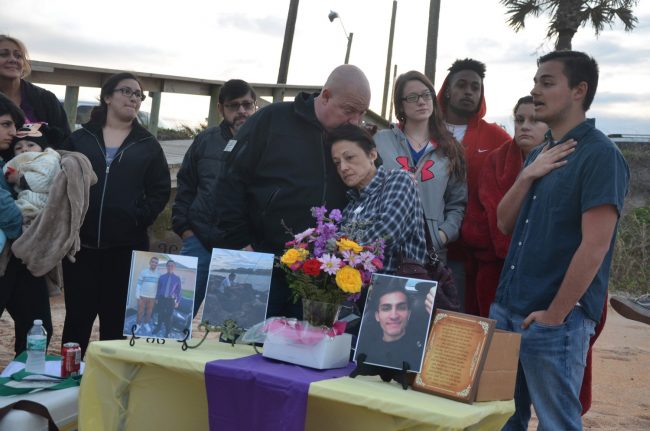 Note: Services for Anthony Fennick are scheduled at Craig-Flagler Palms Funeral Home, 511 Old Kings Road South in Flagler Beach, with family and friends received from 4 to 6 p.m., and a memorial service at 6 p.m.

Circuit Judge Terence Perkins didn't come out in his judge's robe this morning when Drug Court convened. He came out just in civilian clothes. He gathered Drug Court's participants around the table and sat with them rather than face them from his usual, elevated seat. They all knew what it was about: he wanted to talk to them about the death of Anthony Fennick, the 23 year old who until recently had been one of their own–until a relapse and Perkins's decision to send him back to the county jail.
Fennick died Saturday at AdventHealth Palm Coast. His death hasn't been explained and is under investigation. He'd been ill for several days with fevers, culminating in a seizure and cardiac arrest that left him brain dead. Perkins told Drug Court's participants that the death had hit him hard (an echo of the way another Drug Court participant's death, that of Savannah DeAngelis 15 months ago, had affected Circuit Judge Dennis Craig when he was in charge of the special court), and he wanted to know if any of the participants wanted to speak about it. None did, some of them saying this evening that they feared retaliation if they did, because what they had to say, the judge would not want to hear. Perkins then took a break, put on his robe, and the court session began.
"I know you guys feel you can't speak because they're going to take it out on you," Erika Williams, Fennick's mother, told many of those participants this evening. "I know that. And that's how they are. I've seen it through Anthony and I've seen it through everybody else. If you ever have a problem, if you ever need a resource, or anything, you contact me, because I don't care, I don't care who they are, I don't care if they're a judge, I don't care, I will be there and I will talk to you guys, so you'll always have somebody on your side. You're not alone, you'll never be alone as long as I live."
They'd all turned out for a vigil and a celebration of life for Fennick on the sands of Flagler Beach, a few blocks north of the pier, where his parents and friends had arranged a small memorial to him–pictures of him fishing or with his younger brother or by himself, flowers, a plaque of "The Broken Chain" his friends from Drug Court all signed on the back (We little knew that day,/God was going to call your name./In life we loved you dearly,/In death, we do the same…) For a time John Dioguardi, the Drug Court coordinator who recently replaced Mike Greenier and whom everyone calls "Mr. D.," was there, though he'd left by the time Williams spoke.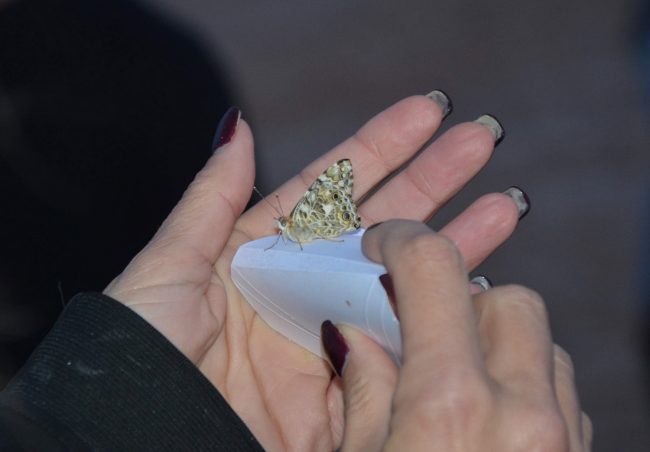 Her words reflected the anger and anxiety Drug Court's and Fennick's family both have felt, seizing on the decision to send him back to jail to vent that anger and speak the word they almost reflexively associate with Fennick's death: "unnecessary."
Not that they wouldn't talk about Fennick's flaws. They did. His stubbornness. His moodiness. His struggles with using. His difficulties immersing himself in the commitment to stick with recovery (he'd been thrown out of a recovery program in Jacksonville before enrolling in another in DeLand, and returning to Drug Court only to get thrown out of that last December), as one of the people who spent three months in the Jacksonville program with Fennick recalled it. "When you get in sobriety or you get into the program, you don't just go half-way, you dive in all the way, you need to like, dig deep, and I don't think he was completely involved in it like people need to be," Chad Dennis, 29, who's been clean a year and three months, said. He is graduating from Drug Court soon. "What you've got to do is you've got to build a network of people that way if you do need anything you could pick up the phone and somebody is there that has time under their belt that can relate with something that's going on in your life to help you out."
Fennick was getting there, his friends say: missteps and backsliding is not uncommon with addiction: it's more often the rule, including for Drug Court participants. He was struggling, but he was desperate to make his way back, he'd tell his mother from jail. His death shocked his friends because jail isn't supposed to be lethal, the way the freer world can sometimes be for an addict. Jail is a defacto detox facility. And Fennick's end began with a simple fever–a fever that his family says some of the Armor Correctional Health Services staff, which provides inmate health care at the jail, didn't take seriously enough. Armor says its nurses did nothing wrong.
"I've been to these before but it never gets easy," said Khalief Gray, one of Anthony's friends from Drug Court, as he stepped down a walkway to the beach this evening. He'd brought his two young children for the ceremony. "When I was 14 I lost a friend I was very close with. She passed from a heart attack. My family had gotten real close with her family. It never gets easier. I've been with the family," meaning Fennick's family, "every day this week, trying to set things up, help the best way I can."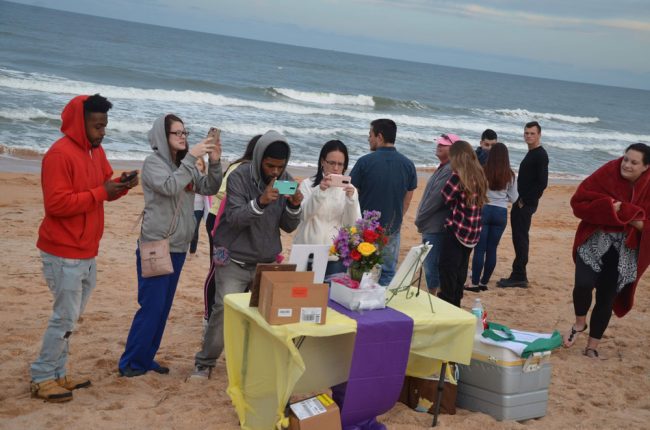 He spoke later to the whole assembly of some 30 people gathered in a circle around the improvised shrine, recalling seeing Anthony on his death bed at the hospital for days. "Seeing a friend like that is heartbreaking," Gray said. Or, as Liz Tremoglie, one of the more famous recent graduates of drug court, put it: "I'm angry. That's too much." She recalled seeing another inmate die in front of her at the jail (Kathleen Feiler in 2016), before Armor took over health care there.
But Fennick's younger brother Dan wanted this evening's vigil to be primarily a celebration, a remembrance honoring his brother. "Today is honestly, in a way, a day for celebration," he said. "We're here to celebrate the life of Anthony, the life of my brother, reflect on everything he's done. I know me, I wouldn't be the same person I am today if it wasn't for him. My mind is running a mile a minute right now." He was grateful for those who turned up. "As much as it sucks, as much as it didn't need to happen, I understand that. But today is for celebration." He said his brother would not want anyone to be upset.
And though she'd spoken strongly about Drug Court, Ericka said she was part of the Drug Court family and would be at the next graduation. "Every time I see someone graduating from that Drug Court program," she told the assembly, "that for me is going to be like seeing my son graduate." She added later: "This week started as a tragedy but I promise you, it's not going to end until it's a legacy." Williams wants to start an advocacy and support organization called "Inmates Are Human Too."
They all then released butterflies brought for the occasion, though several of the butterflies preferred staying close to the warmer palms of the hands holding them: it was windy and cold and the sun was long gone, though every once in a while a butterfly would take flight.