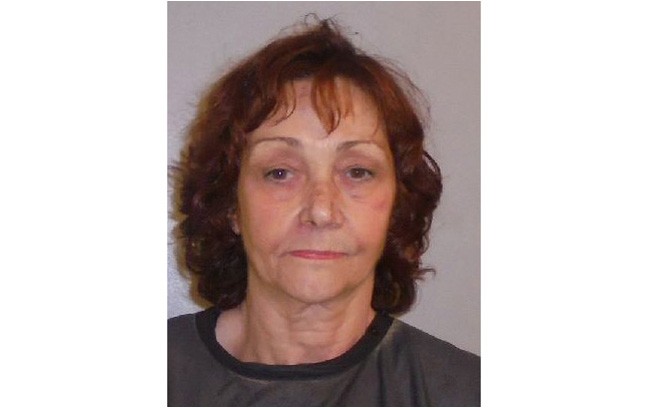 Kathleen Feiler, a 57-year-old resident of Pittman Drive in Palm Coast, died in custody after being booked at the Flagler County jail Saturday evening on a contempt of court charge. The contempt charge aside, she had not been booked on the suspicion of a crime but because she was suspected of not following through on substance abuse treatment.
Feiler's only criminal conviction in Flagler County goes back to a guilty verdict for a first-degree misdemeanor drunk driving charge in 2012, and a second degree misdemeanor charge for leaving the scene of an accident with property damage. She served 12 months' probation.
Feiler was booked at the jail at 8:12 p.m., according to jail records. A sheriff's office news release issued Sunday afternoon states that she "suffered an apparent seizure early Sunday" morning while in custody. "Paramedics were called and transported her to Florida Hospital Flagler where she was later pronounced deceased," the release states. A source at the hospital, however, told FlaglerLive that Feiler arrived there in full cardiac arrest. Where and when a patient is pronounced dead does not necessarily correspond to the location and actual time of death.
As is normal procedure under Flagler County Sheriff's Office policy, the release states, the Florida Department of Law Enforcement is investigating the death. The Sheriff's Office does not conduct its own inquiry. The incident report on Feiler's death has been requested from the sheriff's office. It was not available Sunday.
Feiler, the release explains, was arrested Saturday at 7:45 p.m. on a show-cause order signed by Circuit Judge Matthew Foxman, requiring Feiler to be held in jail so a court hearing could be scheduled. (See the arrest report here.) The issue arose because Feiler "is in need of substance abuse treatment and will not seek such treatment on her own volition," according to the order signed on March 9. The arrest order was issued, the sheriff's release states, so a hearing could be scheduled to determine whether Feiler was in "indirect" contempt of court of an order signed Feb. 3, 2016. That order required her to meet certain conditions of outpatient care for "drug-seeking behavior."
But she had not been charged with a crime. Feiler was committed under the state Baker Act on March 6, 2016, which gives law enforcement authority to detail an individual against his or her own will if that individual is a direct threat to himself or herself, or to others. Feiler was prescribed medication used to treat anxiety on March 4, and "has been found abusing them on multiple occasions," Foxman's order states.
Saturday night, jail staff reported to Sr. Commander Sam Ferris that Feiler showed no signs of being intoxicated or otherwise medically altered when she arrived at the jail, the sheriff's release states. If she had been observed in such a state, she would have been transported to Florida Hospital Flagler first to be medically cleared before being booked into the jail, under sheriff's office policy, Ferris said. Deputies at the jail routinely send individuals to the hospital for such clearance on even minor suspicions that health issues may be in play–either when deputies themselves determine that such a clearance is necessary, or if an individual being booked at the jail complains of medical issues and requests to be sent to the hospital. Jail staff is vigilant about such clearances to ensure individuals' welfare, of course, but just as intently to steer clear of liability issues should serious health problems arise, as the jail is not equipped to handle such issues.
According to jail records, the sheriff's release goes on, jail deputies in cellblock D noticed Feiler making loud noises at 1:28 a.m. She appeared to be having a seizure and was unresponsive. Jail staff called for a Code White, which signals a medical emergency. Staff members rolled her onto her right side to keep her from choking. Flagler County Fire Rescue paramedics were summoned. and transported her to the hospital.
The release does not indicate when paramedics arrived at the jail, when they left with Feiler, or when she arrived at the hospital, only that "she was pronounced dead at the hospital at 3:37 a.m., (roughly an hour after the medical emergency was observed, taking into account the time change due to daylight saving time.)" (The parenthetical statement was in the release.) Notes from the sheriff's dispatch center–911–are also sketchy, showing only that dispatch got word of a "female seizing" at 1:35 a.m., and was referred to as having difficulties breathing 41 seconds later and "no responsive" (sic.) four seconds after that. Such notes generally show the sequence of when paramedics are paged and when they arrive at a scene, but not in this case. After the "no responsive" note, the notes jump two hours and and three minutes to notify that Feiler had died "after a seizure at the inmate facility."
An autopsy is scheduled for Monday, Detention Commander Louis Miceli said. The FDLE investigation will be ongoing and toxicology tests will take two to three months tocomplete. On Sunday, FDLE agents, who arrived at the jail at 6:07 a.m. this morning, were interviewing jail staff and some female inmate witnesses as part of their investigation, Ferris said. Body camera video taken by deputies from her arrest will be turned over to FDLE agents.