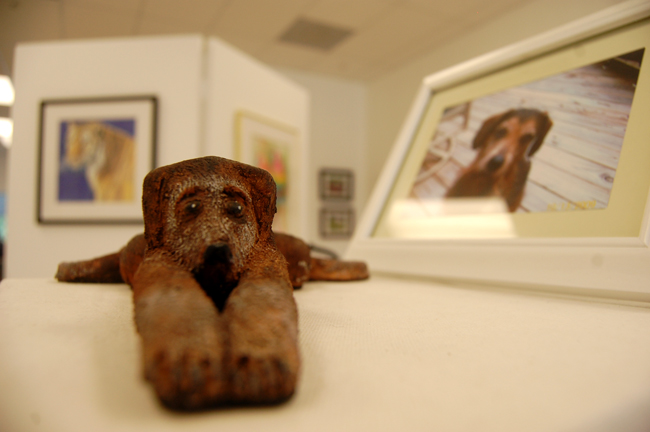 Think of it as an art safari in the comforts of your backyard, with wine: the Flagler County Art League's "Alms for the Paw" show, opening with a free reception from 6 to 9 tonight at the league's gallery at City Market Place, is a colorful voyage through artists' affections for their pets or for wildlife—with a purpose.
It's not the first time the art league is devoting a whole show to animals (recall last year's "Feathers Fins and Fur"). But it's the first time the show was designed in collaboration with the Flagler County Humane Society—part of the league's effort to reach out to non-profits—which will benefit from some of the show's fund-raising, particularly from 30 pet portraits, the work of local photographers Bob Carlsen and Charlie Badalati.
---
Alms for the Paw:
Free opening reception Saturday, March 12, 6-9 p.m. at the Flagler County Art League, 160 Cypress Point Blvd.,
---
---
The pair of photographers spent a day in a make-shift studio next to the art league's gallery photographing animals after animal in 15-minute sessions, an heroic feat considering the challenge.
"The rule of thumb was, if you could avoid it, never work with animals or children," says Bob Ammon, the Flagler County Art League president and a former producer of national television commercials, "because they just don't care about your schedule or anything else. They could care less. But this was a great experience. We had a very good time doing it." It was almost all dogs. No cats, surprisingly, and one rabbit (a delicious little black thing with a snow-capped nose). You can see all those portraits in one of the league's galleries, a display of proud and seemingly, amazingly well-behaved dogs, some of them surely divas too, posing for the camera no differently than school-kids posing for their annual shots. You can vote on your favorites: a People's Choice award will be announced tonight after 7:30.
That's the pet portraits. The centerpiece of "Alms for the Paw" is the new art show, about 60 works by 40 artists painting, photographing, drawing and sculpting all sorts of animals. Dogs dominate, but there are also dinosaurs, polar bears, monkeys, prairie dogs, giraffes, cats, tigers, parrots, egrets, lions, mice, horses, rabbits, manatees, alligators.
The craftsmanship is impressive. These animals are alive before your eyes, some of them bristling with immediacy, like Jerry Hallan's poodle sculpted out of shards of bamboo. And the subject matters are happily more daring than the usual cats and dogs, even when dogs are in the picture. One of the wittiest pieces is Ezra Salkin's "December": three rabbis before a flaming but almost burnt-out menorah, one of them holding one of those androgynous things that could be either cat or poodly dog, with a tiny red Christmas hat on its head. The animal is not happy, but the drawing is.
One of the most inventive and pleasing works in the collection is Bernie Wray's "My Dog Spike," a clever, simple creation of wood and railroad spikes that show "Spike" to be a proud, almost impudent little thing. Four legs aren't even enough for him.
"It was definitely an ingenious approach in some cases," says Ed Hall, the Jacksonville artist and cartoonist who juried the show (see the results at the bottom of the article). "It can be a kind of a boring genre, but in fact they made it very intriguing. I was pleasantly surprised by the quality of the work and the variety—if I had to put it in one word: variety, a nice mix."
Hall juries shows regularly in St. Augustine, where he's a member of the St. Augustine Art Association. It's his first time jurying at the art league. He summed up the show this way: "Everything from collage to graphic stylization to the use of found objects was presented, and made for a fun and engaging show. Photography stood out for unique perspectives on wildlife, and again composition played a role in the most interesting photographs. The sculpture had a whimsical quality which was also appealing. Overall I was pleased to see such a varied and rich assortment of work. Flagler County is well represented by the talent included here, and all of the artists should be proud."
For Ammon, it's the volume of new work that stands out, despite the art league's schedule of a new show every month. The rule is that every work must be an original: no previous showing. Despite that, artists are producing, as if energized by the general boost in attention to the arts in Palm Coast. The art league's and Hollingsworth Gallery's proximity to each other at City Market Place has served as an underlying dynamo for the last several months. Both schedule their monthly show openings on the same second Saturday of every month. (Hollingsworth's "Inspired By Chagall" show opens tonight at 6.)
"The results on this show is much better, it's better participation," Ammon says, comparing this year's animal show to last. "We've had a lot more participation since we've moved here. It grows every show. One of my biggest concerns was having a show every month was if we were going to be able to generate enough work, because from having just two shows a year to having one every month, that's a lot of additional art work that you have to come up with. But people are churning it out."
When you're at the art league tonight or in subsequent days, have a look at the studio part of the gallery, opposite the wall where the pet portraits are hung. You'll see an impressive set of figure paintings. They're of model Mary Lou McCusker, who'll begin posing at the art league, nude and lightly clothed, in a new series for artists called "Go Figure," starting April 6. There'll be additional sessions on April 20 and 27. Space will be limited to 12 artists. If the results are anything like the paintings now hanging at the gallery, the art league should have a very good show to look forward to in the future, focused entirely on figure works. That's Ammon's intention.
The Flagler County Art League's "Alms for the Paw" runs to March 28. It's a slightly abbreviated show this month, only because the league will be getting ready for its largest show of the year, what used to be called Art in the Park—and what could have been called Art in the Parking Lot this year, since it will take place mostly in the parking lot of City Market Place as well as the galleries of the league (as opposed to the campus of Flagler Palm Coast High School last year).
The Palm Coast Spring Art Festival, as it's called, takes place April 2 and 3. As always, the show will feature new works by the league's and other artists, many artists and craftsmen from around the state and perhaps beyond, who'll set up their tents in the parking lot, and the works of FPC and Matanzas High School students, which will fill out two extra galleries lent to the league for the show.

"Alms for the Paw" Juried Exhibit Results
Honor
Title
Artist
Medium
Price
Best of Show
"Vegging Out"
Bill Shoemaker
Colored pencil
Not for sale
First Place
"Joe"
Joyce Houck
Colored Pencil
$375
Second Place
"Wild Fire"
Judy Barnewolt-Jones
Watercolor/yupo
Not for sale
Third Place
"Jurasic Park"
Gene Beinert
Watercolor
n.a.
Honorable Mention
"Florida Bird"
John Schumacher
Wood carving
$150
"Anticipation"
Joan Franchi
Colored pencil
Not for sale
"Circles of Serenity"
Joan Franchi
Colored pencil
$275
"Snow Egret"
Ann Delucia
Photograph
$125
"Falls the Shadow"
Judy Wormeck
Mixed medium
$200
"My Dog Spike"
Bernie Wray
Sculpture
"Sentinel"
Mary Lee
Colored pencil
$200
Judge: Ed Hall