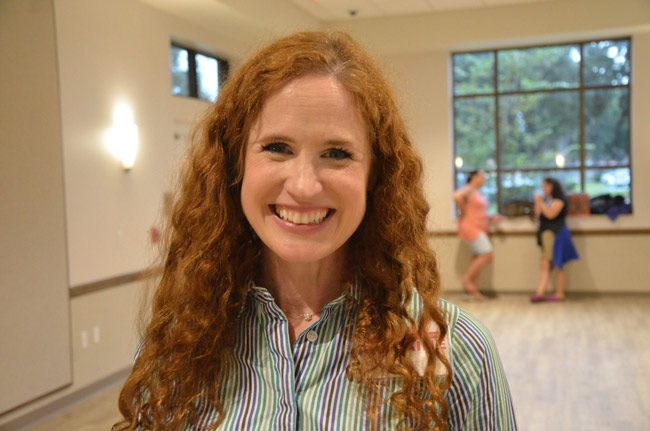 Abby Romaine is the Republican candidate for Flagler County Commission, District 1. She is challenging first-term incumbent Greg Hansen in the Aug. 280 primary.
Two seats are up on the commission in this election cycle: District 2, held by Republican Greg Hansen, and District 4, held by Republican Nate McLaughlin. Both Republicans have drawn opposition in the primary. No Democrat has filed to run, so there is no Democratic primary in either race. Only registered Republicans may cast a ballot in the primary races for the County Commission seats.
Two independents have filed: Dennis McDonald in District 2, Jane Gentile-Youd in District 4. Independents have no primary. The two independents will face the winners of the Republican primary in the November 6 general election.
Flagler County Commission members serve four years. They're paid $53,951 a year.
FlaglerLive submitted identical questions to all candidates, with the understanding that additional questions might be tailored to candidates individually and some follow-up questions may be asked, with all exchanges on the record. The Live Interview's aim is to elicit as much candor and transparency as possible. We have asked candidates to refrain from making campaign speeches or make lists of accomplishments. We have also asked candidates to reasonably document any claim or accusation. Answers are lightly edited for clarity, relevance and, where possible, accuracy. If a candidate does not answer a question or appears to be evading a question, that's noted.
But it's ultimately up to the reader to judge the quality and sincerity of a candidate's answers.
See Romaine's 2014 Live Interview.

The Questions in Summary: Quick Links

Place and Date of Birth: Bucks County, Penn., Jan. 12, 1972.
Current job: Patient Experience Professional; resigned from Florida Hospital Flagler to run for office
Party Affiliation: Republican
Net Worth: $626,300. See Romaine's financial disclosure.
Resume.
Website and Social Media: http://www.abbyromaine.com/
1. Tell us who you are as a person—what human qualities and shortcomings you'll bring to the board, and what makes you qualified to serve—or to unseat an incumbent, as the case may be. Please give us real-life examples to illustrate your answer.
My temperament is even-keeled, collaborative and determined. I am empathetic and have a heart to serve others. I do not let ego get in the way of finding good solutions. Valuing the unique perspectives of all enables me to facilitate solutions-driven discussions and action. I often use humor as a means to deescalate tension with varying degrees of success. I am analytical and a bit of a research "geek": my exuberance for such things may make my fellow board members' eyes glaze over on occasion. And I am working on my tardiness with social engagements: my friends have all started telling me that social events start 15 minutes sooner than actually scheduled!
I want to serve on the Flagler Board of County Commissioners because I am a public servant with public policy experience. The role of the board is to drive the vision and short and long-term goals of the community. I have experience driving vision and big-picture ideas. I am committed to ensuring that Flagler faces the future with a fresh, new perspective with an emphasis on high citizen participation, accessibility and accountability that is collaborative and productive for all of Flagler.
I am a radio talk show creator, producer and former host on WNZF News Radio and was a political analyst on the nationally broadcast America's Radio News Network. With a great deal of research and a bit of humor, my talk show aimed at dispelling the angry, divisive rhetoric that is shutting down communication between our national leaders. I interviewed a diverse group of national leaders from both sides of the political spectrum. I have been able to bring these disparate voices together, find common ground, and talk about real solutions to real problems. I have been successful in finding consensus and prompting bipartisan discussions of issues. I plan to bring this life experience and skill to listen carefully to the voices of our community, forge positive and productive relationships on the board and to between the county and municipalities.
I am an Ivy League-trained anthropologist. My doctoral research focused on public policy, domestic violence and the Family Court system. As part of my research, I worked with court personnel to develop efficient procedures for victims to navigate the court system. I designed and taught a new course of study at the University of Pennsylvania called Public Interest Anthropology. I placed college students in local communities with social issues to help the community articulate the particulars of their problems to public policy makers. Instead of writing the esoteric tome that would end up in the dank and dusty ivory tower, anthropologists can aid in real life, present day issues in our own backyards. I plan to bring this perspective to the commission board.
Locally, I served as Vice President and then President of the Hammock Conservation Coalition. I started helping families in Flagler by coordinating the Safe Havens Supervised Visitation and Exchange Grant Program, a collaborative effort funded through the US Department of Justice to create a supervised visitation center to help families suffering from domestic violence.
At Florida Hospital Flagler, I had the great privilege of advocating for patients, with a focus on delivering service excellence and improved experience for patients. I also had the honor of providing staff training and development to the compassionate and professional team at Florida Hospital. I helped design and taught the regional on-boarding training for all new employees at Florida Hospital Flagler, Memorial, Deland. Fish Memorial and New Smyrna. This included specialized training in effective communication skills, conflict resolution and de-escalation. I also had the opportunity to improve our patient experience scores by facilitating several process improvement committees using LEAN methodologies. I felt a calling to do more for our entire community, so I resigned from my position at Florida Hospital to run for county commission. I will use my skills and experience with process improvement and facilitating solution-driven discussions to drive our community's vision for the future.
You speak of fellow board members' eyes glazing over and of your own experience on boards in the present tense, as if you've served in public office before. Aside from your roles on a Hammock board, have you?
I have not held public office before and I was talking about how my passionate exuberance for problem-solving and talking about research to support efforts to resolves issues-I've seen eyes glaze during committee meetings-which prompts me to "reign in" the exhaustive detail.

2. What are the three most critical issues facing the county, and where do you stand on each?
If we run our government with collaborative, non-divisive service-minded business principles we can provide for the needs of our community; compensate our deputies, preserve our right to local control of ordinances, repair relationships with the municipalities, mend the sick building and relationships with Flagler's Finest; promote tourist development, attract and retain new businesses for economic growth and diversify the tax base. As your county commissioner, I will work relentlessly to create a government that puts the interests of our citizens first and will promote efficient processes with a flexible and dynamic work force, attract and retain businesses, mend relationships, require zero-based budgeting of all county departments and keep taxes low.
You seem to be echoing your opponent Greg Hansen's words: he's a cheerleader of tourism development, he was up front with preservation of Flagler's vacation-rental ordinance, he's saying what everyone is saying about "Flagler's Finest." You referred to a fresh perspective in your previous answer. Where is it?
The difference is Vision. I am happy to hear that my opponent is now supporting Flagler's finest –but this is after the deputies felt disenfranchised by the handling of the situation and being threatened by a hefty lawsuit. What I see now is an approach to county government based on the old adage "good enough for government work." I think our community demands and deserves more. My approach is proactive rather than reactive.
We live in an amazing community–rich in natural beauty and rich in human talent, drive and determination. We have a unique opportunity to poise ourselves for a future of greatness. What we do now determines what Flagler will become. We need to embrace who we are as a community–a lovely coastal community, attractive to tourists and retirees, located in a corridor ripe for attracting the high tech/financial services industries that are flourishing just to the north of us. I want us to be known as the pioneer in stewardship: stewardship of our human, economic and environmental resources by establishing our community as being ripe with economic opportunity and beautifully maintained.
I want us to be nationally recognized as "that community" that is an "Innovative Incubator" for our natural environment and economy. We can attract those early retirees who plan to start small to medium sized businesses. We should be a community that our children, including my own, can find jobs and experience a fine quality of life. I am excited and eager to get right to work on making our community vision a reality.

3. To what extent has the handling of and testing for sick building syndrome at the Sheriff's Operations Center been—or not been—adequate? The sheriff's nearly 70 employees assigned there remain unconvinced about the safety of the building. What's your next move? If rebuilding the Operations Center becomes necessary, how would you finance the project?
The handling of the sick Sheriff's Operations Center is indeed troubling and speaks to the lack of trust the public has in our government. The employees assigned to this building, both those suffering from illness and those not, have been left with the impression that their health and well-being is not a priority. So much so, in fact, the county has been threatened with a civil lawsuit on behalf of those experiencing adverse health effects. This impression of non-concern compelled Sheriff Staly to assert that the treatment of the situation essentially re-victimizes those who fell ill, comparing it to "the old days of blaming the victim of domestic violence." This situation should not have escalated to this level. The speed of the testing and minimal areas and amount examined indicate a less than thorough test was done to account for the source of the building's contaminants. From listening to the account of the researcher who conducted the testing, it was clear there are many other areas left to be tested such as the interior of the walls and the materials used in the construction. I would keep the building vacated and continue the testing of the building until the source of the contaminant is identified. Once this is identified, the proper abatement procedure may be developed. In order to finance the repair or rebuild, I would pursue state and federal grants specifically for municipal buildings such as the State-Administered Community Development Block Grant, The Community Facilities Grant Program and the Hazard Mitigation Grant Program.
If you were to use Community Development Block Grant funds, you'd be siphoning them off housing for the poor, assuming such funds are even available for a police building: Florida's CDBG list of likely candidates includes no such projects. The Community Facilities Grant Program is not applicable: only communities of up to 20,000 people are eligible. The Hazard Mitigation Grant Program is a FEMA program, with natural disasters a pre-requisite before it can be applied for. Financing a local police HQ with state or federal grants is clearly a long-shot, if not an impossibility. So left to your own county's revenue, what would you do?
We do not know yet what abatement will be necessary to eliminate the problems at the Sheriff's Operation Center, so we do not have a handle on that repair bill. I am a huge advocate for identifying and going after federal and state grant funding sources—If there is money out there to be allocated I want it in our community and not somewhere else. From a cursory look at the availability of grant funding streams to support the repair of "sick governmental buildings," I identified some potential sources from the departments I mentioned earlier. There is an art and science to grant writing and we would need first the source of the problem and extent of repairs needed.
There is also a well-known limit to grant funding for certain government capital projects such as a police headquarters, and there is the even more crucial matter of timing: should the decision be made not to reoccupy the building during your tenure in the next four years, there won't be time to line up grants and play the odds. You'll have to decide what local source to tap. So the question remains pertinent: absent grants, what are your proposed options?
Once we have determined what needs to be done going forward, either repairing or rebuilding the structure, we will have to identify what capital funds to use. It is possible these deputies need to remain in their temporary arrangements for a protracted period of time. I want the facts before I jump to answers.

4. Voters are likely to approve Amendment 1, an expansion of the homestead exemption to up to $75,000 this fall. All local governments except schools will see shortfalls. First, do you support the additional exemption? Please explain your answer. Second, how will you make up the lost revenue?
I do support the exemption-I always feel money should stay in the pockets of our citizens rather than in government coffers. This will be good for our overall economy as our citizens will have more disposable income to spend. This exemption comes at an opportune time: our property values are increasing -this year by 7.5 percent and next year is projected another 10 percent-which will serve to offset the reduced revenue. I am also a strong advocate of diversifying the tax base to reduce the heavy responsibility from our current residents. We need to amplify our efforts to attract businesses, court the baby boomers looking to retire and start business and streamline our residential and commercial building permitting.
Even if property values increased 10 percent a year, that's not the proportional revenue government would recoup, given the 3 percent cap on homesteaded properties, as you well know. So there would be a significant revenue shortfall regardless. Supporting the additional exemption is understood. But you are not telling us how you'd make up the shortfall: diversifying the tax base is the holy grail of Flagler politicians, but it hasn't happened in the past 40 years, it's not likely to happen in the next four to the extent that it would make up the projected shortfall, underscoring the question's pertinence: how would you make it up? Do you disagree that the Amendment amounts to a tax shift?
I believe hard-earned dollars should stay in our resident's bank accounts, not the government's so I do not disagree that there is a shift away from residents. Our residents will have more disposable income to stimulate our local economy. Diversifying the tax base should not be the elusive "holy grail" but our reality; if local politicians have been saying this for the past 40 years they obviously have not delivered and should not be given a second, or third or fourth chance at representing our community. We can diversify our tax base in the next four years. We can make that vision a reality by laser-focusing our attention on promoting our ideal location and wonderful quality of life as the extension of the tech/financial services industries that are booming just to the north of us; and a lovey tourist/retirement mecca for those early/young retirees who start small to mid-sized businesses. If there is no indication that we are seeing positive momentum in attracting these businesses to our community then the community should not re-elect me after four years.
By tax shift we meant that what revenue is lost will be made up through other taxes. You do not see that happening? It is also notable, as Flagler County's Jay Gardner, the property appraiser, has explained, that while Amendment 1 is an additional exemption, the way it's applied–richer households will benefit before poorer ones–a segment of the lower-middle and middle-income home-owning population will potentially see an added burden in taxes, especially if local governments nudge the property tax rate up to make up lost revenue. You have been known in the past to speak with particular concern for those at the power rather than the richer end of the scale. Given the analysis on Amendment 1's potential consequences, how does that square with your concerns?
I certainly do not wish to see our middle and lower middle income residents suffering any additional tax burden. Many of our residents are on a fixed income and any change is felt-I want to be sensitive to that. I am not in favor of raising our property taxes. Since the beginning of the recovery our government been expanding-I want to keep our government operating as streamlined as possible. With zero-based budgeting, applying principles of LEAN management, creating a flexible and dynamic government workforce, we will find savings to offset any revenue reductions that may result. It is also even more imperative that we court and retain new businesses to our area.

5. Commissioners like to say they won't raise taxes or will keep taxes, or at least tax rates, flat, as some are trying to do this year. But with rare exceptions, they don't provide options of what they would eliminate from the budget to keep their promise. Are you against property tax increases? What three specific line items would you cut from this year's proposed budget to keep the property tax rate flat?
I believe in keeping our taxes low. I also believe that our tax dollars need to be utilized in the most efficient, best interest and need of the public. In other words, I wouldn't change just three things-I would change everything. I feel we need to implement business oriented, best practices like zero-based budgeting. Every budget cycle I believe each department head must account for every expenditure and demonstrate the efficacy of every action funded. Our employees should be empowered to find efficiencies and improve processes-a business concept-rather than continue the "hurry up and spend the budget so we can go back and ask for more" mentality, which is the traditional government way.
Immediately I would redline travel and seminar expenditures for the county commissioners and the 100k for lobbyists.
"I wouldn't change just three things-I would change everything. I feel we need to implement business oriented, best practices like zero-based budgeting." We've heard that from candidates for every local board–a lot. But we've never seen it in action, considering the immovability of large portions of the budget: Are you saying the salaries of cops, firefighters and maintenance workers should be justified? Their raises? Their benefits? The lobbying and travel spending of the board also amounts to a fraction of the budget. Cutting $25,000 or $50,000 from the travel budget might keep commissioners from Tallahassee, but are you saying lobbying, in person or through a lobbyist, is useless? That seems to contradict your stance on fighting for home rule–a fight that netted Flagler significant victories of late, but not through its officials' absence from Tallahassee.
The zero-based budgeting innovates upon the tradition "government model" of budgeting which takes for granted items as necessary just because we did it in previous years-we need to justify everything. My position is that all expenditures be justified from the zero base. This does not mean everything gets cut. This approach would ensure that firefighter, deputy and maintenance worker salaries are competitive with neighboring counties and that we have the correct ratio of firefighters/deputies for our population. I am convinced with this approach in every department we will find waste and thus savings.
The county is already compensating the public service of our commissioners with a salary, so I would want to be able to justify the need for the county to also support additional travel expenses as part of the zero-based budgeting. In my view, a Flagler County Commissioner is an ambassador and advocate for all things Flagler-including going to Tallahassee if needed to speak to state legislators. I am passionate about supporting our public's interest and will do whatever I need to do to represent those interests and ideals.
The principle of "home rule" is something to fight for. However, our efforts to date have not rendered a permanent solution. Uncontrolled lobbyists can be leaches of tax-payer dollars. We should consider other approaches like leveraging the talents, expertise and passions of our residents who can make appeals to our legislators. Who better to speak to our concerns than our own incredible residents?

6. State law requires armed security in every public school. Flagler has chosen to have a School Resource Officer at its schools. The district and the county essentially split the cost. County Administrator Craig Coffey told commissioners during a workshop this summer that they don't have to assume that security cost. He's right, under the law. With Amendment 1's consequences ahead, would you reduce the county's share? Alternately, do you pledge to preserve that split for the duration of your term?
The safety of our community should be of utmost concern for our county commission as it is to me personally. I pledge to ensure sufficient funding of school resource officers for our schools. This may require the maintenance of a 50-50 split. However, as county commissioner, I would require us also to pursue other funding avenues such as grants that may cover this cost as to offset this burden from the tax payers.

7. It's costing the county at least $26 million to rebuild the shore's dunes, upwards of $40 million when the state's rebuilding of State Road A1A is included, and almost $60 million when the U.S. Army Corps' funding of the Flagler Beach portion of dune repairs is included. That's just for Hurricanes Matthew and Irma. It is now demonstrably certain that sea levels are rising, and Flagler's revenue sources for additional beach protection are tapped out. How do you propose to pay for the next repairs should a hurricane like Matthew or even a strong storm with damaging surges strike during your tenure? How is beach protection not a losing battle?
We must not resign ourselves to thinking protection of our beach is a losing battle. Stewardship of our beautiful beaches is central to our local identity and is an economic engine for our tourism trade. We must be committed to protecting it. I recommend we divert a larger proportion of the sales tax revenue toward beach restoration than we are currently doing. I would also pursue grants to preserve and restore our coastline. For example, the National Oceanic and Atmospheric Administration's (NOAA) Office of Coastal Management has grant opportunities available.
Do you deny the science of sea levels rising? If not, how does that square with not resigning ourselves to a losing battle? Diverting a larger portion of sales tax supplement revenue to beach restoration would likely mean that in the next four years we won't see the long-promised new library off of State Road 100, which is predicated on that revenue, nor would we see other capital improvements. Are you willing to make that trade-off?
It appears empirically true that sea levels have risen. I have read in multiple publications that, the sea levels along the Florida coast have been rising approximately 2-3 mm a year. If we do not do what we can to maintain our beaches, however, there will not be any tourists, or businesses or residents to fund libraries or anything else. In addition, I would have to research further how tourist development funds could be used for a library as my understanding of the requirements for use of the capital funds are for museums, convention centers, etc. I do know there are grants available to fund erecting/expansion of libraries.

8. We currently have five white Republican men as county commissioners. The average age is 67 in a county where the median age is 50. Only one commissioner holds a private-sector job. The commission is by far the least diverse of all of Flagler's local governments, in a county nowhere near as homogenous as the commission would make it seem to be. Explain first the consequences on policy and responsiveness of that lack of diversity (if you think there are no consequences, explain why), and second, explain how you have reached or would reach out specifically to constituencies that don't mirror the commission's demographics.
There is no denying my entry on the board would upend its current homogeneity-I am a woman in my 40's with private sector and academic experience. I think a lack of diversity can lead to malaise and inability to "think outside the box" to problem solve. My life's work has been about reaching out to diverse groups of people with multiple points of view-I feel we are greater as whole. When we bring differing perspectives together in a collaborative fashion we always find common-sense solutions.

9. Palm Coast and the county continue to have difficult relations at times. To what extent are the two government's managers responsible? How will you help foster a less medieval relationship?
Our community deserves and demands that our county commission work in concert with rather than counter to, the leaders of the municipalities. The management styles of the two administrators appears to be largely responsible. It is not good for our public image that the County and Palm Coast are at adverse ends. A recent example of this is the battle over the development on route 100 in which both administrators were making accusations and threating law suits. It is incumbent upon the commission board to set the leadership tone of the county administrator for County-Palm Coast relations. I have experience working collaboratively, across party and ideological lines, to find common ground and overlapping consensus in order to have productive problem-solving conversations. As County Commissioner, I will set up a Community "summit" with local leaders to come together and identity common goals and potential obstacles. Ongoing interlocal meetings will be scheduled to proactively address any issues. I will work diligently to find common ground without letting ego get in the way of solutions.

10. To what extent should the county commission be responsible for a social safety net in Flagler? Is the money the commission annually awards groups such as the Free Clinic, the Family Life Center and the Early learning Coalition?

The question you pose is "to what extent should the county be responsible for a social safety net." This question gets to the core of the community. Are we a community that cares for our neediest citizens? Some say society is judged by how it addresses the needs of the most vulnerable. How would our community be judged? I think it is important to support the services provided by these organizations. I say the money the county awards these particular groups are modest in amount and are symbolic in nature. I also think it is appropriate that these agencies provide to the county reports that document the efficacy of the funds provided so that the tax payers know how the money is being used.

11. We have an economic development department that consumes upward of $450,000 a year though it's been responsible for literally just a few dozen new jobs since its inception in 2011, compared to the 17,200 jobs the county has added independent of the department since. But we don't have a homeless shelter. How do you justify the contrast—and the continued existence of the economic development department?
The Economic Development Department was created by well-intentioned community members, business and governmental leaders. These folks rightly recognized that we needed a concerted effort to focus on business development in our county and that with an actual department, we could compete with larger counties in Florida. I submit to you that the budget for this department well exceeds 450K. From the table below, snipped from the county budget, you will see the current year's budget is a staggering $1,078,242:

The expectations—and budget—were set so high that the unintended consequence was that the department felt compelled to credit to it businesses that were already planning to come here or existing ones planning to expand. Also due to the high expectations set, the department felt compelled to stage a grandiose opening at the airport that was premature and ultimately, did not come to fruition.
Ironically, to make the significant impact needed, the reservoir of funds needed would have to be significantly greater to attract the types of businesses listed at the "targets" on the Economic development website. The majority of the incentives we are offering are state or federal and thus available to any other county in Florida. I have heard from business owners we should be offering prospective and current businesses streamlined permitting and support. Business owners tell me the construction and permitting process is cumbersome and confusing. I have also heard from business owners that greater support to current businesses would be beneficial. Recently I heard a story from local business owners with job vacancies were turned away at a county-promoted job fair.
These stories, coupled with the publicly reported rancor within our county government and between the county and Palm Coast, do not bode well for our public image in attracting businesses to locate or expand here.
I propose we keep our economic development efforts simple and true to our identity:We should embrace what and who we are: a beautiful and idyllic coastal community, attractive to tourists and retirees with the perfect infrastructure and location for technology and financial services businesses. A combining of the Tourist and Economic Development departments would be an efficient use of resources. Also in keeping with our identity, we should attract the recent retirees: every month, thousands of baby boomers across the country turn 65; in June alone 47,336 reached this age. Of these early retirees, 15 percent start small to mid-sized businesses. We should target our marketing to attract and retain this segment as well as technology and financial services industries.
"A combining of the Tourist and Economic Development departments would be an efficient use of resources." But given the tourism department's regulated funding from the tourism surtax and legally prescribed ways in which that revenue may be spent, would combining the two departments be legal? Is an economic development department needed at all?
It is true that there is a prescription for use of the revenue generated from the tourism surtax, however, there is latitude in the allocation. Tourist development is the number one economic driver of our community-it is foundational to all other economic development initiatives so it seems logical to combine these departments so we are not duplicating efforts. We do not need two sets of teams to promote our economic initiatives. This alone will be a significant cost savings and yield positive, efficient results as these efforts will not be "siloed" from each other.
And finally, the legal questions would have to be deferred to and vetted by the county attorney.
Is it not your responsibility as a prospective county commissioner to vet basic legal questions before building campaign platforms on unanswered questions?
We will structure the new department appropriately within the law and the tourist sales tax revenue would be used per the specified terms. Any structuring issues would have to be vetted through the county attorney. I am confident this can be done. Let's set the goal and make it work. I see opportunities, not obstacles.

12. Evaluate the performance of County Administrator Craig Coffey, listing strengths, weaknesses and areas of concern.
Craig Coffey is an experienced county administrator having attained the achievement of 25 years in government and seems committed to his job. I believe our government can and should be managed more efficiently, however. The county administrator should move away from the government model of depleting the budget early in the fiscal year in order to claim the need for more tax payer dollars later. Instead, I promote a zero-based budgeting process which necessitates every department head must account for every expenditure, every year. I also believe the administrator should implement organizational process improvement initiatives to overcome barriers to efficiency. I do find it concerning that his tenure is known for inadequate and at times combative relationships with our municipalities; the mismanagement of the sick Sheriff's Operations Center including potential civil litigation against the county; and "Sherman Salary-gate."

13. Have you ever been charged with a felony or a misdemeanor anywhere in Flagler, Florida or the United States (other than a speeding ticket), or faced a civil action other than a divorce, but including bankruptcies? If so, please explain, including cases where charges did not lead to conviction.
I have never been charged with a felony or misdemeanor.
Several years ago, a Department of Children and Families investigator called me and asked if I would take in a child she was removing from a bad situation and I said yes. The state filed a civil action for child support in my name against the child's parents. Also over the past couple of years, I have been in a protracted divorce with multiple filings and leading up to it involved a dispute with a homeowners association that was dismissed.

2018 Election Candidates, Flagler County
Races

Candidates

County Commission District 2
Greg Hansen, Incumbent (Rep)
Abby Romaine (Rep)
Dennis McDonald (NPA)
County Commission District 4
Nate McLaughlin, Incumbent (Rep)
Joe Mullins (Rep)
Jane Gentile-Youd (NPA)
School Board District 1
Andy Dance, Incumbent
Unopposed
School Board District 2
Janet McDonald, Incumbent
John Fischer
Carl Jones
School Board District 4
Trevor Tucker, Incumbent
Paul Anderson
Palm Coast City Council Seat 2
Jack Howell
Jon Netts
Palm Coast City Council Seat 4
Jose Eduardo Branquinho
Corinne Marie Hermle
John Tipton
Florida House District 24
Paul Renner, Incumbent (Rep)
Adam Morley (Dem)
Congressional District 6, Democratic Primary
Stephen Sevigny
Nancy Soderberg
John Upchurch
Congressional District 6, GOP Primary
Fred Costello
Michael Waltz
John Ward