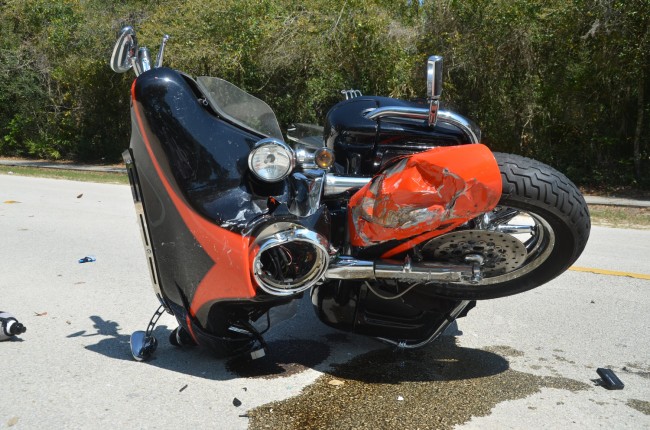 The married couple from Jacksonville–Christopher Marlin is 40, Siglinda Marlin is 45–were riding their scarlet and black Harley-Davidson down State Road A1A a little before 1 p.m. They weren't speeding. They hadn't been drinking. No drugs were involved. They rode at normal pace, in their lane.
Alex Meyer, an 81-year-old man at the wheel of his BMW, also from Jacksonville, had driven down with his wife and was stopping at JT's Seafood Shack in the Hammock, which was doing brisk business, its parking lot filled with cars and bikes around noon today. The restaurant's main parking lot was full. Meyer pulled out and drove the very short distance on A1A north to make a left onto a secondary parking lot.
He made the left. And in so doing, "the guy in the BMW violates the right of way of the motorcycle," a Florida Highway Patrol investigator at the scene said. The Harley smashed into the passenger side of the BMW 530 xi. after trying to skid to a stop. Both riders were evacuated by ground to Halifax Hospital, Christopher with serious injuries, Siglinda with minor ones. But both were wearing helmets. Christopher's "helmet was beat up pretty bad," the trooper said, "that's why I presume he was taken to Halifax."
The wreck took place at 12:50 p.m. almost immediately in front of JT's. The motorcycle blocked the south lane of A1A. The Fire Police redirected traffic through a single lane, backing it up about a mile in each direction until about 2 p.m., when John's Towing removed the bike.
Meyer was to be charged at the scene with making an illegal turn, a moving violation that carries three points on the driver's license, absent traffic school. Meyer stood by his car, waiting for the FHP trooper to complete his report. "I've had no serious accidents in my lifetime, period," the BMW owner said. He said he was unconcerned about his car–only that the two riders were OK.
Three of the six serious Bike Week wrecks that have taken place on Flagler County roads since the first one on March 9 on U.S. 1 south of Bunnell have taken place on A1A. A woman who was riding with her fiancee, Diana Sallee, died a day after her motorcycle struck a stationary SUV on A1A near Washington Oaks Garden State Park. On Friday, a man was severely injured when he struck a car making a U-turn in Flagler Beach, near the Java Joint.
Traffic had resumed normally on A1A Saturday afternoon by 2:15 p.m.