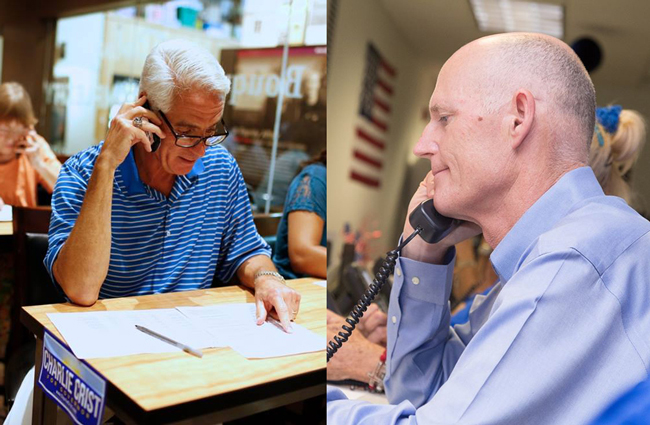 It's officially too close to call: the latest Quinnipiac poll, released this morning, has Rick Scott ahead of Charlie Crist, 44 to 42 percent. That's within the 3 percent margin of error. But the shift is unmistakable. Scott has the decisive advantage, having erased a 10-point Crist lead in five months.
Andrew Wyllie, the Libertarian Party candidate, pulls 8 percent of voters' preference in the latest poll, but Scott is ahead on the poll whether Wyllie is on the ballot or not: Absent Wyllie, Scott is ahead 46-44, which takes away any argument from Crist that Wyllie is somehow having a Nader effect on the race. (The U.S. Supreme Court's five votes aside, Nader's presence on the 2000 presidential ballot drained just enough votes to swing the election from Al Gore to George W. Bush. Wyllie had appeared poised to do the same in Scott's favor. He began to make his presence felt in July, when Crist's lead over Scott was halved to five points, with the erosion at the time attributed to Libertarian voters opting for Wyllie instead of Crist. But the latest poll appears to negates that analysis.)
More likely, Scott's overwhelming money advantage is having an impact.
In a single week this month, the two candidates spent $10.4 million on television ads, for a total of $50 million so far. Scott's share of the spending: 71 percent. There's no let-up. The Scott campaign has $8 more million in spending planned for this week, according to the Tampa Bay Times, while Crist is planning just $2.5 million. The momentum is almost entirely in Scott's favor, a remarkable turnaround for a governor who spent the majority of his first term with an approval rating in the 30s, and some of it as the least-liked governor in the nation.
But the Scott campaign has capitalized on Crist's past, portraying his evolution from a Republican to an Independent to a Democrat as reason to mistrust him, and blaming the Great Recession, which hit Florida particularly hard, on Crist. That's nonsense, of course: the recession was a national phenomenon, damaging states with a heavier reliance on real estate and construction more than others, but campaign narratives are seldom based on either reflection of perspective and more often based on the swaying, emotional, sometimes incendiary rhetoric that can be packed in a 30-second TV commercial–and how often those commercials can air. Scott's campaign is in that regard the undisputed champion of this race, on e of the most-watched in the nation.
And Scott has benefited from the power of incumbency, using his pulpit recently to launch a new round of promises to cut taxes. Crist's responses have been tepid.
Another significant shift for Scott: he's won over the independent vote, without which no statewide candidate can win, and which he did not have six months ago. In the three-way matchup, Scott edges Crist 44-37 percent among independent voters, the Quinnipiac poll shows, with 11 percent for Wyllie. Scott leads 80-11 percent among Republicans, with 7 percent for Wyllie and Crist leads 83-7 percent among Democrats, with 6 percent for Wyllie. Women give Crist a slight edge.
But neither candidate gets good marks for honesty and character. Just 39 percent say Scott is honest, against 51 percent who say he's dishonest. Crist does barely better, with 37 percent considering him honest and 49 percent calling him dishonest. Half the voters say Scott dpoesn;t care about them (46 percent say Crist doesn't care), but Scott wins on leadership, with 58 percent giving him the nod and just 46 percent calling Crist a strong leader.
With six weeks until Election Day, 81 percent of voters say their mind is made up, while 17 percent say they might change their mind.
"When fewer than four in 10 voters think both the Democratic and Republican candidates for governor are honest, you know this has been one of the nastiest races in state history," said Peter Brown, assistant director of the Quinnipiac University Poll. "They have been throwing so much mud that they both are covered in it. The two voter groups that will tell the tale of the election are independent voters and those who are backing Libertarian candidate Adrian Wyllie. Gov. Rick Scott and former Gov. Charlie Crist are doing about the same with their respective party bases and former Republican Crist is not having any trouble being accepted by members of his new party. Wyllie voters are the bigger unknown because there is little way of predicting if they will stay with the third-party challenger or decide to switch to Scott or Crist in order to be with a winner."
Brown added: "At this point, neither major party candidate is doing markedly better as a second choice of Wyllie voters. It is also worth considering that there is a consensus that negative campaigning tends to be a turnoff more to the very people who seem to hold the keys to the kingdom – independents and third-party voters."
The poll was conducted from September 17 to 22, surveying 991 likely voters, with a margin of error of +/- 3.1 percentage points.