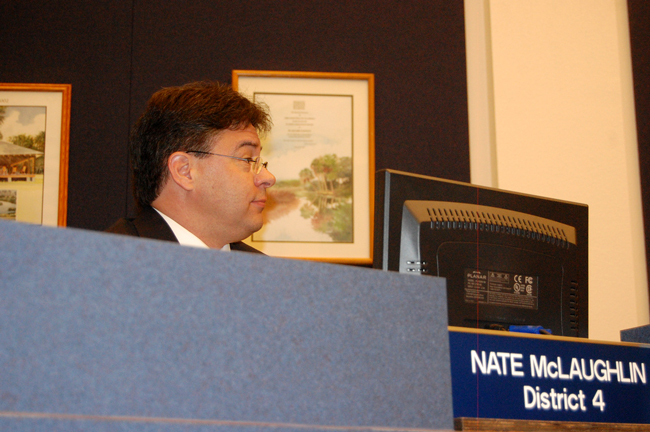 What should have been a routine round of gavel-passing to the new chairman and members' annual appointments to two dozen boards and committees turned into a testy half hour at the Flagler County Commission Monday evening. Nate McLaughlin, just concluding his first year on the commission, wanted to replace Milissa Holland on one committee, and see Alan Peterson replace her on another. He failed on both counts as he was outmaneuvered by politics and seniority, but not before pointedly and at times petulantly making his displeasure known.
Every November, some roles change on the commission, including the chairmanship. That expected transfer from Alan Peterson to Barbara Revels was smooth. Holland thanked Peterson for his year as chairman. "He's done an outstanding job and represented this board very well," Holland said. "He has been to almost every activity that certainly I've seen in the community and has spoken very articulately, has taken this position very seriously, certainly not only with the banking issue but other appointments as chair, and I really want to thank you for your service, you've done an excellent job representing this board."
Holland then nominated Revels, reminding commissioners that it had been at her insistence some years ago that the chairmanship—at one point held for more than a dozen years by Jim Darby—rotate, "because I do feel strongly that the chairmanship should be a true representation by the people of this community that has elected us each individually," Holland said. There were no other nominations, and Revels was appointed unanimously.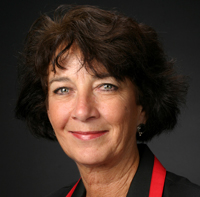 There were no other nominations. Revels's nomination was approved unanimously. Peterson thanked the county's administrative staff, was applauded, and passed the gavel. Revels, like Peterson, is all business: she's not into banter and anecdotes and she's not much for tangents, or even ceremonial trappings. When Peterson suggested, immediately after the investiture, to pause for a picture of the passing of the gavel, Revels didn't hesitate: "Let's do it after. Let's keep moving."
Her first act as the new chairman was to call for a vice chairman. That role went to McLaughlin without objection. Then came the testiness. It's been apparent for months, with Peterson dropping hints, that Holland's role as chairman of the Tourist Development Council—the most powerful of the boards or committees with commission representation—would be challenged. Holland cherishes her chairmanship and spent the last two years making tourism a high-profile engine of economic development while revamping internal procedures. Peterson, who's up for reelection next November, was itching to serve on the council.
"I had mentioned at a previous meeting that perhaps once a commissioner had served on a particular committee for a couple of years, that maybe it made sense to rotate some of this so that we all got a detailed knowledge of the various committees that make up county government," Peterson said. "But if that's not the consensus of the commission, I would change my request to continue on the committee that I'm presently on." With that, Peterson made clear he would not put up a fight for the TDC: he knew he didn't have the three vote to override Holland's appointment. But McLaughlin was also contesting Holland for another appointment—to the Northeast Florida Regional Council, a regional planning body that had more influence until Gov. Rick Scott gutted its authority last year. Holland serves on that council with Palm Coast Mayor Jon Netts , a close ally. She wasn;t going to give up that position, either.
"I'm on the last year of the regional strategic policy plan, and I've worked on it for two years," Holland said. "It's my final year of doing it. We have to present it to the governor and cabinet by state statute at the end of this year, so I would—"
"Well, I tell you what," McLaughlin interrupted. "Let's do swap shop here. I'm willing to—if Mr. Peterson could have the TDC, because I would like to have the chamber, I'd be willing to withdraw and let you finish your work at the Northeast." McLaughlin was referring to a commission representation on the Flagler County Chamber of Commerce board.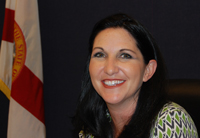 "Well, my priority is the Tourist Development Council," Holland replied, "so I'm not willing to give that up. Again, there are two outstanding things on the Tourist Development Council that'll be worked through this year that I had an integral part in, so I'm looking to keep that one."
Peterson jumped in:  "If Milissa is going to stay on the Tourist Development, I want to stay on the chamber."
McLaughlin was not happy. "I thought that the intent was to change things around, and to give other people opportunities to serve in different places without certain boards or committees or anything becoming a perceived donorship of any one individual, and if that's not going to be the case, then I'll serve where you ask me to," he told Revels. "Mr. Hanns mentioned the last meeting, it's been mentioned here, good things come when we mix it up a little bit and get some fresh eyes looking at things. I understand Commissioner Holland's passion for these committees that she's on and I respect that she's done a great job there. I was just under the impression that we were going to have some other opportunities, but if that's not going to be the case, I'll just serve where you ask me to."
Hanns reminded him that three seats were up on the commission in 2012—Hanns's own, Peterson's and Revels's. "More opportunities will be available to you," he said. "And you know what's really nice? That We're bickering a little over wanting to do more. That's good."
"I'm not bickering," McLaughlin said. "I had a false impression, is all I'm saying. I was under the impression there was going to be opportunity to serve. If there's not, there's not."
"I don't think that that's the case," Revels said. "I think that unfortunately, what we have to recognize is that some of these positions are multi-year events where there are long-range planning, carry out a plan, get it in place, and now—"
McLaughlin interrupted again: "And you can make that argument indefinitely. Yeah, I understand that. I understand what you're saying. Two years is plenty in my opinion. I'm not saying anybody has done a bad job, anybody is doing a bad job. I just was under the impression there'd be opportunity to serve in a variety of places and it appears to me there's not that willingness."
"I agree with Nate," Peterson said. "I would have liked to have seen some rotation this year, but if that's not going to happen, I would hope that we would have consensus that next year there would be some rotation."
"There's no reason not to this year, so I'm not going to consent to next year," McLaughlin said.
Holland pushed back. "I'm not taking this as a territorial issue. I'm taking this seriously, that I was appointed, this will be my third year if I am appointed to TDC this coming year, and there have been a lot of changes made. I've been obviously a big part of those changes. I have been part of rewriting policies. I've been part of establishing vendor agreements." She assured the commission that she was "not looking to serve on these for the rest of my term as county commissioner, but I do think it's important this year and I stand by my position on those."
Revels left Holland on the TDC and the regional council and said she'd "look forward to an aggressive musical chairs next year, potentially." Peterson wanted that potential made a certainty, by agreement. He didn't get it. He then moved to have McLaughlin appointed to the canvassing board. "No, that's out of order," Revels said immediately. "I'm going to be on the canvassing board, as the chair, it's a designated slot, unless I have a reason not to be. And that may very well occur, and then we'll address that in a timely manner."
McLaughlin and Revels have a history. They worked briefly together, with Revels as McLaughlin's boss and McLaughlin as a construction supervisor, whom she laid off when business slowed. Their working relationship had not been the smoothest. Revels—like Hanns and Holland—is a Democrat, McLaughlin (like Peterson) a Republican: those dynamics were in play, too, particularly over the canvassing board matter. Revels, who is almost certain to run again next year—business is still relatively slow and commissioners don't easily give up a $50,000 salary—will likely not want McLaughlin on the canvassing board should she not be able to serve (she cannot be on the board if she is in a contested race). Look for more politicking ahead.