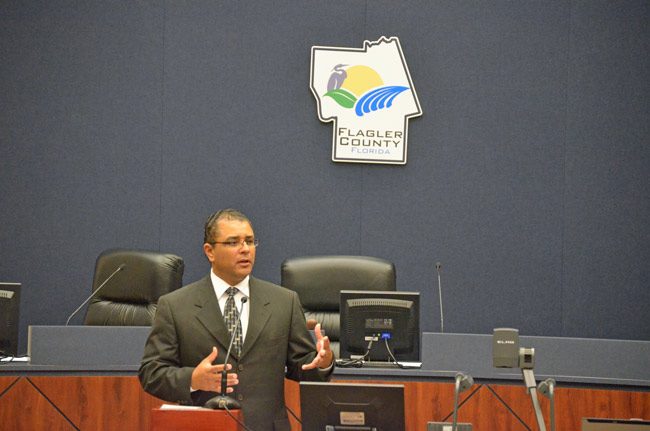 Seventh Circuit Chief Judge Raul Zambrano did not have encouraging news for Flagler County regarding its repeated request to the Supreme Court for an additional county judge.
"This year for the first time," Zambrano, a former felony court judge in Flagler, told the County Commission this morning, "the Supreme Court issued a decertification opinion de-certifying 13 county judges from throughout the state of Florida. One of those judges being de-certified is in Putnam County. They did not certify a judge for Flagler County. The certification for the judge in Flagler County was left in a footnote in the opinion, which indicated that Flagler County is not quite at the level of certifying another judge, and they felt that if they certified a judge for Flagler County this year, they would have to probably turn around and decertify that same judge the following year. So they chose not to certify a judge for Flagler County."
Actually, it was not quite a footnote. Rather, the Supreme Court addressed Flagler in the body of its opinion, singling out Flagler to explain why it was not certifying the county for an additional judge even though the court recognizes that, as in Citrus, Lee and Monroe, "the judicial workload per judge demonstrates a need."
"We recognize that those county judges are currently shouldering what our data indicate to be more than a full-time judicial workload," the court continued, addressing Flagler specifically and almost with a hint of regret: "In Flagler County the judicial workload per judge increased two percent when compared to last year. However, if an additional county court judgeship were certified this year, Flagler County's judicial workload per judge would fall below the 0.90 threshold, thus putting this Court in the position of potentially decertifying the same county court judgeship in next year's opinion."
In 2016 the court system did a study on how much time courts spend on their cases, asking each judge to keep track of their time. Based on that study, the appropriate workload ratio was devised. Think of it this way: if the normal workload for a judge is (theoretically, not actually) 500 cases a year, they concluded that a caseload of 550, or a ratio of 1.10, was the top permissible end. If the ratio exceeds that number—if the caseload goes higher than 550–then the circuit is owed an additional judge. And in its 2016 opinion, the Supreme Court agreed that Flagler was owed an additional county judge, and certified the county for one.
In last November's opinion, the Supreme Court not only further agreed that Flagler still needed an additional judge, but that the workload had grown. And yet it decided against certifying the county for that additional judge, since the caseload of the two judges combined would then fall below the heavy-workload ratio.
The court was essentially conceding what amounts to an absurd rationale: County Court Judge Melissa Moore-Stens is the lone county judge in Flagler, she is overworked, and has become more so according to data from 2017. But giving her help would mean that she would be less than overworked. Therefore she won't get help.
There appears to be no middle ground, even though in the very same opinion the Supreme Court repeatedly asks the Legislature to enable an easier system to get retired judges, or Senior judges, to put in part-time work to help overworked judges. "There simply are not enough senior judges to take the assignments," the court wrote. One suggestion, the court said, was to remove the one-year sit-out rule, immediately after a judge retires.
But the court's opinion did not make the middle-ground suggestion of resolving Flagler County's conundrum by, if not certifying for an additional county judge, then at least encouraging the Legislature to pay for part-time, senior-judge help.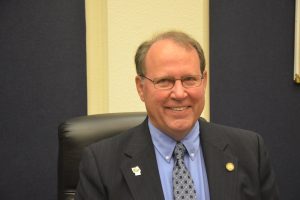 Last year, in a reflection of the county's priorities, Flagler County's legislative delegation secured a $150,000 appropriation to pay for a year's worth of senior-judge time to aid Moore-Stens. Gov. Rick Scott vetoed the appropriation. Sen. Travis Hutson filed a bill this year requesting an additional county judge for Flagler (SB 248), without a monetary figure in the bill. "Our number one priority for this year legislatively," Commission Chairman Greg Hansen said, "was to get another judge for Flagler County."
The court also detailed how overworked support staffers are in many districts (it did not enumerate the districts in that case, suggesting that the workload is burdensome throughout), to the point where in some counties, judges have taken up duties usually left to support staff, including "managing the court record, handling exhibits, swearing witnesses, filing documents, and making notations in the case management system. Judges performing ministerial and administrative functions," the opinion went on, "is not the best use of judicial time and supports the need for additional case management assistance that is best supplied by case managers."
Overall in the state, there's been a 10 percent increase in county civil filings, excluding traffic infractions, a 5 percent increase in circuit civil filings, a 3 percent increase in probate filings and a 2 percent increase in dependency cases. On the other hand, criminal traffic cases have declined 16 percent, county criminal cases and juvenile delinquency cases have declined 5 percent, and felony cases have declined 2 percent, decreases mirrored across the nation. At the same time, the court notes a severe impact from the opioid crisis on dependency cases and an increasing workload on peripheral but key parts of the judicial system—Drug Courts, Veterans Courts, Mental Health Courts and Early Childhood Courts. Flagler County has a Drug Court but none of the others. Its Drug Court, handled by Circuit Judge Dennis Craig, is at capacity.
The court's certification opinion, in sum, drew a conflicting picture of a judicial system heavily burdened by caseloads, when all aspects of the judiciary are included, yet still somehow capable of seeing 13 county judgeships decertified. The court certified only two additional circuit court judges and two additional county court judges (both in Hillsborough County).
The court is watching Volusia County, it said, possibly to decertify a judge there next year, after de-certifying a county judge in Putnam. Flagler is part of the Seventh Judicial Circuit, which includes Volusia, Putnam and St. Johns, and total some 1 million residents. Zambrano is the chief judge of the circuit, and as such, the Supreme Court relies on him and other chief judges to convey needs in their circuits. His appearance before the County Commission this morning was very unusual—no chief judges have appeared in recent memory—but Zambrano has deep connections to Flagler.
"I just wanted to come back home one time and reintroduce myself," Zambrano said. "The position of chief judge is somewhat of a misnomer. I have all the responsibilities in the world but none of the authority to do anything. My position is purely administrative. I'm an equal to all of my colleagues. I hold no higher position than them, I'm still a circuit judge at the core."
He summed up the decertification process and cautioned: "There's a possibility that a lot of movement may come as a result of the decertification opinion. You know Tallahassee. What's said today could not materialize tomorrow, could be a lot worse tomorrow, so I don't really know."
"One thing that I'm learning from the political side of the judiciary is that you have to work in concert with the supreme court to make sure that the needs of the community are voiced to them," Zambrano said.
County Commissioner Don O'Brien asked about the Hutson bill: if it were passed, would it be invalidated by the court's de-certification approach?
"Not quite," Zambrano said, calling it an "odd situation." If the bill's provision were to survive a veto this year, "keep in mind that next year the supreme court could turn around and recommend that that judge be decertified. So it's sort of a push and pull type of situation. You've got to get everybody going in the same direction before you get something to stick."
County Attorney Al Hadeed asked what, as a legislative body, the county commission could do to facilitate the process beyond speaking with its legislative delegation.
"I think ultimately that's going to be my responsibility since I'm the liaison to the Supreme Court," Zambrano said. "We have regular meetings with Supreme Court staff to let them know the needs of the community. Now, this is my first year so I don't know what efforts were done on behalf of Flagler County in years before. But at the end of the day they look at a mathematical computation, based on filings. Filings throughout the state of Florida have been down, yet our population keeps going up, so unless something along the lines of a hurricane hit us where litigation would go up or the economy were to go sour, all those things that drive litigation, as you're aware, certainly that would manifest itself in the numbers, which is what determines judicial needs. So from a political standpoint of view, I don't think you can get at the Supreme Court politically. I'm hoping you can."
Even absent a hurricane of filings, however, the numbers, by the Supreme Court's own computation, have shown a need year after year.

The Florida Supreme Court's Annual Certification Opinion (2017)