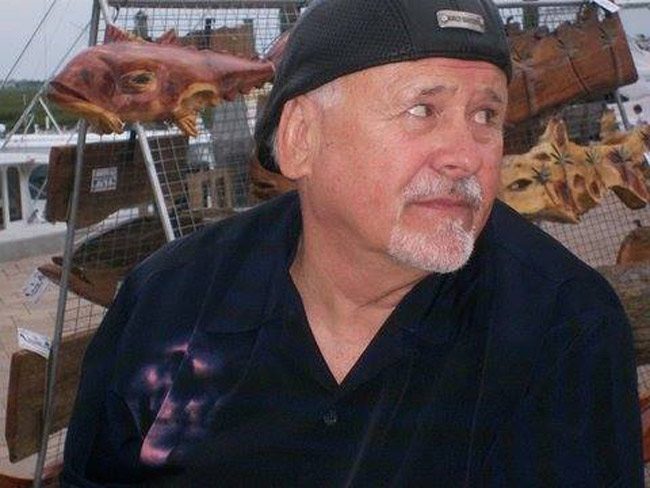 Last Sunday (July 30) William Gamble, a 66-year-old resident of Crossgate Court in Palm Coast, was walking his dog, Dahlyla, not far from his home, which he bought with his wife Carolyn last September.
It was early evening. At the corner of Crossview Lane and Crossgate Court, another dog, called Maya, bounded out from 10 Crossview Lane and attacked Gamble's dog Dahlyla, "knocking Mr. Gamble down to the ground," according to an affidavit filed in the case.
Maya bit Gamble's dog in the face, head and chin, according to a victim's report filed with Palm Coast Animal Control, and was eventually taken to Flagler Animal Hospital for treatment.
Dahlyla is a blue-white Staffordshire bull terrier, close to four years old and about 53 pounds. Maya is a 9 years old plott hound and weighs about 62 pounds, according to the dogs' latest vaccination certificates.
After the attack Gamble got up and went back to his house, making it only as far as the garage, where he collapsed. He had just enough time to tell his wife that he'd been "attacked by the neighbor's dog," according to a Flagler County Sheriff's report, though there is no indication either in the sheriff's report or the animal control report that he'd been directly injured by the dog. A knee injury, his wife said, was from him falling. He was having chest pains. By the time a sheriff's deputy arrived at the house, Gamble was on the garage floor, unresponsive. There was a faint pulse. There was no sign of breathing. CPR was immediately initiated, and Gamble was taken to Florida Hospital Flagler.
He was not to regain consciousness. On Wednesday, after suffering what his son described as five heart attacks and fighting for his life through life support, he was taken off life support and died.

"I immediately began my drive here from South Carolina to see my dad and comfort my mom, a drive I had just become familiar with the previous week on our first visit here," his son, Tim-Tracy Gamble, wrote on Facebook's C Section Neighborhood Group, in what turned into a plea for an apology from the owners of the other dog. "I never got to speak to my father because he was sedated. You have no idea how hard that is for me. We understand that this was an accident and that no ill will was intended, but you are responsible for your pets actions. You were there along with someone else. You are fully aware of what happened. I ask that you please make an effort to apologize to my mother for this. Some form of apology is needed."
Maya is owned by Russell and Cindy Bryant, who have owned the property at 10 Crossview Lane for 30 years. When a Palm Coast animal control official met with Russell Bryant on Aug. 1, he said he would comply with the quarantine but would not fill out an affidavit for the official, on advice of Bryant's attorney, according to the inspection report. "I was told by Mr. Bryant that his wife was walking their dog 'Maya' when the dog slipped out of her collar by backing out of it," the inspector's report states.
The dog was placed on a 10-day quarantine, meaning that it had to be confined to the Bryants' house except for brief moments outside on the property for exercise or natural needs, or in case the dog had to be taken to a veterinarian in an emergency.
The Bryants were cited for letting their dog run at large and not obeying the city's leash law, and for causing a "nuisance," according to the inspection report. They were fined $150 ($75 for each offense). The dog was to be quarantined for 10 days.
On Aug. 2, the city inspector spoke with the Bryants' next-door neighbor who had called in to the city about Maya. The resident said "she was afraid to walk by this house with her small dog," according to the report's account of the woman's statement, "the owners have no control and the dog will try to attack her dog when they go by. She is concerned that most of the residents are elderly and asked that we remove the dog from this residence."
The next item on the inspector's report is a stark single line: "8/2/17 Mr Gamble taken off life support."
Reached by phone Friday afternoon, Cindy Bryant said she had no comment.
Meanwhile, Tim Tracy-Gamble's post was continuing to generate a conversation between him and others. In a brief interview this afternoon, he said there had been no apology forthcoming as yet.
"We have no control over what the law enforcement does with this case, but we do control our actions from this point on. We need closure for this," he wrote. "I am asking that you show some level of remorse. I pray that you will make some effort to make this right. My mother will not hold her husband ever again. I will never fish with my dad ever again. My children will never hug their grandfather ever again. My granddaughter will never play with her big granddaddy ever again. Please make this right!!!"