Last Updated: 8:25 p.m.
Four days after he disappeared and halfway through a mass search involving volunteers in Town Center this afternoon, Ricky Wheeler, the 17-year-old boy with physical and mental limitations and some medical issues, was found alive and unhurt shortly after 6:30 p.m.
"We're ecstatic," Sheriff Rick Staly said.
The vast volunteer search organized to find Ricky Wheeler was suspended shortly after 5 p.m. today (or "paused") after his clothes were found in a marshy area just north of the Town Center Publix, off Market Avenue. That set the search into a new direction–at times worrisome, ultimately hopeful, then jubilant.
A relative confirmed to authorities that the clothes found were certainly Ricky's.
At 6:30 p.m., a rescue unit went into the area where the clothes were found, shortly after a team of law enforcement searchers had gone in. It was then that it appeared that Ricky may have been found. The rescue unit was then followed by a battalion unit and a black car.
It was one of the volunteer teams that found the clothes earlier in the afternoon, a sheriff's spokesperson said. But as soon as that happened, the team was withdrawn and the search was turned over to a team of law enforcement personnel only. Shortly before 6 p.m., two paramedics also entered the zone, which was blocked off to public access by a lone sheriff's deputy.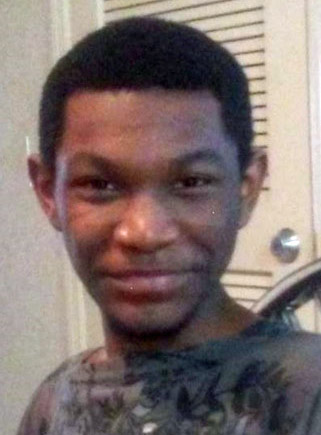 Market Avenue dead-ends a few hundred feet north of its intersection with Central Avenue. A lake or a large pond takes up some acreage there. The find had authorities concerned that Ricky Wheeler was there, but the worry initially was that he was no longer alive, with word of a few buzzards flying in the area.
A bloodhound from the Putnam County Sheriff's Office called "Putnam" located Ricky.
Soon after the rescue unit went in, he was placed in back of the ambulance and taken to Florida Hospital Flagler to be evaluated and reunited with his family.
Just two hours earlier when a vast search began with teams of volunteers, Flagler County Sheriff's Chief Paul Bovino had been sounding words of caution–that the big push would also be the final push: come 7:30 p.m., the search was to be called off, likely for good. There had even been a chance that this afternoon's search wasn't going to take place on this scale.
"Some of us from a tactical position and from an exhaustion position were starting to lose a little hope," Bovino said. He credited the agency's detectives. "They kept it alive, and because of them, this kid is going to see another day, he's going to live another day."
"These guys kept pushing, kept pushing, they said give me one more shot, give me one more shot to go find this kid," Bovino said of the agency's major case investigators led by Sgt. Mike Miller. "These teams of people said no way, not yet."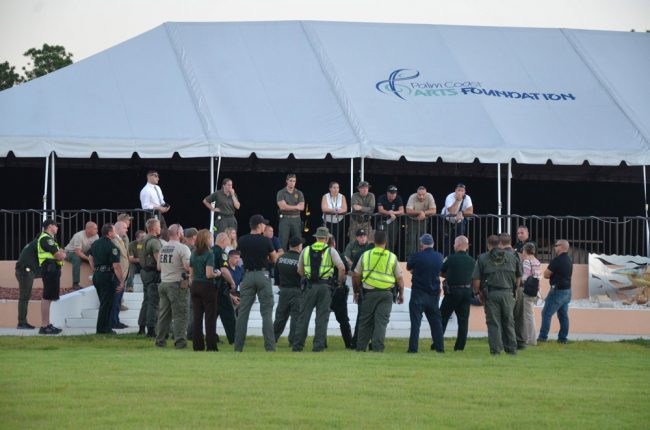 The call for volunteerv searchers drew 113 people in the end. It was the second volunteer who had registered who found Ricky's clothes.
As Bovino debriefed the large contingent of law enforcement and rescue personnel on the grounds of the Palm Coast Arts Foundation, in the day's dying light (the only thing dying that day), it was mostly smiles and laughter.
"When we found the clothes, we sealed that area of course–we don't know if it's a crime scene or not–and immediately got a bloodhound to respond so that we could put the bloodhound on the clothes, not disturb anything, and get that dog out onto the path. So that's what they did." Sgt. Merritt of the Putnam County Sheriff's Office led the bloodhound called "Putnam."
Numerous patrol units and the school resource officers were also out helping.
"They deployed, and with them and with our guys and girls," Bovino said, "they found him just in a little small depression, laying there, he was bug-bitten and dehydrated but he was speaking, he was coherent, he was alert and conscious, and they immediately of course scooped him." Since paramedics were right there he immediately got medical attention and was placed in the ambulance as others made sure it was Ricky.
Bovino himself was in the mobile command center when he was told Ricky had been found alive. "What? Are you kidding me? Like, are you kidding me?" That was his reaction. "From just pure shock I guess to now jubilation for everybody that was hear, I mean, when everybody can walk away with that kind of outcome, that's a win right there for everybody. That's about as good as it gets right there. Usually cop work sucks, right? Right or wrong, we do what we do, a job that, you know, not always has great endings, right?" He added: "To run an operation like this, I felt the operation was impeccable, I felt like we did everything like how you'd do it in a book of incident command. And then to win? Like the Patriots, right?"
Bovino wanted to credit the team of detectives who pushed him to keep searching–and to do so by name: Nicole Quintieri, Annie Conrad, Fiona Ebrill, Darrell Butler, Dennis Lashbrook, Gabe Fuentes, Mark Moy, Richard Petkovsek, Joe Costello, George Hristakopoulos, Diego Morales, and Criminal Analyst Nikki Kline.
"It's an incredible success, could not have been possible without the support of the community, the volunteers that came out," Staly said, citing the various agencies involved (seven, today alone). The Sheriff's Office's own many patrol units and its school resource officers were among those involved. "This has been a long process but we weren't going to give up until we found him and I'm just so thankful we found him alive. God was looking out for Ricky, that's all I can say. It's great to be the sheriff of a community that wants to help, that wants to come out and support not only law enforcement but trying to find a young man that had been missing and was in danger. People didn't have to do that. That's one of the best things about this community, it's a caring community."
Ricky's parents were kept at their house throughout, with investigators, so they would not be in the midst of the commotion. They were told immediately of Ricky's find.
The previous story today is below.

Calling Situation 'Dire,' Sheriff Grids Vast Search for Ricky Wheeler With Volunteers as Fears of Worst Rise
4:55 p.m. Update: Just before 5 p.m., clothes matching those Ricky Wheeler was wearing when he disappeared were reportedly found near Publix in Town Center.
Flagler County Sheriff's Chief Paul Bovin was standing in the middle of Central Avenue in Palm Coast's Town Center this afternoon, between rows of law enforcement and fire rescue vehicles and the sheriff"s mobile command center, all gathered there as the hub for an onslaught of a search for Ricky Wheeler, the 17-year-old disabled boy who disappeared four days ago.
"It's dire, very dire," Bovino said of the search, citing Wheler's health–he has muscular dystrophy–his limited mental capacities, the length of time since he was last seen, and the likeliness that he has been alone since he left. "I'd think we have to start preparing for the worst."
But in a vast, last effort to find Wheeler, the Sheriff's Office organized a "structured volunteer search" starting this afternoon at 3 p.m. from Town Center, and stretching through 7:30 p.m., before dark. Volunteer residents of all ages have converged under the big tent of the Palm Coast Arts Foundation to be vetted and prepped then sent out in teams led by sheriff's personnel to specific areas in a two-mile radius from Town center.
They're being trucked out in one of two sheriff's trucks. The Putnam County Sheriff's Office sent several units, including a drone. Palm Coast and the county's fire departments are in Town Center, including rescues. Shortly before 4 p.m., a Department of Children and Families team of three arrived at the scene.
"We are very worried for his safety and well-being," Sheriff Rick Staly said. "Anyone that's interested in assisting should come there, bring bug spray, bright clothing so they're visible, water, a government issued ID to check in, we'll give them a search location to go out with a group of volunteers and we'll ask them to check back in with us to make sure they came back OK and are not lost. Obviously as every day goes on, it's worrisome, we're hoping maybe somebody is with him, taking care of him, or he got a ride somewhere. We really have no leads."
"We have no 100 percent verifiable sightings of him," the sheriff added. "We're doing everything we can. Obviously the longer it takes, the more concerns we have."
The sheriff was interviewed in mid-afternoon, just before the volunteer search began. Just before 5 p.m., there was a find of sorts: clothes matching the description of those Ricky was thought to have worn when he disappeared were found near the Publix shopping center in Town Center, triggering an intense search there. "We are working on it," a sheriff's spokesperson confirmed at 5:14 p.m.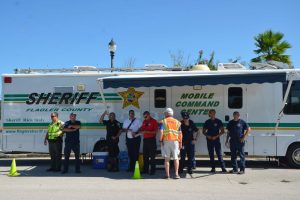 Ricky is the son of Tyisha Lee Wheeler, a resident with her son of apartment 700 at Madison Green Apartments in Town Center. Ricky was sitting outside the apartment at 4 p.m. last Friday (Sept. 21) when his mother last saw him. She at one point went to check on him. He was no longer there. He had just been released from the hospital for a voluntary mental evaluation.
Detectives have investigated various possibilities and theories. "Obviously you always look at internal relationships. We have nothing at this time to indicate to us that there's any foul play involved," the sheriff said, words Bovino echoed and stressed. The hope is that Ricky somehow got a ride somewhere. There was a vague sighting in Orlando. The sheriff, a former undersheriff at the Orange County Sheriff's Office, personally called in a request for assistance there, and then help was provided.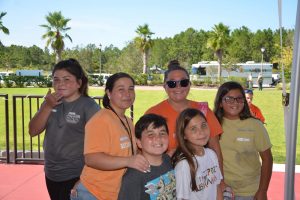 Shannon Gutierrez and five of her six children were among the volunteers gathered under the arts foundation's big tent, ready to set out. Gutierrez knows firsthand the emotions of a mother who has a missing child: her son was left at a ballfield when he was 5, when she thought her husband had him and her husband thought she had him. Fear coursed through both parents for the brief time they were out of touch with their son, who had stayed at the ballfield and was safe. "You really just can't explain what she's feeling," Gutierrez said of Ricky's mother. "There's no words to explain. I just really hope he's found safe."
She said she has prepared her children for whatever outcome. "There could be a positive outlook and there could be a negative outlook," Gutierrez said she told her children, "and the negative outlook is, he could have passed away, and they understood that."
[This is a developing story. More soon.]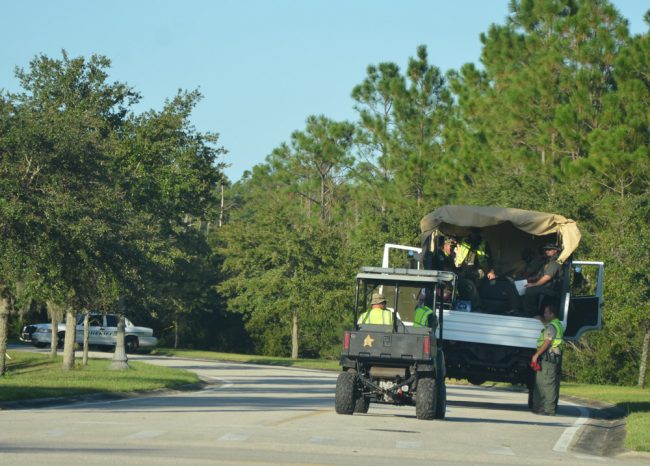 Last updated: 6:31 p.m.