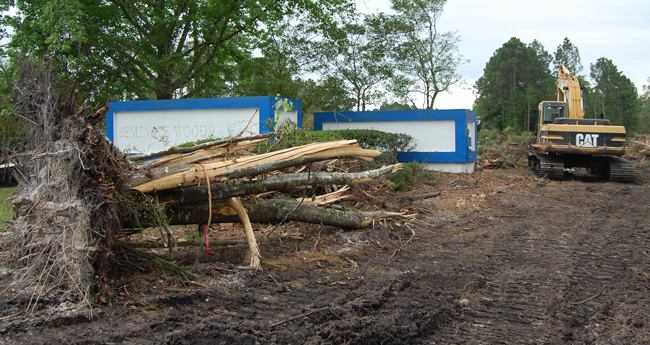 Actually, nothing–for now.
Last week bulldozers began clearing woods in a triangular parcel at the southwest corner Seminole Woods and State Road 100 in Palm Coast. City officials say the clearing is merely to prepare the site for eventual development, though work will stop once a drainage pond is built and the site is drained and landscaped. There are no plans, for now, for actual building construction there.
The parcel belongs to Palm Coast Holdings and is zoned for commercial development. Flagler County Property Appraiser documents put the 2009 value of the parcel at $716,000–a one-year, 10 percent decline from its 2008 assessed value of $796,000. The documents show no acreage.
Florida Landmark Communities pulled a city permit on April 6 to clear the site. The contractor's value of the job is listed at $105,000. The parcel is part of Landmark Communities' Airport Commerce Center. (Landmark is a subsidiary of Palm Coast Holdings).
The permit, required to be posted at the job site, is nowhere to be found there.