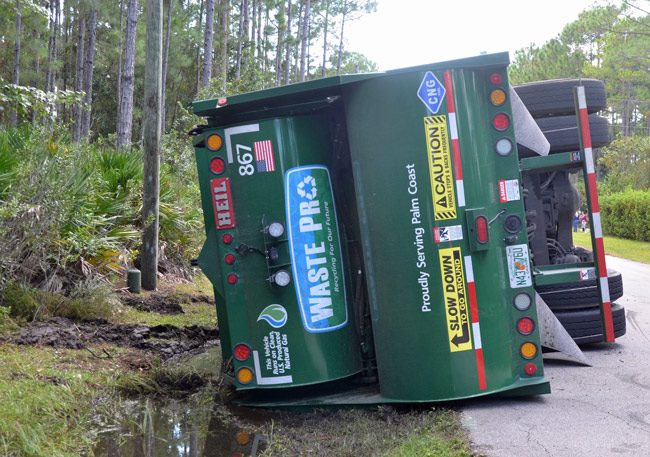 Longwood-based Waste Pro is the long-time trash hauler for Palm Coast and Flagler County. It's had a good reputation locally.
No longer.
To many residents and government officials, Waste Pro is falling down on the job, and not because of September's hurricane.
Depending on whom you ask, Waste Pro has been failing for about a year to two years. It's been particularly bad this year in Palm Coast, as reflected by the city's monthly fines of the company. County commissioners say it's been bad going on two years, though the county does not fine the company. Commissioners go by the more anecdotal complaints they get.
"The last couple of years, I don't know what's happened over there, but my complaint bin has filled up on Waste Pro," County Commission Chairman Nate McLaughlin said Monday.
"Our crews work very hard rain or shine," a company spokesman said by email. "Our goal is 100 percent perfect service but the reality is mistakes can be made." The record points to worse than near perfection or a few mistakes.
Palm Coast government's more solid evidence tells the tale: Waste Pro is fined when it fails to meet its contractual obligations, whether that's causing skid marks (a repeated problem earlier this year, but whatever drivers were mistaking their haulers for hot rods have calmed down), providing inadequate reports, not completing a route, not picking up at given addresses after complaints, and so on. In October, it failed 24 times to pick up garbage at given addresses by evening or by noon the following day even after complaints were lodged, with nine of those complaints having to do with entire streets, and it failed to complete a route 10 times. The company was fined nearly $3,000 in October.
But that was a relatively good month, compared with how it's been. The city went easy on Waste Pro in September, not wanting to levy fines in a month when everything was upside down because of Irma (again belying the company's claim that its problems were storm-related). But in August, it levied $4,170 in fines. Same amount in July. In May and June, the fines totaled $4,000. Earlier months were much better, with fines totaling less than $700 from January to April. Last year was spotty only in certain months, with a spike to $4,000 in July 2016 when, according to Palm Coast's Cynthia Schweers, the customer service manager, "they had a lot of issues, two of the fines were $500 each due to whole routes not being done and they never gave us notice."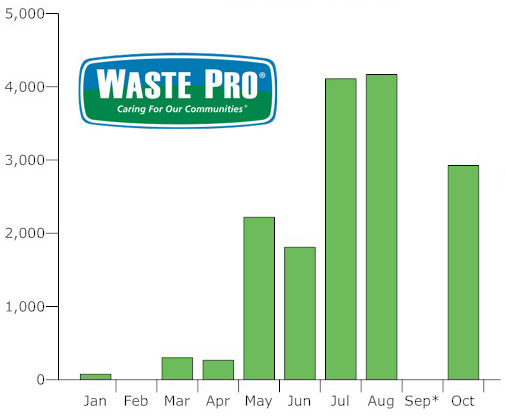 Ironically, Waste Pro's problem spiked in July 2016 just days after it had secured another five-year contract extension to provide service in Palm Coast, and a 9 percent increase in fees it charges. Even then, city council members were reporting getting a lot more complaints about the trash hauler. Flagler County's contract in most ways mirrors that of Palm Coast's, and is usually renewed soon after the city's.
Keeping in mind that the two contracts are in separate jurisdictions, the complaints tend to be echoes of each other, like those of Bill Clay, a San Diego Lane customer, spoke to county commissioners Monday. "Our community has had for at least two years an ongoing problem with Waste Pro, and it just seems to be getting worse," he said. "You just can't get the answers that we need. What they pick up one day and what they pick up the next week, it's like a crap shoot. Talking to Waste Pro, you might as well be talking to a brick wall. I think the people at the county level tried to do something about it, but it's totally inconsistent and we cannot get anybody to really answer. What is the answer to trying to get this stuff picked up? One week they pick it up, the next they don't pick it up. Somewhere along the line the county has to come up with a plan so that everybody understands what the rules are and so somebody enforces the document that the county signed with Waste pro."
Waste Pro handled a reporter's inquiries very much like it appears to be handling customers' complaints—by deflecting, stonewalling, evading or refusing to answer questions.
In Bunnell, District Manager John Cinelli would not take a call, deflecting an inquiry to Ron Pecora, in charge of the company's PR. Though trained in PR by the University of Florida, Pecora refused to speak by phone, at first recycling an email he sent the Observer, blaming issues on "the unprecedented situation" of Hurricane Irma and on Palm Coast, saying direction to Waste Pro "comes from the City of Palm Coast as to what debris to focus on at any particular day." When asked about a dramatic increase in complaints long pre-dating the storm, Pecora wrote back that he would be "glad to review and comment on any data you may have that supports a 'dramatic change.'"
---
"You can't count on Waste Pro to pick up when they're supposed to pick up."
---
But when provided with the month-by-month evidence listed above he changed the subject: "Please show me Flagler. Check with Palm Coast City Manager and see how we are doing." Landon, Palm Coast's city manager, last week made his feelings known when he told the council that as far as Waste Pro is concerned, "we're not asking anymore. We're not playing nice guy anymore. We're tired of it, too. It just adds insult to injury when we still have storm debris out, and they're not doing their jobs."
The word still was key, since Palm Coast has been disenchanted with Waste Pro for much of the year.
Waste Pro is not being summoned to appear before the city council just yet. But it will be summoned before the county commission. "What I want to see," McLaughlin said, "is a presentation from Waste Pro kind of to defend what's going on there. We can't let this go on. We talk to them and talk to them, and we're not getting what we need."
"You can't count on Waste Pro to pick up when they're supposed to pick up. I mean, you can't count on them," Commissioner Greg Hansen, a Palm Coast resident, said.
"We've had a lot more problems the last two years," Coffey, the county administrator, said. The county has just finished picking up 30,000 cubic yard of storm debris and 222 cubic yards of construction and demolition debris, he said. (The actual numbers his office issued today are 37,460 cubic yards of vegetative debris through 1,581 truckloads and 888 cubic yards of construction and demolition debris, or 43 truckloads.)
"We should be done after this week," Coffey continued, "we'll accept no more debris, it'll all be back on Waste Pro, and Waste Pro has been very bad about picking up any debris. I know they missed my neighborhood last week as far as the little piles of debris, and my neighborhood was picked up weeks ago."
Only Commissioner Charlie Ericksen offered a hearty endorsement of the company, promoting McLaughlin to ask: "Do you have like a sign in your yard that says this is Commissioner Ericksen's domicile?"
Meanwhile, Palm Coast announced this week that it is 95-percent complete with its first pass through residential neighborhoods to collect debris from Hurricane Irma after picking up about 25,000 cubic yards so far.
According to a city-issued release, the second and final pass of storm debris collection will begin this Wednesday and will be completed in a few days. Residents should ensure any storm debris (including any construction and demolition debris) is placed at the curb as soon as possible – and no later than 7 a.m. Wednesday. Debris should be placed on your property near the curb – NOT on the street. City staff will inspect the neighborhoods and identify any remaining storm debris for pickup. Once all the identified storm debris is collected, the city will return to normal waste collection with quantity and size limitations enforced. That information is available at www.palmcoastgov.com/trash/schedule. To review county guidelines, go to www.flaglercounty.org/trash_guidelines.
The Florida Department of Transportation on Monday began a final sweep of State Road A1A.