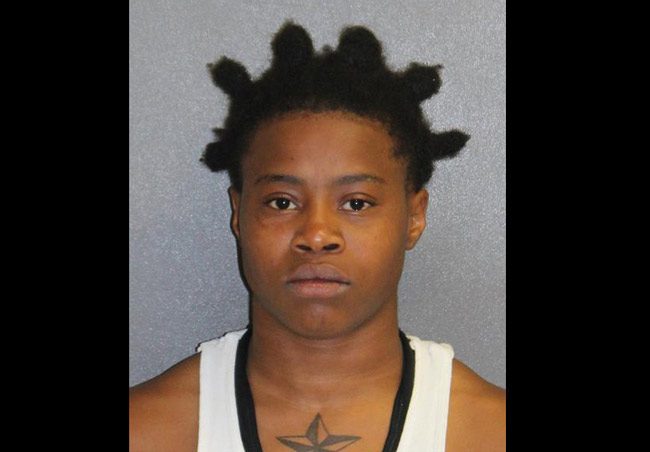 Princess Nioka Williams, a 21-year-old resident of 1025 South Beach Street in Daytona Beach, was arrested Wednesday in connection with the shooting a day earlier of 19-year-old Carl Saint-Felix on White Star Drive in Palm Coast, leaving Saint-Felix in critical condition.
According to her arrest report, Williams and Saint-Felix had agreed to meet around 50 White Star Drive for a drug deal. Williams was to buy marijuana from Saint-Felix. But she did not have the money. According to witnesses present at the time of the shooting, the report states, Williams had armed herself and planned to rob Saint-Felix.
Witnesses say Williams got into Saint-Felix's car with a semi-automatic handgun and shot him in the back of the neck. The shooting took place early Tuesday morning, around 1:30 a.m. Sheriff's deputies and detectives were soon at the scene, which was cordoned off for several hours as they investigated. Cash was reportedly left at the scene, and investigators established that Williams had shown up in a separate car with others.
The next day, Williams voluntarily went to the Daytona Beach Police Department and requested to speak with the Flagler sheriff's Cpl. George Hristakopoulos. Hristakopoulos and detective Nicole Quintieri spoke with her. During a consensual interview she apparently confessed. She was booked at the Volusia Branch jail today on a Flagler warrant. She faces a charge of attempted first degree murder with a firearm, a life-in-prison felony, attempted robbery with a firearm, a second-degree felony, and armed burglary, a first-degree felony. She is to be extradited to Flagler.
"This shows again that where there is illegal drugs there are guns and violent crime," Sheriff Rick Staly was quoted as saying in a release issued late this morning. "Our detectives, patrol, communications, CSI and Crime Analytics Unit did a great job following up on all leads in this case and did not rest until they identified and located the suspect and witnesses. The victim is expected to live but this case also underscores the hazards of being a drug dealer. Fortunately, in this case, no innocent persons were injured."