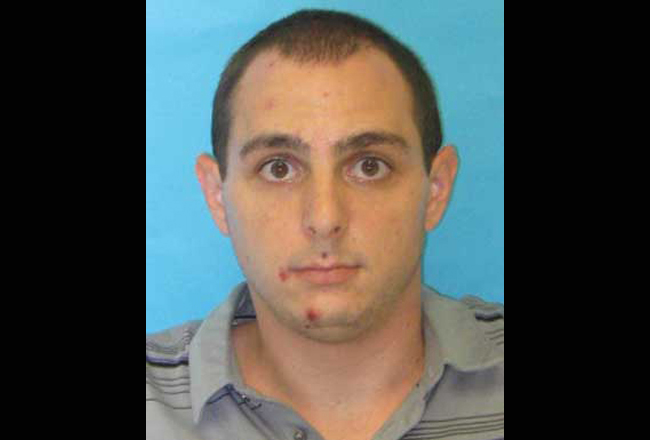 It was New Year's Day on Warren Place in Palm Coast. Elias Papadeas, 69, and Mary Ganikon, 65, were napping around 12:35 p.m. when they heard the doorbell ring. They didn't answer. They thought it was one of those solicitors who have on occasion invaded Palm Coast like locusts.
But the couple would later tell police that they then heard someone by the side of the house, talking. The couple then heard a loud noise coming from the kitchen.
When they got up to see what was going on, they were confronted with a man, standing in the hallway, outside their bedroom.
Papadeas tried to grab the man, according to a police report, but the man jumped out the window and ran toward Warwick Place. The man was described as being in his late teens, wearing blue pants and a blue shirt, and not too tall, short dark hair. He carried a fabric bag with a draw string.
Nothing was taken from the house, but the suspect had pried off the screen to the kitchen window at the rear of the house, then pried open the window, causing the lock to break. The suspect then climbed through the window.
Flagler County Sheriff's deputies canvassed the scene, but found nothing—except for a coin, found in a glass, that the victims said did not belong to them. The coin was taken in as evidence.
On Wednesday afternoon, a deputy was patrolling that area of the W Section, since it had been the subject of an attempted robbery, when he noticed a white man waking north on Wynnefield Drive, past Warner Place. The man was wearing jeans, a dark-colored sweater, sunglasses and a black visor, and had short brown hair. He also carried a gray sweater under his arm.
The cop observed the man appearing to stare at several houses for long periods of time, and continue to walk toward the cop. The cop was in an unmarked black car. At one point the cop got out of his car and asked the man whether he'd mind chatting.
The man was later identified as Frank DeBisceglie, a 28-year-old resident of 6 Warren Place, and no stranger to the Flagler County Sherifff's Office—or to the county jail: he'd been booked in there three times until this week, on charges of dealing in stolen property, violation of probation and possession of small amounts of marijuana. Just last July, DeBisceglie was sentenced to three years' probation on the theft charge.
"I immediately noticed that the sweater he was carrying appeared to have something wrapped in it due to it looking rigid and long," deputy Joseph Barile reported. "I explained to Frank that I was in the area conducting proactive patrol due to recent criminal activity. Frank understood and allowed me to pat him down for weapons. Prior to patting him down, I asked if there was anything wrapped in the sweater he was carrying. He advised that there was not. Frank then moved the sweater from beneath his arm and I immediately heard what sounded like metal striking metal.
"At that time for my safety and it not being known what Frank was carrying, I ordered him to drop the sweater and I secured him in handcuffs for my safety. Frank then spontaneously uttered, 'It's just work tools.' Frank then consented to a search of his person and the sweater. In plain view I could see a metal spoon in his middle right pant leg pocket. Through my training and experience, I was aware that metal spoons are used in the process of using intravenous drugs. I asked Frank if he had any needles on him that I needed to be aware of so I didn't get pricked. Frank advised that he had one under his shirt sleeve and I allowed him to retrieve it from his right lower sleeve."
Other deputies arrived.  After unrolling the suspect's sweater, deputies discovered a black beanie cap with eye holes cut out, a large flat head screwdriver with a yellow handle, a crowbar, and a pair of grey gloves with black spots on them, tools often used to commit burglaries. During the search, deputies discovered that DeBisceglie was on probation.
A detective then spoke to DeBisceglie, who by then was detained in the back of a patrol car. It was then that, according to the detective's report, DeBisceglie "spoke to me honestly and candidly about an incident that took place at his neighbor's home," just 50 yards from his own residence.
Cops concluded that DeBisceglie was the suspect who had entered the house at 9 Warren Place on Jan. 1. He was arrested and booked on charges of possession of burglary tools, burglary of an occupied house, and probation violation. He remains at the Flagler County jail Friday. The burglary charges carry a $4,500 bond, but he's being held without bond on the probation violation.