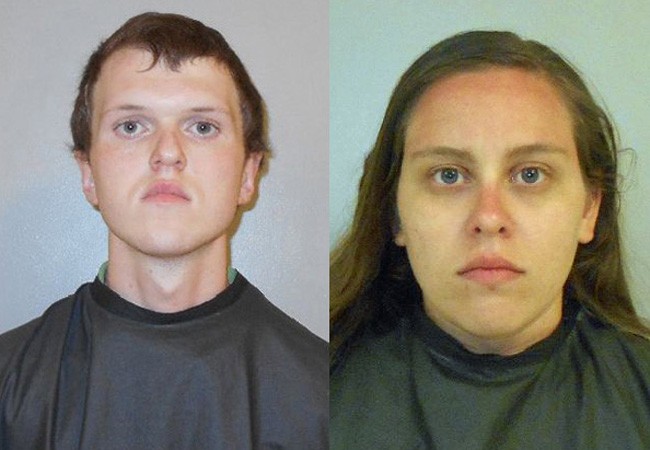 Last Updated: Thursday, 11:13 a.m.
Paul Dykes, an 18-year-old resident of 22 Buffalo Meadow Lane in Palm Coast, was arrested in late March on 10 counts of possession of child pornography and two counts of transmission of child pornography.
The arrest was a result of a Florida Department of Law Enforcement. The FDLE investigation continued, and led to worse charges: on Wednesday, FDLE announced it had charged Dykes and his former girlfriend, 20-year-old Erin Marie Vickers, each with a count of capital child rape. The charges were filed on April 6.
FDLE had originally been tipped off about Dykes's alleged possession and transmission of child pornography when the the National Center for Missing and Exploited Children tipped off the state agency about information it had received regarding materials Dykes was posting on a social media website. FDLE agents investigated and seized Dykes's computer, finding 10 short videos that depicted the sexual abuse and rape of children as young as 2 years old. Most of the videos were of violent acts toward children younger than 10.
As the investigation continued, FDLE stated in a news release today, "investigators found images of Dykes abusing a child under the age of 5 and images of Vickers abusing another child under the age of 5."
The two incidents involving young girls occurred at separate times, the state police said.
Vickers, a resident of 9 Ryall Lane in Palm Coast and a 2013 graduate of Flagler Palm Coast High School, describes herself on her Facebook page as a "Full Time Mommy ❤, Being a Mommy and Work for the Kingdom of God." Mother to 15-month-old daughter, her page reflects the familiar musings of a young mother with a loving, protective focus on her child: most of the hundreds of images in her photo collections are of her child. She repeatedly notes her indifference to being single now that she has her daughter. In February,m she posted a meme that stated: "My ex is living proof as to how stupid I can be."
The postings, frequent throughout, stopped after her last image on March 24, a meme that said: "I don't have to worry about getting kidnapped, they would bring me back in less than an hour."
An incident report the Flagler County Sheriff's Office released Thursday reveals that the sheriff's office assisted FDLE in serving the search warrant at the Ryall Lane address at 7:30 Wednesday, and that the victim of the abuse was at that address. The child's 48-year-old grandmother and Vickers's 18-year-old sister live at the address as well. The Department of Children and Families took custody of Vickers's child, the incident report states.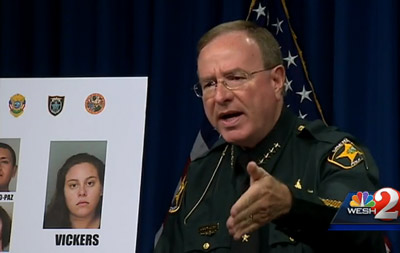 Dykes was first arrested on March 26. Both Vickers and Dykes are being held at the Flagler County jail without bond. Dykes previously worked at a local Publix.
Later in the afternoon, an additional charge was tacked on to Vickers' charges: probation violation. She had been arrested in Polk County in June 2013 as part of a sting operation by Polk County Sheriff Grady Judd, targeting sexual predators. The sting netted 41 arrests. Among them: Vickers. She had allegedly accompanied her 35-year-old boyfriend to Polk to meet with a 14-year-old girls, deputies told the Tampa Tribune at the time. Vickers was charged with lewd and lascivious behavior on a child between 12 and 16, traveling for a meeting with a child after using a computer to lure the child, and using a two-way communication device to commit a felony. The first two charges were dropped. She was found guilty of the third and sentenced to probation.
She was booked at the Polk County jail where she remained from June 15 to Oct. 23 that year.
Anyone with information about this investigation is urged to contact FDLE's Jacksonville Regional Operations Center at (800) 226-6481.