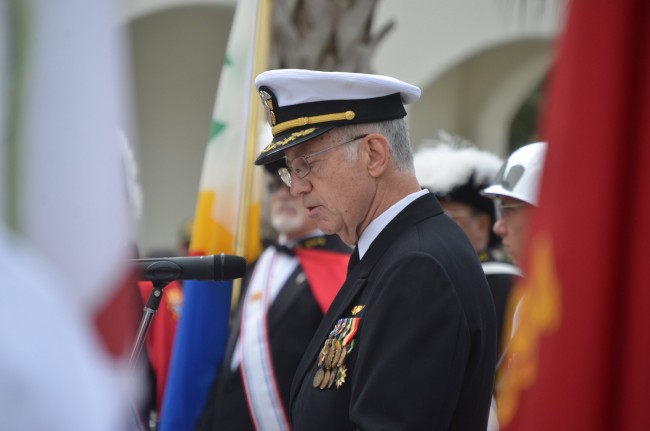 The 150-some people who attended Flagler County's Veterans Day ceremony this morning on the grounds of the Government Services Building in Bunnell were treated to the traditional colors, songs and commemorations as the 45-minute ceremony went on.
But they were also treated to sights and aromas unusual at those ceremonies in previous years. There was the smell of barbecue in the air throughout, compliments of a Barnwood BBQ truck that Sal Rutigliano, who heads the county's veteran services division, had invited among a few other merchants and organizations (among them a couple of hospice companies and Dave Sullivan's Navy League).
And occupying a significant portion of the parking lot, there was an armored Humvee, an armored LMTV (a light medium tactical vehicle), an army Jeep and a vehicle rigged with a launcher of Stinger missiles (sans Stingers), which have earned a storied place in recent military history: Stingers are the versatile but immensely lethal ground-to-air missiles that made their name in the final years of the first Afghan war, when the CIA was supplying them to what became al-Qaeda in Afghanistan, and which the mujahedeens used to great effect to end the Soviet occupation.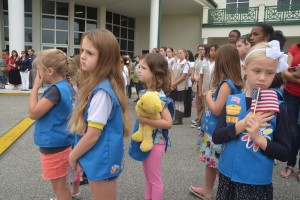 After the ceremony numerous children who'd attended as part of boy scout and girl scout troupes were all over the weaponry, with one of the Staff Sergeants showing them how to operate the launcher, and the launcher itself gyrating every which way in search of a target. Good thing the $38,000-a-pop missile (which is more often shoulder-launched) was not loaded.
The military hardware and the four soldiers showing them off—Ben Hernandez, Jay Diaz, Rich Chamberlain and Glenn Wade, all of them staff sergeants—were all part of the relatively newly arrived unit of the 1st Battalion, 265th Air Defense Artillery Brigade now permanently stationed at the Flagler County Airport. Part of the brigade is currently deployed in Afghanistan. They were deployed in March. The unit arrived at the county airport in January, ending many years' anticipation.
Most of the people, who visited with the soldiers had no idea they'd been stationed here since January. (They'd previously been stationed in Daytona Beach.)
The other highlight of the morning's ceremony—one of three ceremonies in the county—was the keynote speaker, himself an old soldier about to fade away from Flagler County's public scene: Circuit Judge J. David Walsh.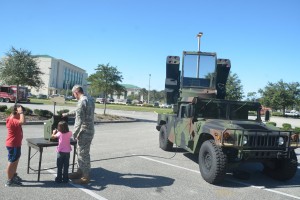 Walsh was a combat pilot in Vietnam. He flew from 1969 to 1971, when Richard Nixon, just after his illegal and disastrous invasion of Cambodia, was scaling back the ground war but intensifying the air war. (Some 5,000 Navy and Air Force personnel were killed in Vietnam, out of 58,000 Americans killed.) Walsh flew 150 combat and combat support missions during that span, flying the A-6 Intruder. He fully retired from the Navy Reserves as a captain only in 1995. He recognized each branch of the service, including the Coast Guard.
"Whatever you call it, war veterans, especially those who have returned from captivity as prisoners of war, tend to feel that what they've experienced in war cannot be explained in words even to their families and to their friends," Walsh said. Veteran organizations were formed to give men and women the chance to be among people who can understand those experiences. "I can tell you that not a day goes by, and I mean that literally, when I do not think of my service in Vietnam and of my comrades, especially those who were lost in combat," he said.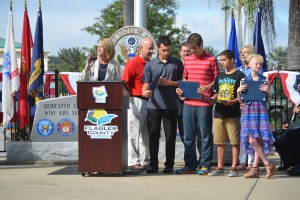 There are just under 22 million veterans in the nation, 1.6 million of them in Florida. "So veterans although they are small in numbers and in percentages, they are giants in the sacrifices they've made to our national security," Walsh said. He spoke of the too-long list of wars that have required the service of millions of soldiers since World War I, and require it still with ongoing wars in the Middle East and other "hellish" places, in Walsh's description. And he gave homage to "citizen-soldiers" over the years, among them his father and grandfather, defining their service as synonymous with patriotism. And he defined a veteran by that often-repeated phrase, as "someone who at one point in his life wrote a blank check made payable to the United States of America for an amount up to and including my life."
Walsh is serving his last weeks as circuit judge in Flagler County before retiring in January.
Flagler County Commission Chairman Frank Meeker, who emceed part of the ceremony, presented the 2015 Flagler County Veteran of the Year award to Lt. Col. Billy Jones, a Vietnam veteran recognized, among other things, for his role in keeping veteran stories fresh and vivid for schoolchildren in the Flagler district. Jones, a helicopter pilot in Vietnam, is a frequent speaker in local schools.
And Superintendent Jacob Oliva and School Board Chairperson Collen Conklin recognized the four Veterans Essay Contest winners from Flagler schools: Mae Keppler, a fifth grader at Rymfire Elementary, Carlito Castro, an eighth grader at Indian Trails Middle School, Lance Fairbanks, a 10th grader at Flagler Palm Coast High School, and Kadence Polite, an 11th grader at Matanzas High School.