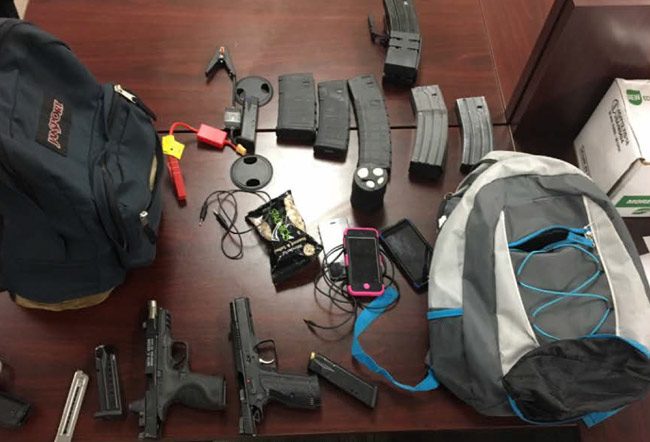 Car and truck thieves and burglars have been all over Palm Coast lately, with seven reported thefts in the last seven days. Three vehicles and six firearms were recovered, though the vehicle thefts are for the most part not connected.
The Flagler County Sheriff's Office made two arrests Friday on burglary charges and grand theft auto. The office charged Sammy Rozier, a 16 year old, with grand theft auto, grand theft of firearms and armed burglary in connection with the burglary of firearms from a garage at a Postman Lane home. And it charged Josiah Merriweather, 18, on charges of armed burglary and grand theft of a firearm. Six firearms, including an assault rifle, a shotgun and pistols, had been reported stolen from the Potman Lane address.
Two firearms were recovered in a swale on Poinbury Drive, while four handguns, two smartphones, an assortment of ammunition and gun magazines matching the firearms and a Chrysler key fob, among other items, were recovered from two backpacks a witness said were dropped in his backyard by two teenagers Friday morning, on Point Wood Drive. The Sheriff's Office had asked Flagler County Fire Flight to fly over the P Section this morning as part of the investigation.
Key to a break in the case was a deputy's patrol in the area of Royal Palms and Point Pleasant around 5:40 a.m. Friday morning, when he noticed two males walking down the sidewalk. One was Rozier, known to deputies as an offender currently on probation for a misdemeanor offense. He was initially arrested for violation of probation for being out after curfew. During a subsequent interview with both subjects, they admitted to multiple vehicle burglaries, a residential burglary, and the theft of a vehicle.

A black Chrysler Town and Country and a Saturn Vue that had been reported stolen were later recovered, processed, and returned to their owners. It's not clear which of the two vehicles Merriweather and Rozier were allegedly connected to.
"These two subjects went on a crime spree, but they didn't get away with it," Sheriff Rick Staly said in a release issued this afternoon. "An alert patrol deputy along with our detectives did a great job in quickly solving and recovering stolen property. The stolen firearms had the potential for violent crimes in the future or be sold on the black market or traded for drugs. These crimes were again crimes of opportunity. I ask our community to lock their cars, don't keep car keys in cars and keep their garage doors closed." The garage door on Postman Lane had been left open.
The two individuals could face additional charges.
Staly has repeatedly spoken of Flagler being a hub for vehicle thefts, with the vehicles then taken to Volusia County or elsewhere: many vehicles stolen here are later found in Volusia.
The Town and Country Chrysler recovered in Bunnell had been reported stolen on Oct. 7 from a home on Eastland Lane in Palm Coast. The vehicle had been left unlocked, and the keys left in the vehicle.
But the owner had security footage from around the house. "Four subjects wearing dark clothing, hoodies, visors and hats were seen entering the vehicle," according to the incident report. "The video also shows that at 01:34 AM, the same four subjects come back
and enter the vehicle and leave the scene. The subjects are unable to be identified however they appear to be teenage black males wearing hoodies, pants, and two were wearing a visor and bandana to cover their face."
Other vehicle thefts remain unsolved, including the most brazen theft Thursday evening, involving a 2014 Chrysler 300.
Marcus Holland, a 34-year-old resident of Beach Village Circle in Palm Coast, was out delivering for Pizza Hut in his Chrysler. He'd stopped to make a delivery at 52 Kalamazoo Trail (a large thin crust, bacon and pepperoni pizza, large regular cheese pizza and apple pie). He had just seen a black juvenile riding a bicycle, wearing a gray hoodie and tan shorts, possibly carrying a backpack. He put the car in park but left it running and unlocked as he approached the residence to make the pizza delivery.
It took 30 seconds or less: when he got to the door, he saw the same juvenile enter his vehicle and leave the area. His Samsung Galaxy cellular phone, his wallet, a debit card and $200 cash were inside the vehicle. The resident who was to take delivery of the food corroborated the account to deputies.
Efforts were made to ping the cellular phone and track the vehicle by GPS. Both failed.
Here's the remaining rundown of the other thefts over the past week:
Six days ago (On Oct. 7) Bruce Salmons, a 52-year-old Palm Coast truck driver, had parked his $243,000 Kenworth semi and its trailer at 147 Matanzas Woods Parkway. When he returned the next evening, the truck was gone, and with it a cargo of miscellaneous goods worth $500,000.

The truck's GPS was pinged and led Flagler County Sheriff's deputies to a location off County Road 206 in St. Johns County, but the truck was not located.
The same evening of Oct. 7, Jermodris Dunlap, the 29-year-old Bunnell man who just last month was standing with his family in a news conference at the Sheriff's Office to talk about his brother, who had been murdered by his cousin earlier that day, was visiting at 84 Ramble Wood Drive in Palm Coast. He'd driven a rental. When he left the house he told deputies the car, which belongs to Enterprise, was gone.
The next evening deputies reported to the report of a car crash at 41 Rae Drive, where a 2017 Chevy Impala had overturned in the driveway. There were no occupants in the adjacent homes, no one in the car, no witnesses to the crash. But as a deputy was working the scene, contacting a towing company and writing a crash report, Dunlap showed up and told the deputy that it had been the rented car that had disappeared. Asked how he knew to look for it at that location on Rae Drive, "he did not have an answer," an incident report stated. "He later said someone had called to tell him on his cell phone." The vehicle was not driveable.
On Oct. 9, a Honda Accord that had been reported stolen from 46 Clubhouse Drive overnight–the vehicle was last seen the previous day in the afternoon–was found at Central Avenue and Town center: a friend of the 22-year-old owner had called him and told him the vehicle had been discovered at that location. It was missing a set of jumper cables and a magazine for a 9mm weapon.
The early morning of Oct. 11, the resident at 175 Brookhaven Drive reported that a blue 2006 Saturn that had been parked in the driveway the previous evening had been stolen overnight, along with the 26-year-old victim's wallet, her bank card, social security card, and items valued at $480. The victim reported that the car had been left unlocked, and the keys left in the car. That car was recovered in Bunnell Friday on Elm Street.
The same day, Jordan Sann, the manager of Safe Ship at 226 St. Joe Plaza, reported to deputies that a 26-year-old man who had rented a U-Haul in late August had yet to return it. The manager had been in contact with the renter in the last couple of weeks–a woman who gave her address as being in Palm Coast, though the truck was not located there, and contact was eventually lost. The manager wanted to pursue charges over the theft of a 15-foot truck valued at $45,000.
"Let's work together to keep our community safe," Staly said. "I encourage you to watch our most recent crime prevention video 'Disaster' on our home page www.flaglersheriff.com."