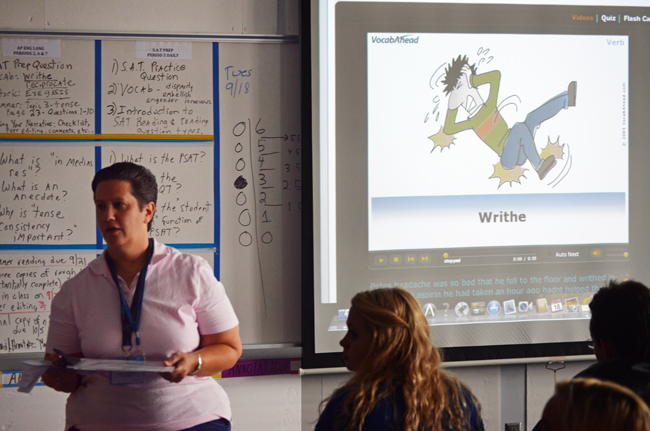 The Florida Times Union claims it's won a "major battle" in forcing the Florida Department of Education to release thousands of scores which purportedly measure the "effectiveness" of teachers via the state's controversial value-added model, or "VAM." That the Times Union actually spent money to sue to gain access to what it considers a trove of information defies logic–but perhaps may explain the recent increase in the newspaper's cover price, possibly implemented to pay for the considerable billable hours charged by high profile lawyers, clearly the only folks who'll profit from this boondoggle.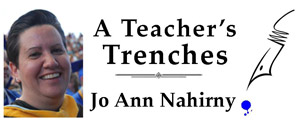 What will people like you and me –parents and taxpayers– gain? Nary a thing.
What do my almighty VAM scores reveal about me, my students, the quality of my instruction or what goes on in my classroom?
Absolutely nothing.
So little do my VAM scores matter to me, and so irrelevant are they in the total spectrum of what goes on in my classroom, that I'm willing to discuss mine in a public forum, to reveal them for the farce they truly are.
My VAM score for 2011-2012 was .35242121193.  (Disclosure: I couldn't even look up my own scores on the Time Union's website; I had to pay a fee to access them online since I'm not a daily subscriber and haven't been since the same paper cut off delivery to me and my neighbors a few years ago as a cost cutting measure.)
Anyway, what does that .35242121193 signify and why should you care? I have no clue. Nor do I much care.  And neither should you.  Why? Well, for starters, it was based on the FCAT Reading scores of only 35 of the 10th-graders I taught that year. However, I didn't even teach any reading classes.  I taught English. And I taught approximately 165 students in 2011-2012, the vast majority of whom were 11th-graders in AP English Composition classes.
So this VAM score –which comprised half of my total teacher evaluation score that year– was based on the performance of a mere 20 percent of the students I taught. Oh, and by the way, I actually did teach about 50 or so 10th graders that year, not just 35. But the FCAT Reading scores of 15 (or 30 percent) of them weren't even included in calculating my VAM score, simply because they were new to our district that year.  So though they occupied desks in my classroom, and though I graded their essays, tests and quizzes, answered their questions, attended their parent conferences and determined whether they passed or failed English, each one of those 15 ended up as a persona non grata, or figuratively speaking, nonexistent, at least with regard to how much they were "worth" in terms of that meaningless number the Times Union's been drooling to ensnare, my coveted VAM score.
Now on to the 2012-2013 school year.  My VAM score looks totally different on the Times Union site than my 2011-2012 score for no apparent reason, and the site doesn't explain how or why.   My VAM: 16.51 percent.   The newspaper explains, "The aggregate score is the proportion of learning gains students made above or below an average year's growth."
My question: What's an "average year's growth" and who determines that? Answer: a computer model predicts what score a student is expected to achieve, based on some totally incomprehensible mathematical equation, that no one to date has successfully explained to anyone I know.
The site continues, "For example, an aggregate VAM score of .05 means that on average, the teacher's students grew 5 percent above the stage average for growth. The closer a teacher's score is to zero, the closer that teacher's students grew at the state's average rate."
In 2012-2013, my VAM was based on 94 of the 10th graders I taught.  But I actually taught nearly double that many students last year, again, the vast majority of whom once again, were juniors.  More problematic though is that I was out on extended sick leave undergoing cancer treatments for much of the first semester. So how valid is my VAM anyway? Should I have even had a VAM score at all? (As one of the administrators at Matanzas told me, "These students have to 'belong' to someone.")
Now here's where it gets really dicey: the long-term sub who took over for me from September to December, and who taught the same students I did, has a different VAM scores than I do. How is that possible? And why would a sub have a VAM score anyway? How can those students "belong" to both of us simultaneously?
Now fully armed with my own VAM scores, (and since I'd paid the fee to access the site anyway) I decided to compare my scores to that of a couple of colleagues, for kicks, just to see how we'd stacked up against one another. Isn't that what any reasonable parent would do? Compare VAMs to figure out whose classes to put their own kids in, to get the best teachers and the very best education?
Well, good luck with that.
The name of the teacher directly above mine in the list belongs to a guy who'd didn't even last the first two weeks of school before he resigned unexpectedly. How in God's name could this man even have a VAM score, when he'd done nothing more than hand out a syllabus and discuss class policies and procedures?
Sadly, there is no end in sight to this absurdity. This week, for example, students throughout the state take the FCAT Writing test in 4th, 8th and 10th grades, while here in Flagler County, our 11th graders tackle the SAT this week, too. Though teachers have dutifully prepared students for both assessments, none of the scores students attain on either of these tests will impact any teacher's 2013-14 VAM score in Flagler County.
Why? I have no clue.
But then again, neither does the Florida Department of Education. Nor does the Times Union, for that matter.

Jo Ann C. Nahirny, a 1985 graduate of Columbia University and a National Board Certified Teacher, teaches English at Matanzas High School in Palm Coast. Reach her by email here. Note: With or without VAM scores, Nahirny has attained a "highly effective" rating for the past eight years, and her students have consistently passed the AP English Language & Composition exam at rates that exceed both the state and global average.