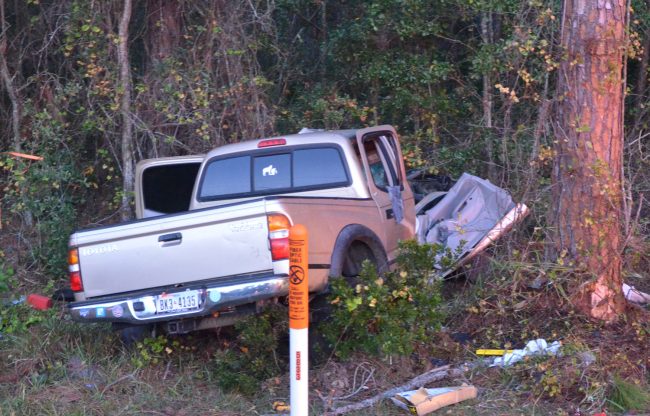 Last Updated: 9:48 p.m.
Paul Deatherage, a 31-year-old resident of St. Augustine, was killed in early evening Friday (Dec. 22) when he lost control of his pick-up truck and crashed into a tree on U.S. 1 in Palm Coast, just north of Enterprise Drive and about a mile north of Whiteview Parkway.
The crash took place around 4:40 p.m. The driver was heading north on U.S. 1.
Driving past Enterprise Drive and past the slight curve that ends in front of the grounds of the Division of Forestry, Deatherage drifted into the median, appears to have over-corrected, then veered into the east shoulder, according to a Florida Highway Patrol investigator at the scene. The vehicle, a Toyota pick-up truck, rotated on its side and smashed into a large tree, wrapping itself around it.
First indications to the 911 dispatch center were that Deatherage may have still been breathing after the crash. Paramedics and firefighters from the Palm Coast Fire Department and Flagler County Fire Rescue, responding to the scene, conducted an extrication of Deatherage, carving out the passenger-side of the truck. But he was pronounced dead shortly afterward.
FHP troopers were at the scene shortly after the crash. An FHP traffic homicide investigator arrived at the scene shortly after 6 p.m. The medical examiner was due at the scene later to claim the body of the driver.
Northbound traffic on U.S. 1 was reduced to one lane, with the Palm Coast Fire Police controlling traffic. Flagler County Sheriff's deputies also responded to the scene, which was not expected to be cleared until well into evening. The man's identity was to be released after next-of-kin notification had been made. The fatality adds to a tally that, at well over 30, has made 2017 one of the deadliest years on record for Flagler County roads, but without a significant pattern emerging as to deadliest roads.