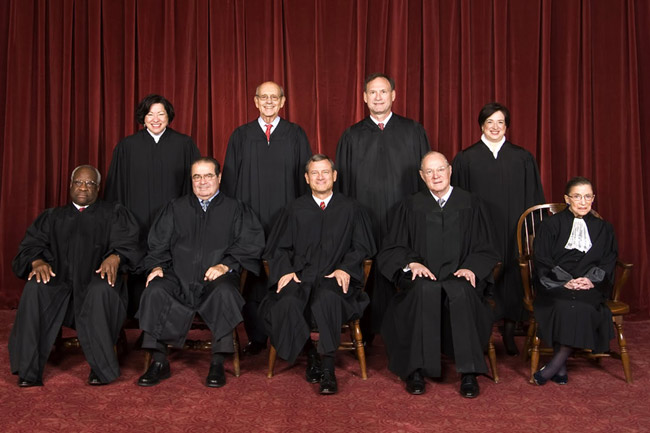 Last Updated: 11:10 a.m.
The United States Supreme Court has reversed key provisions of the controversial Arizona immigrant law, invalidating Arizona's–or any state's–law that would have given state or local police the power to make warrantless arrests of individuals suspected of being undocumented, or "illegal." (The ruling in full is below.)
The court will not decide the health care law today. That will take place Thursday at 10 a.m.
Section 6 of the Arizona law "attempts to provide state officers with even greater arrest authority, which they could exercise with no instruction from the Federal Government," the court writes in is summary to the decision. "This is not the system Congress created. Federal law specifies limited circumstances in which state officers may perform an immigration officer's functions. This includes instances where the Attorney General has granted that authority in a formal agreement with a state or local government."
In other words, warrantless arrests of undocumented immigrants (or immigrants suspected to be undocumented) by local police are not permissible.
The Arizona law made it a crime for undocumented immigrants to hold a job or apply for work. The court invalidated that portion of the law. The Arizona law also made it a crime for immigrants to not have their federal identification papers on their person. That provision, too, was struck down.
That doesn't mean that the show-your-papers provision of the law is declared unconstitutional. That's the provision that allows local police to ask for identification to ascertain whether an individual is legally in the United States. But the justices are making it very difficult for the provision to stick, because conditions within which police may ask for an immigrant's papers have been severely narrowed. Police may check an immigrant's status once that immigrant has been legally detained. And the court is leaving a door wide open for subsequent challenges to that provision, which immigration advocates consider racist, because it encourages profiling.
The decision is a victory for the Obama administration and Eric Holder, the Attorney General, who challenged the Arizona law, though the administration had sought repeal of the entire law.
Justice Anthony Kennedy wrote the opinion for the court in the 5-3 ruling, with Chief Justice Roberts, Justices Ginsburg, Sotomayor and Breyer joining. Justices Scalia, Thomas and Alito concurred in part, but dissented in more significant regards. Justice Elena Kagan did not take part in the decision.
In a separate opinion, the court ruled, 5-4, that life sentences for juveniles, without parole, are unconstitutional. The court, also by a 5-4 vote, blocked a challenge to its Citizens United case on campaign finance.
In a key part of Kennedy's opinion, the court rejects Arizona's claim that its immigration law fulfills the same aims as those of the federal government. (Arizona and other border states have been claiming that the federal government is not enforcing its immigration laws, thus giving states the right to enforce those laws at the state level.) "This argument not only ignores the basic premise of field preemption—that States may not enter, in any respect, an area the Federal Government has reserved for itself—but also is unpersuasive on its own terms," Kennedy writes. "Permitting the State to impose its ownpenalties for the federal offenses here would conflict withthe careful framework Congress adopted."
"Discretion in the enforcement of immigration law," Kennedy wrote more generally, "embraces immediate human concerns. Unauthorized workers trying to support their families, for example, likelypose less danger than alien smugglers or aliens who commit a serious crime. The equities of an individual casemay turn on many factors, including whether the alienhas children born in the United States, long ties to the community, or a record of distinguished military service.Some discretionary decisions involve policy choices thatbear on this Nation's international relations. Returningan alien to his own country may be deemed inappropriateeven where he has committed a removable offense or fails to meet the criteria for admission. The foreign state maybe mired in civil war, complicit in political persecution, or enduring conditions that create a real risk that the alienor his family will be harmed upon return. The dynamicnature of relations with other countries requires the Executive Branch to ensure that enforcement policies are consistent with this Nation's foreign policy with respect tothese and other realities."
"The court correctly held that federal immigration law trumps most of Arizona's controversial immigration law. But by upholding Arizona's 'check your papers' provision, at least for now, the court has given other states a green light to try to enact similar immigration laws," Stephen W. Yale-Loehr, who teaches immigration law at Cornell University and is co-author of a treatise on the subject, told the New York Times. "Some will be anti-immigrant, like Arizona's. But other new state laws may be pro-immigrant, as states realize the importance of immigrants in their communities. The decision increases pressure on Congress to enact comprehensive immigration law to prevent a crazy patchwork ofconflicting immigration laws around the country."
[This is a developing story, More soon.]
Background on the Immigration Case:

US Supreme Court Decision on Arizona Immigration Law