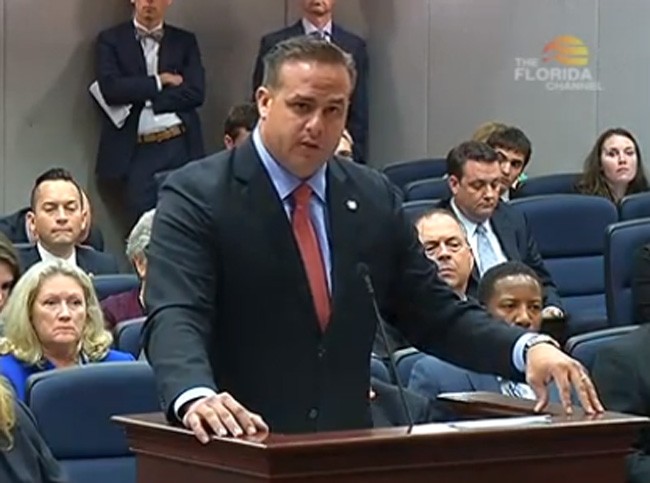 A bill that would forbid local governments in Florida from passing ordinances protecting transgender people who use single-sex bathrooms cleared its first hurdle Wednesday in a 9-4 vote of the House Civil Justice Subcommittee. The party-line vote, with Republicans in favor, ended 100 minutes of impassioned discussion and testimony that ranged from emotional to acidic to bitter, with occasional interjections from the audience that forced Kathleen Passidomo, the Naples Republican who chairs the committee, on two occasions to caution that she would have audience members removed.
The bill would criminalize—to a second-degree misdemeanor–the use of public or company bathrooms by people of the "wrong" sex and enable companies or individuals to sue either such users or the companies or institutions that allow such use. Transgender people would have to show proof of their new sex through a valid driver's license or a passport. Transgender people in transition—as the process can take years—would be allowed to show that they're in transition, up to a point, if they have a passport, but not with a Florida driver's license.
The bill was filed by Rep. Frank Artiles, the Miami Republican, in direct response to an ordinance the Miami-Dade County Commission passed last December, extending protections against discrimination to transgender people in housing, employment and public accommodation. Artiles focused on the theoretical possibility that any heterosexual man could one day decide to be a woman, if he felt like it, and enter a women's bathroom as a result. The bill, he said, "is a common sense bill regarding public safety and privacy and uniformity."
The Miami-Dade ordinance drew heavily on "Injustice at Every Turn," a groundbreaking study published in 2011 by the National Gay and Lesbian Task Force and based on a broad survey of LGBT individuals—53 percent of whom reported being harassed or disrespected in public facilities (with 26 percent reporting being denied access to bathrooms), and 41 percent of whom lived without IDs that matched their transgender identity. The report also noted that 41 percent of respondents reported attempting suicide, compared to a 1.6 percent rate for the general population.
---
Following legalized gay marriage's swift victories, the Artiles bill appears to be part of a broader backlash, in GOP-dominated state legislatures, against LGBT rights.
---
"The intentions are good," Artiles said of the ordinance, "however the execution is poor, and it opens the door to people to use these facilities under the protection of the Miami-Dade County ordinance."
Artiles conceded that laws already on the books address sexual crimes. But he called Miami-Dade's protections "overbroad."
Nevertheless, under questioning even by the committee's Republican members, Artiles was repeatedly unable to show evidence that the problem he was imagining exists, or that it would avert lawsuits under federal civil rights rules. "This is a work in progress," Artiles said, calling himself willing to keep amending the bill.
"How does this reconcile with the federal law that essentially says you have to make accommodations for individuals who prefer to express themselves in ways that they themselves actually control?" John Wood, the Winter Haven Republican, asked.
Artiles couldn't answer beyond saying that in his "opinion," there is no conflict. "I'm going to leave the lawyers to discuss that." But that's what some legislators and opponents of the bill are worried about: the measure would open the way to lawsuits under the federal law.
St. Petersburg's Dwight Dudley, one of the four Democrats who voted against the bill, took a quizzical approach, asking what would happen to a legislator in Tallahassee who could not find an open bathroom of his or her own sex, and uses one of the opposite sex. "So, we're going to arrest a legislator as a result of doing that?"
Again, Artiles could not answer. "The whole purpose is not to have somebody patrolling the bathroom facilities, it's basically to clarify what everybody has used right now which is males go to male bathrooms, females go to females bathrooms." He spoke of the bill's exemptions that allow fathers or legal guardians to bring children or the elderly into opposite-sex bathrooms when necessary. But he did not address the legal consequences in the situation Dudley presented.
Wood persisted. "There are laws on the books today to prosecute crimes regardless of what sex somebody is, however they want to identify [themselves], and those are things that will continue to be prosecuted if somebody acts inappropriately, no matter what kind of bathroom they're in, right?"
"There are laws, criminal laws, based on lewd and lascivious, rape, voyeurism, so on and so forth, you are correct," Artiles said. "However, when a county such as Miami-Dade County expands a language to overbroad language that allows heterosexual males to go into bathrooms where females under the cover of law, there is an issue, and that is why this legislation has been brought forth."
But there has been no such issue. Miami-Dade County Commissioner Sally Hayman, a former House member, a lawyer and criminal justice consultant who was one of the right commissioners approving the ordinance in December, ridiculed Artiles's claims.
"The Miami-Dade ordinance still makes it against the law for men to go into women's bathrooms and for women to go into women's bathrooms," she said. "As sponsor of the legislation, I investigated not only statewide but nationally, and found no evidence of privacy and or issues of escalation to violation, crimes, intrusions associated with transgender persons. As a crime and loss prevention practitioner, no law enforcement data, FCIC and NCIC, showed increased vulnerability nor crimes against persons, especially in the areas of sex assault, predatory crimes against minors, and with over three decades of investigation activity under my belt, I never remember a sex assault or a predatory crime both against minors or the elderly considered under Florida statute to be a vulnerable population, in a venue such as a single-sex public facility as defined in this legislation, to involve a person of transgender identity. Ever. In over three decades. No documented criminal incidents since this passed in Miami-Dade County related to our ordinance includes a perpetrator, a suspect, an offender, or a convicted person of transgender identity."
Hayman concluded: "This legislation is a solution in search of a problem that does not exist."
Artiles at first appeared not necessarily concerned with actual transgender people so much as people impersonating transgender people. But that concern exposed his willingness to sacrifice the rights of transgender people in the name of the largely undocumented possibility of mischief by others. And he soon spoke in language that explicitly opposed special protection for transgender people.
"Aren't we going to provoke a whole spate of lawsuits," Wood said, referring to the federal Civil Rights Act, "and how does your bill deal with that?"
Artiles's answer, dispensing with his own arguments about broadening protections for all, starkly revealed his motive: "I believe under the Supreme Court of the United States, they're not a protected class." The statement suggests that the proposed bill may be part of a larger shift in GOP-dominated state legislatures that have responded to the swift legalization of gay marriage with a series of bills targeting LGBT rights.
Nor, it was clear from Artiles's and the committee's approach, were legislators interested in protecting members of the LGBT community, though Artiles was partially incorrect—as Wood subsequently pointed out: "Gender is a protected class" under federal law, Wood said, exposing the clash at the heart of Artiles' proposal: it would define gender far more strictly and subjectively than does federal law, or LGBT interpretation.
"What you're trying to tell me is that the norm is what Miami-Dade has, and I disagree with you," Artiles said. "Miami-Dade is the exception, which, the norm would be something that's based on what's happening throughout, and removing the exemption that we have in Miami-Dade."
Lori Berman, the Boynton Beach Democrat, speaking of her concerns about the bill, asked if she could sue the owner of an establishment where a "gender non-conforming person is using the restroom at the same time as I am."
"The answer is yes," Artiles said.
"Do I as an individual have the right under the law to ask the intruder for their gender identification to determine if they should be using the facility?" Berman asked.
Artiles deflected the question, though his bill does open the way for just the sort of scenario Burton was illustrating. The bill calls for "reasonable, remedial measures" that facility owners must take to address such situations. "As a matter of fact, there's some establishments that actually promote this type of blurring of the lines between bathrooms, and that's what we're trying to prevent," Artieles said. (Note: in an earlier version of this story, the Berman questions were incorrectly attributed to Rep. Colleen Burton.)
Pressed on his understanding of "remedial measures," Artiles answered: "Reasonable, remedial measures would be, asking the person to leave the facility, please use the proper facility, maybe call the police, make a report. Remedial measures."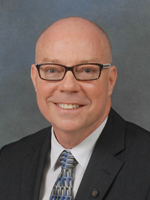 Rep. David Richardson, a Miami Democrat and the Legislature's only openly gay member, was sitting in on the justice subcommittee hearing as a visitor. "You've mentioned a couple of times that the Miami-Dade ordinance would allow heterosexual males to enter a female bathroom," Richardson asked Artiles. "Could you explain to me why you're focused on heterosexual males as opposed to all males, and how the ordinance in Maimi-Dade County will allow heterosexual males to now go into a ladies' room."
"The subjectivity and the subjectiveness of the Miami-Dade ordinance which says clearly how you feel, or your deep feelings, is where you could go to the bathroom, well, I have a problem with that," Artiles said, "because I believe with such a large municipality such as Miami-Dade County with 2.5 million people, and being an urban center that it is, I believe that criminals and males will use this law, the cover of law, to walk into a women's locker room, and not to conduct criminal and or lewd and lascivious and crimes that are actually covered in Florida statute, but just to push the envelope and go there and just basically to hang out. And I think I have a problem, I know I have a problem with that."
But when Richardson asked Artiles for a single example of such an instance as Artiles was describing, Artiles could not cite one. He deferred to other speakers, then deflected the question again by terming the Miami-Dade ordinance as "the exception to the rule."
When Passidomo, the committee chairwoman, turned over the discussion to comments from the floor, some three dozen people had lined up to speak. Among them was Robert Cindy Sullivan, whose testimony turned into the emotional highlight of the afternoon.
"I represent Rep. Artiles's greatest fear. I am Robert Sullivan. I am a transgendered individual," Sullivan said, describing herself as the parent of a University of Florida student, an IT professional and a Republican.
"I've worked with defense contractors, with Lockheed-Northrop-Grumman to help defend this country and its freedoms," Sullivan said. "But you all still don't get it. I'm so scared of all of you, that you could put me in jail for being me. This bill is government intrusion at its worst. At the company I currently work for, I'm Cindy Sullivan, they respect me, they let me use the restroom, the women's restroom, and only the women's restroom. This bill would require them to ID me at the door and to have me go to a different location, breaking my workplace harmony, my job security." (Read Sullivan's full testimony here or hear it in the audio clip above.)
Often turning to face Artiles, who was sitting just behind her, to her right, Sullivan was contemptuous of his focus on heterosexual men. "Transmen, who are women who want to become men, are they not—you guys make a flippant attitude about a woman in the restroom, is that OK? Imagine me being in the woman's restroom, sir. Imagine that harassment I would suffer. You don't think I have ever been stalked? Objectified? Sexualized? Where's my safe place to run to for me? Oh, that's right. I am not a protected class. I am a throw-away piece of trash in this country of freedom and liberty and respect."
Gina Duncan, the transgender inclusion director for Equality Florida, the state's largest LGBT-advocacy organization, and a transgender woman herself—she transitioned eight years ago when working for Wells Fargo, a company that, she said, supported her and "walked the walk"—said the transgender community already experiences a lot of discrimination, which this bill would further enable. "This is my driver's license," she then said, holding up the license. "Unless this gender marker was changed, I would be forced to use the men's room, today, under this bill. Is this where we want to go as a state? Is this where we really want to go as a society? And is this the legacy that we want to leave our children—of intolerance and open, blatant discrimination?"
Artiles had his supporters, and not just on the committee. Nathaniel Wilcox, executive director of People United to Lead the Struggle for Equality, a conservative civil rights organization in Miami-Dade that has fought gay marriage, described the Miami-Dade ordinance as "really crazy."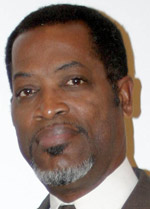 "If a man wakes up one morning and he decides I want to be a woman, he's a woman that day. If he wants to switch around back and forth, that's not what we need here in the state of Florida," Wilcox said, supporting the bill. "It will help protect the public from many types of crimes at public facilities. We also look at there's a long-standing history, a long-standing history, this is not something new, this is not something that we just thought of, that the representative thought out of his hand, we have a long-standing history of restricting access to single-sex public facilities on the basis of sex, and it needs to remain restricted. What about my rights? I have people standing up here crying and talking about their right. Well, what about my right to be able to go into a restroom and not be invaded by a woman of the opposite sex? My wife doesn't want a man coming into her restroom, invading her privacy. What about our privacy? We all heard about someone else. What about our privacy?" He added: "There is no discrimination. This bill applies equally to everyone. There is no constitutional, civil or human right to use whatever restroom, bathroom or locker room or dressing room you want. However, there is a constitutional, civil and human right to public safety. We're talking public safety here. We're opening the door, we're opening Pandora's box to allow people who will dress like someone they are not to go in and to do voyeurism, to rape and to do a lot of other things. Why do we have police departments? Why do we have fire departments. It's to protect people against what might happen in the future."
Anthony Verdugo, executive director of the Christian Family Coalition of Florida, who told committee members outright that they'd been "lied to," claiming the county attorney in Miami Dade has said men may use women's bathrooms. "That's a matter of public record," he said. "It is disappointing that some folks would use the smokescreen of discrimination when this is an issue of public safety."
The Artiles bill, HB583, has a companion bill in the Senate, SB1464, sponsored by Sen. Charles Dean, the Ocala Republican. The bill in the House next heads for the Government Operations Subcommittee and the full Judiciary Committee.
Wednesday's discussion and vote can be heard in full below.

---
The Civil Justice Subcommittee's Full Discussion on SB583[media id=397 width=500 height=400]